News • 15.06.2017
Duty Free: Get around new airline baggage restrictions
Retailer Dutyfreeonboard.com delivers straight to travelers' homes or anywhere in the US and pay the duties for them.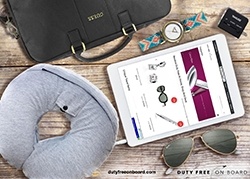 Source: Duty Free Onboard
Retailer Dutyfreeonboard.com has eliminated the hassle of passengers carrying their coveted discounted duty free purchases & dealing with airline restrictions by delivering straight to travelers' homes or anywhere in the US and paying the duties for them.
Duty Free means big savings, but the trade off is convenience, as passengers have to lug souvenirs purchased on their trip. When shopping at duty free airport stores to buy items for themselves or gifts for men or women in their lives, consumers will save anywhere from 10-20 percent off the US local market prices plus airport and state tax.
However, based on US Customs and Border Patrol regulations, US travelers can only take advantage of unique gifts found in US duty free stores on their way out, as the US does not have duty free arrival shops like many other countries. This means a trip to the airport store at the onset of their journey and yes, carrying the goods throughout. Dutyfreeonboard offers all the same brands plus travel essentials online.
If there's something travelers need when they land, the online retailer will also deliver curbside to most major US airports. This convenience comes as passengers face increased restrictions when it comes to checked baggage fees and carry-on baggage. Most major US carriers are now offering "basic economy seats" that provide little to no overhead bin space. Once more, shoppers don't have to wait till they are actually traveling to take advantage of all the duty free shopping items and savings.