Report • 28.04.2022
Virtual try-on with AR in e-commerce
Enhanced and personalized online shopping through augmented reality
It has become standard practice for customers to find product descriptions as well as images or videos for illustration purposes when shopping online. But just because consumers can see a front view or estimate the size with the help of a tape measure, this is not necessarily sufficient as valuable information for the purchase decision of a product. Many online and omnichannel retailers are therefore trying to make it easier for their customers to decide on a product, and are using technologies such as artificial intelligence and augmented reality (AR) to do so.
Even consumers who don't go to the store to try out and try on items should be as satisfied as possible with their purchase decision, as far as retailers are concerned. This not only reduces returns, but also strengthens loyalty to the company and the recommendation rate.
Virtual try-on on a computer at home or on one's own smartphone is becoming increasingly popular – and is being strongly promoted by companies in some retail sectors. This trend is being reinforced by technological developments: AR applications are becoming more powerful, cameras and webcams better, and the software in the background can render images in seconds that give a good live impression of augmented reality.
Virtual try-on: online shopping with webcam and avatar
The range of products for which AR try-out is offered is constantly expanding. For some product categories it is obvious, for others the hurdles are greater to implement the solutions reasonably so that a real added value is generated for customers.
Jewelry, eyewear and accessories have now entered the virtual try-on world, as have furniture and decorative items. The current offers are good for a first impression of the product: Does this watch suit me? How does the sofa look in my living room?
The situation is somewhat different for clothing and shoes. Suppliers are working feverishly to make it possible to try on garments virtually. However, since this is where very individual body measurements and shapes come together with the high comfort requirements of well-fitting clothing items, the challenge is enormous. Many shoppers can't imagine giving up trying on "real" clothes altogether.
In addition to the quality of the application, the effort put into the recording also plays a role here: for example, are 3D models of a body calculated from individual photos and measurements, or is a complex 3D full-body scan performed? In the future, consumers could also use their detailed 3D avatars for extensive online shopping with several suppliers.
In my opinion, virtual try-on is most advanced in the cosmetics and makeup sector. Many cosmetics manufacturers and retailers offer the virtual try-on function in their web stores, both directly on the products and via the main menu.
Such applications are particularly popular with users in the beauty industry. This already shows how much potential there is in combining e-commerce and social media. On platforms such as Pinterest and Snapchat, users try out cosmetic products, post the AR suggestions on their channels and, with some vendors, can go directly to the web store to purchase the items.
Offering personalized advice online with virtual 3D avatar
The one major advantage of brick-and-mortar retailing over online retailing is often listed as the ability to offer personalized advice. Online and omnichannel retailers are doing their best to implement this offer online as well, for example via chat, video call or with "click-through" consulting tools on the website. Competent advice, but also personalization, are playing an increasingly decisive role in turning interested consumers into buyers.
Which product fits my needs, my style? The start-up Motesque, which specializes in biomechanics and machine vision, has also recognized the importance of answering this question for consumers. According to a study by ECC Cologne and Motesque, suitable product recommendations are not only an economic success factor. Many consumers appreciate the advice provided by modern technologies and algorithms.
And together with SIGNA Sports United, Motesque wanted to make that happen directly for a product where you might not have expected it: the bicycle! An October 2021 press release from SIGNA Sports United stated: "Together [SIGNA and Motesque] plan to launch the first ever biomechanical AI-based virtual bike fitting engine for online bike shopping. Based on scientific metrics, this solution generates a custom 3D avatar of the customer virtually riding different bikes, allowing customized bike sizing and fitting recommendations. With this revolutionary fitting engine, both partners aim to further close the gap between offline and online shopping."
The announcement followed in March 2022: In the online store fahrrad.de, customers can "try on" bicycles online using the MQ Fit Bike tool.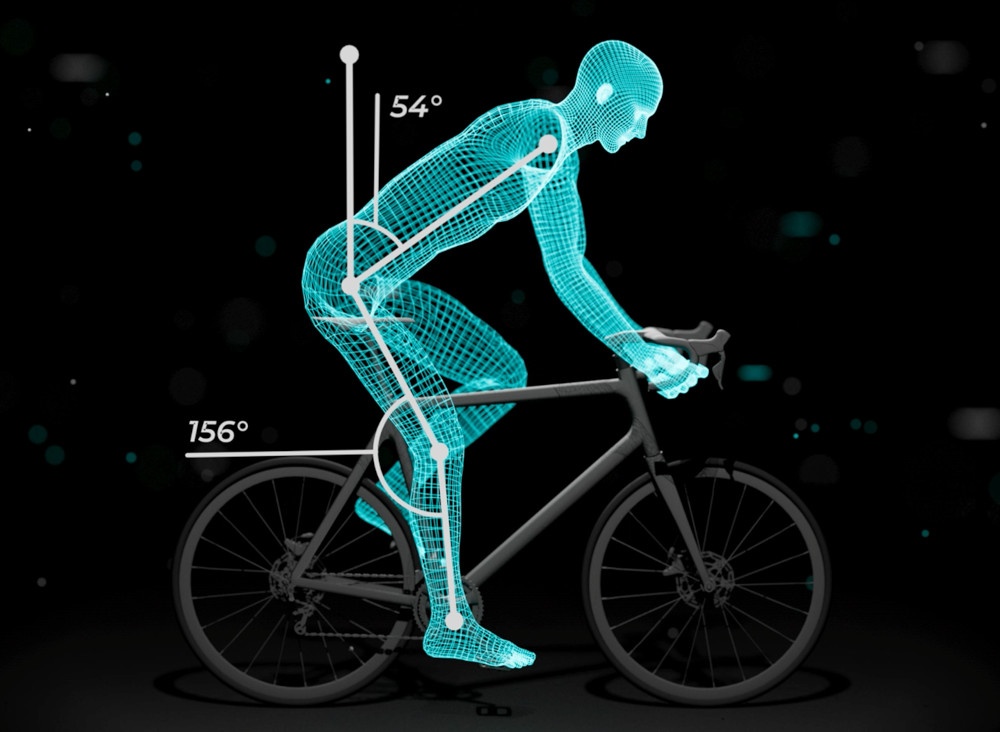 Source: Motesque GmbH & Co. KG
There really seem to be no limits to the possibility of virtual try-on. It only remains to be observed: Has the technology advanced far enough? How extensively and for which products will consumers use virtual try-on in the future? And how will retailers benefit from these services? We're looking forward to finding out.
---
Find more exciting news and reports about technologies for retailers in our Technology Special for EuroCIS 2022.