Report • 31.08.2022
Rolling into the future
Why shopping carts can be so much more than they currently are
More and more technology is finding its way into our supermarkets. Already today, self-service checkouts, electronic shelf labels and virtual wayfinding guides are a familiar sight in many stores. But the customer experience usually doesn't start at the shelf or checkout, but much earlier – at the shopping cart.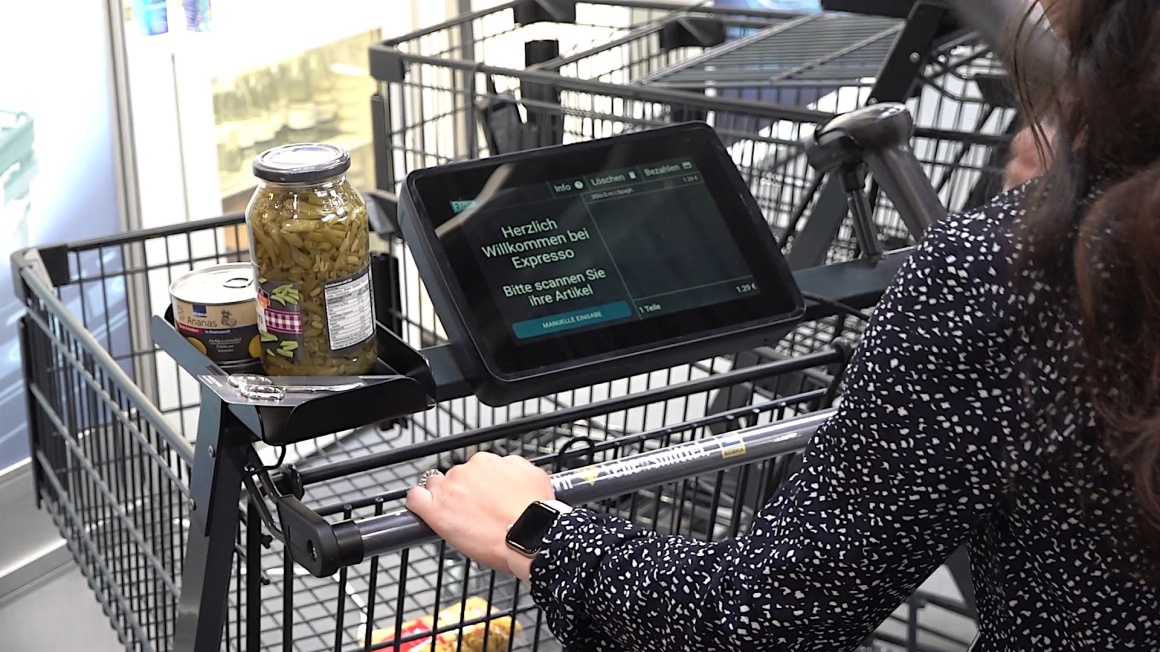 Source: iXtenso / beta-web GmbH
At first glance, shopping carts are little more than necessary tools for carrying a large number of products from the shelves of a supermarket to the checkout. In principle, therefore, one might think that a large plastic or metal basket on four wheels would suffice to do the job. And if you consider the shopping cart merely as a means of transporting groceries and other goods, this may be true.
The shopping cart as an all-round talent
But the industry is thinking one step ahead. For innovative companies, a shopping cart can be so much more than a simple means of transportation. The idea behind it: Anyone who buys a certain amount, for example when shopping for the week or in preparation for an event, will not be able to do so without a shopping cart. So why not equip this indispensable tool in such a way that time and effort can be saved elsewhere?
Smart shopping carts are the answer. At EuroCIS in Düsseldorf, it became clear in which direction the concepts are developing: Shopping carts are supposed to think ahead and ensure that customers save time in the end while they are still shopping, for example, by saving them from having to weigh, count or even pay for products at a checkout.
The systems also offer clear advantages for retailers. When customers use their shopping carts to take over processes such as scanning goods or making payments or checkouts, employees are freed up to focus on other tasks. Some of the developing companies have also given thought to product security and theft prevention.
"With a built-in weighing unit, our system offers a security for retailers that really only those products are purchased that have been inserted and no higher-priced products. Misuse and theft are therefore prevented for sure," Dr. Alexander Bünz, CEO of Expresso, explained to us during EuroCIS.
From means of transport to self-checkout tool
Two years ago, we already reported on the possibilities that could arise from modern shopping carts. At the time, these were a reality either as the subject of research or in a few food retail chains in the United States. But by 2022, the technology has also arrived in practice in Germany and other parts of Europe. The SmartShopper from Expresso, for example, is currently being tested in selected EDEKA stores.
The different systems from companies such as Expresso from Kassel, Nomitri from Berlin or Flow (formerly WalkOut) from TelAviv pursue a variety of approaches.
Customer guidance: In large supermarkets, it can quickly become confusing, especially for new customers. Some of the modern shopping carts are therefore equipped with virtual maps of the stores. Taking the idea further: In the future, customers could enter a list of the products they need at the beginning of their shopping tour or transfer it via app and the shopping cart would show them the most efficient route through the store.
Product information: Nowadays, a lot of product information can be found on the packaging. But this is often written very small and not always easy to read for elderly people, for example. On shopping cart screens, product information can be displayed much larger and more clearly structured.
Weighing units: Time and again, customers fail to weigh fruit and vegetables, for example. This leads to delays at the checkout because staff have to run to the appropriate department with the goods and weigh them afterwards. Weighing units installed in shopping carts could eliminate this problem – because they weigh the products as soon as they are placed in the cart.
Payment: A technologized shopping cart can also take on the role of a mobile self-service checkout. Once customers have found all the products, they simply use an app on their smartphone or a debit or credit card to pay directly at the shopping cart for the purchases scanned in or automatically determined by the cart. Even simpler: Similar to Grab&Go, customers pay using a predefined payment method (e.g. PayPal) when they leave the store. In this case, the manual payment process is eliminated completely.
Advertising: A screen on the shopping cart always offers opportunities. Even when it is not being used as a guide, to display product information or as a checkout. Retailers can use the screen to draw their customers' attention to current offers – even individually and specifically on the shelf, with the appropriate equipment.
According to the various companies, integration into existing processes and ongoing operations is generally not a problem. When asked about the prerequisites for using Expresso's system, Dr. Alexander Bünz explained: "One of the strengths of our system is that there are virtually no prerequisites other than a WLAN in the market."
So it becomes clear: Anyone who sees shopping carts only as a means of transporting products is missing an opportunity to improve the customer satisfaction and the shopping experience in their own store, to combine many processes in a single device, and to save not only time but also money in the mid-term.
More information about smart shopping carts