Event • 30.09.2019
Get your business ready for E-commerce!
E-commerce Berlin Expo 2020 starts on the 13th of February 2020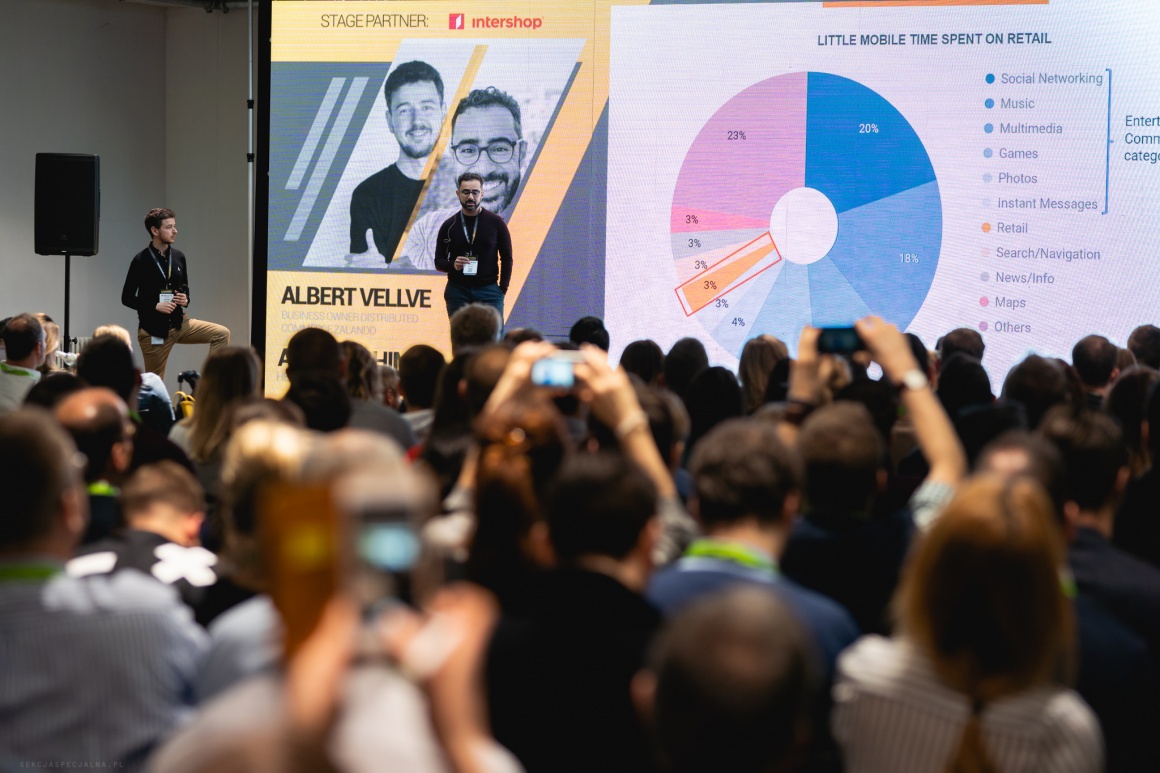 Source: E-commerce Berlin Expo
The E-commerce Berlin Expo 2019 gathered more than 55000 visitors, 150 exhibitors and 45+ speakers taking part in the annual fair.
The numbers speak for themselves - EBE has become one of the most important e-commerce events in Europe. However, the team is hungry for even more success - that's why preparation for EBE2020 has already started.
E-commerce Berlin Expo is not a newbie in Berlin. The first edition took place in 2015, and since then the event is nothing but continuously and dynamically growing. Comparing to many other local European fairs, E-commerce Berlin Expo stands out with a very international crew of speakers, exhibitors (the 2019 edition saw exhibitors from almost 30 countries) and visitors from all over the world, giving everyone a chance to make new business relations and maintain existing ones during one of the hottest e-commerce events in Europe.
This is where retail, e-commerce, and technology go hand in hand
EBE202 is a haven & heaven for retailers, e-commerce specialists, C-levels managers and reps of the whole industry of marketing, e-commerce, and technology. Start-ups and investors will definitely find something for themselves, too. Every year, the agenda is perfectly curated and involves the biggest names and companies in the business, in order to deliver the best bits of knowledge about all e-commerce things managers want to know but are scared to ask about.
During EBE2020, you can be sure to find in your agenda topics related to customer service, innovations, technology, client experience, e-commerce, and retail, but EBE2020 tends to surprise their audience all the time with out-of-the-box approach and case studies that cannot be found anywhere else.
Visitors are in for a treat next year, as more than 50 international speakers are going to share their knowledge, expertise, and insights on four interactive stages. Anyone who wants to stay in the game and be up to date with the latest news and trends, should not miss the February event in Berlin.
What kind of speakers to expect? Let us name just a few giants: Facebook, Google, YouTube, Zalando, Alibaba, HubSpot, L'oreal. They may have a few things in common, and one of them is performing during previous E-commerce Berlin Expo editions. The show's packed agenda is created using input from the industry-leading editorial team at E-commerce Germany News magazine, providing attendees with covering topics that matter. This is another highlight and reason why it's worth adding EBE2020 to your events' calendar.
Why the 2020 event will be special
Hopes are set really high for the fifth edition, which is taking place in 2020 at the historic landmark of STATION-Berlin.
"The positive feedback we got about our 2019 edition was overwhelming, and we are extremely happy that the event not only lived up to our visitors, speakers and exhibitors' expectations but also exceeded them. We can see a really huge need of events like ours, where we combine retail trends, e-commerce insights and business opportunities into remarkable networking and lead generation chance." - says Lucas Zarna from E-commerce Berlin Expo team.
"We expect more than 7000 visitors, 180 exhibitors and +50 high-quality speakers during our 2020 event. EBE is a great opportunity to expand your network, find new potential leads and learn a thing or two about e-commerce from real giants of the industry, neatly selected by our team. What's definitely worth mentioning is that it's one of the most international e-commerce events in Europe. Berlin as a melting pot of the whole continent is a perfect location for such an event, and STATION-Berlin amazes our guests every year. We are looking forward to each and every edition, but the next year's one will be really special."
The E-commerce Berlin Expo 2020 comes back to STATION-Berlin on the 13th of February 2020.
Find out more about the E-Commerce Berlin Expo 2020.