Report • 14.08.2020
Getting a taste for grocery deliveries
What are the best online grocery delivery options?
Bread, cucumbers, tomatoes, pasta, butter ... Brick-and-mortar stores are no longer the only place where consumers turn to for their groceries. The COVID-19 crisis has spurred a boom in food delivery services. So how do groceries end up in your fridge at home if they are being delivered?
Brick-and-mortar stores are not the only destination for shoppers to buy groceries. Online cash registers of e-commerce websites are also increasingly ringing up consumables. The total volume of the product group cluster "Daily Needs" (food, drugstore goods, pet supplies) increased by 51.2 percent between April and June, resulting in a total turnover of 1,888 million euros. According to a recent press release by the German E-Commerce and Distance Selling Trade Association (Bundesverband E-Commerce und Versandhandel Deutschland e.V., bevh), online grocery sales during the second quarter of 2020 have hit a record 772 million euros, equaling a growth of 89.4 percent. German consumers seem to have developed a taste for grocery delivery services. No wonder, given the many obvious benefits: there is no need to walk or drive to a store, no navigating (the wrong) aisles, no waiting in long checkout lines, no lugging of heavy shopping bags. Convenient and fast shopping makes customers happy. And if they are happy, retailers are happy… and successful.
Delivery or pickup
What are your grocery delivery options in Germany? Many supermarket chains offer door to door services in selected German cities. Bringmeister is a German industry veteran and has been delivering fresh groceries courtesy of the service's own refrigerated vans to consumer doors since 1997. Options include same-day delivery, or delivery during a one, two or four-hour delivery window between 6 a.m. and midnight. Getnow or Leipzig-based food.de offer similar services. Grocery orders made by 12 noon are delivered on the same day. Alternatively, shoppers can arrange a scheduled delivery. What makes this service so unique is that the items arrive in special delivery boxes, which are picked up again by the Food.de delivery person, thus eliminating additional packaging waste.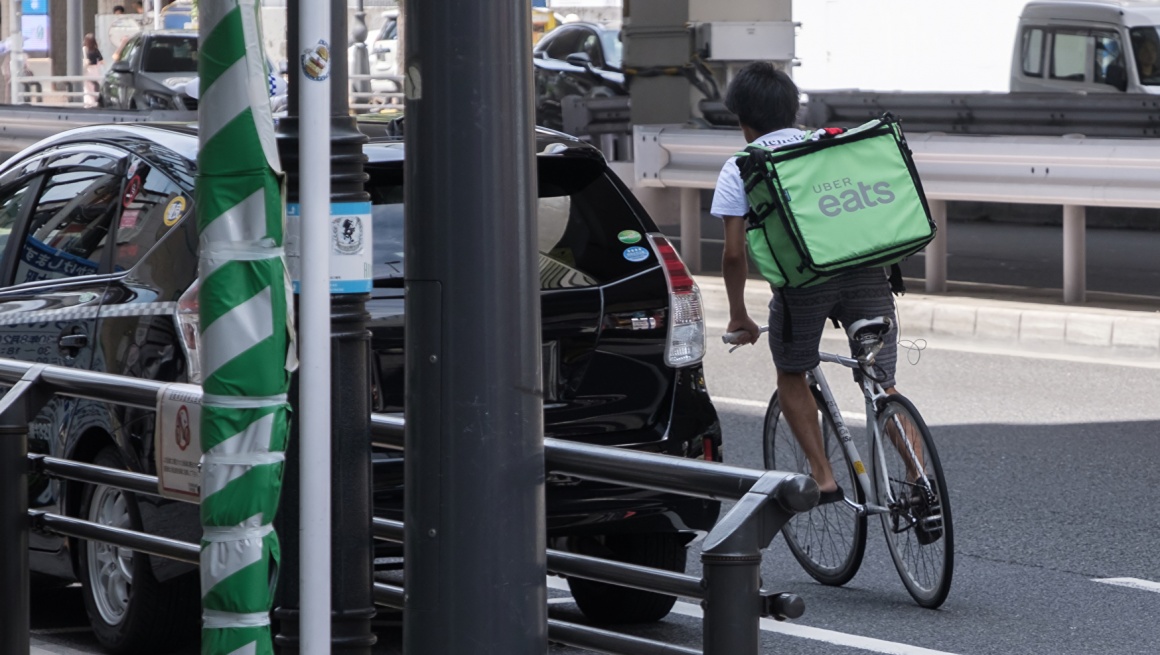 Source: PantherMedia / akulamatiau
Large retail companies have also been busy and jumped on the "food-delivery bandwagon" for the past few years. Apart from delivering groceries to your front door, REWE also offers the option of order pickup at the supermarket. Shoppers can order their groceries online whenever it's convenient and pick them up all ready to go after work at the supermarket. A portion of the retailer's online store assortment can also be delivered via package in 3 to 5 days. Real Markt has a similar setup. The Dutch startup Picnic deliveries groceries with a fleet of only electric cars - the customer selects the time and place and can track the delivery live via the company's app. Delivery is made within a 20-minute window. In Berlin Prenzlauer Berg, the Gorillas startup has bike couriers make third-party deliveries. The company promise: Your order arrives in 10 minutes. GoPuff in the U.S. also vows to deliver essentials in 30 minutes. Both services rely on their own warehouses versus sending order pickers to locate items in supermarkets.
The Hellofresh ingredient-and-recipe meal kit service (called "Kochbox") requires a little more planning and foresight. Here, shoppers can choose meals for the week. In case you are not home, you won't be able to change the delivery address after the order has been placed. However, you can issue a drop off permission ("Abstellgenehmigung") on your customer account and have your packages dropped off in your absence at an agreed location such as your hallway, garage or patio. The pre-determined drop off location must be accessible for the courier. In Germany, new competitor Dinnerly – owned by Marley Spoon - is another food delivery alternative where shoppers can order for the week ahead. Unfortunately, you need to set up an account first to be able to access information about the different delivery options.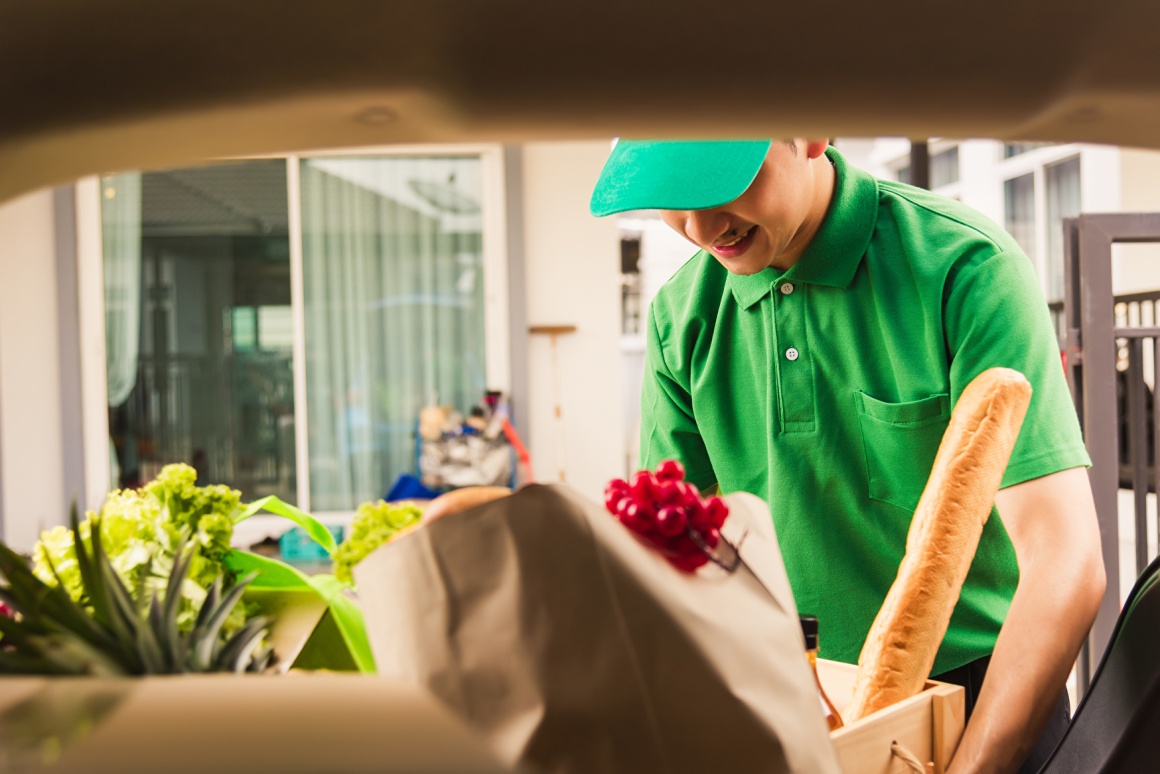 Source: PantherMedia / Sorapop Udomsri
Different countries, different customs
Unlike Germany, other countries have embraced online grocery shopping much sooner. Instacart launched in 2012. This solution is the Uber of home grocery shopping. The idea behind the grocery delivery and pickup service that's so popular in the United States and Canada: Instacart shoppers pick and deliver the items that customers order. Customers can choose a specific delivery time: within an hour or schedule up to five days in advance. And speaking of Uber: the ride-hailing company has also dabbled in online grocery deliveries for some time. The company has partnered up with Cornershop, an on-demand grocery delivery platform that operates in selected cities in Latin America and Canada. Customers can place grocery orders on the Uber and Uber Eats apps and track their delivery person's progress live via the apps. In a pilot project it launched last year, Walmart decided to forego drivers altogether and rolled out self-driving vehicles in Arkansas, testing grocery pickup and delivery for its customers.
As a true example of "different countries, different customs", English and French shoppers also like to order groceries online, but prefer to pick them up in the "Drive In" or by using "Click & Collect". The English chain Sainsbury's offers this service in nearly all of its stores, and so does Tesco. In France, drive-up (curbside) locations are another popular choice, allowing customers to remain in their vehicles while employees load the groceries into the car. Carrefour, Leclerc or Auchan are retailers that give shoppers this option. Amazon Fresh is available to Prime members in two locations in Seattle and is a similar grocery pickup concept. The benefit for the retailer: there is no organizational or logistical effort required for deliveries. Lidl is currently also testing a "store pick" option in Poland.
While it's typically store employees that hand over the grocery purchases in Poland and France, it might involve an automated pickup locker in Great Britain. The concept works similarly to parcel post boxes or pickup points, which are also popular in Germany. Edeka and Kaufland use the so-called "Emmas Box". It's a modular locker system with compartments to store refrigerated and frozen goods. The system makes it possible to keep all fresh items – including refrigerated and frozen foods - stored in the lockers. Customers use a QR code on their smartphone for identification at the pick-up station to unlock their slot. The Rewe Group also offers pickup at designated stations. Iceland takes things a step further. Shoppers can order from online marketplace aha.is to request deliveries in Reykjavík. The company sends small remote-controlled helicopter drones, which reduces delivery times and cuts costs.