Logistics • 05.11.2018
Things are buzzing in Iceland: food delivery by drone
Will drone delivery service soon become a reality in Germany?
Iceland already embraces drone delivery. The delivery service offered by online marketplace aha.is in Reykjavík sends small remote-controlled helicopter drones, thus shortening delivery times and cutting costs.
His goal was to be the first in Europe and he accomplished it: Maron Kristófersson, CEO and founder of aha.is, Iceland's largest online marketplace, delivers orders from his customers by air.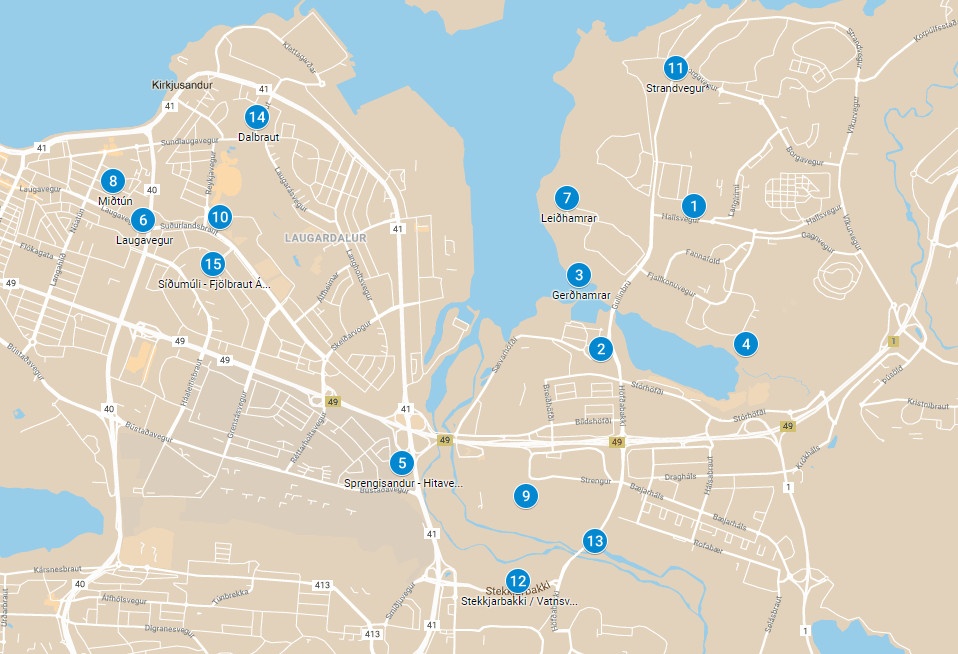 Source: Screenshot aha.is
The main reason behind it is it saves a lot of time. Due to the road conditions in Iceland, delivery by car actually takes a long time – there is only one busy main road that leads into town. Not ideal, especially when it comes to food deliveries. Meanwhile, the flight version saves 20 minutes because the drones just fly over the nearby body of water. The deliveries by aha, which has partnered up with 100 restaurants, are launched by an employee and can be either picked up at designated drop-off points (see map) or the customer's own backyard. However, the latter requires the written consent of the buyer's neighbors.
Once the delivery has arrived at the scheduled destination, the recipient receives a text message, confirms the delivery and the drone lowers the merchandise to the ground using a long wire. It's quite an exciting experience, though some of the capital city's residents question the safety of the unmanned aerial vehicles. Others are concerned that the air traffic disturbs wildlife and birds in the area. Nevertheless, the concept continues to gain momentum. While the company operated only two drones at the beginning of this year, it now flies 15. The delivery routes are predetermined, but the drones are permitted to deviate up to 700 meters from the target to reach the customer.
Long testing phase, fast implementation
It took 14 months to prepare and get permission for the first drone route. "Five public authorities had to approve the drone delivery service," says Kristófersson. The visionary and his family operated the test flights themselves. While drone testers in other locations have to launch the aircrafts from a moving vehicle to test them in windy conditions and bombard them with water, there was no need for this trailblazer to imitate any hostile weather conditions. After all, in Iceland, you can have strong winds, ice, hail, rain, and snow all in one day, which is why his drones were quickly put to the acid test under real weather conditions. The drones won't lift off in strong winds and extreme weather conditions. That's when the electric cars come into play, which are still part of the retailer's fleet.
The automated flying delivery vehicles handle up to 30 deliveries each day and transport three kilograms of weight. The flight time can take up to 25 minutes. According to Kristófersson, the flight range and maximum payload capacity of drones are generally expected to increase by 25 percent. He would like to be able to transport ten kilograms with his drones. In the future, six certified employees, so-called "operators" could each pilot twelve drones at the same time.
Amazon, UPS and Alibaba – Pilot tests in the U.S., UK and China
While the Icelander has already implemented his drone delivery vision, delivery giants like Amazon and UPS are still testing similar systems. "Amazon Prime Air" is a drone-based delivery concept that is being tested in Great Britain. In the U.S, UPS is trying to make drone deliveries in rural areas. Unlike Amazon, which launches its drones from a small central office, UPS dispatches its drones directly from the top of a package car, which features a converted roof (it opens, the drone takes off and lands on it again). While the driver makes another separate delivery, the drone flies to another nearby location at the same time and returns to the delivery truck, even if the truck has already changed its position.
In Shanghai, the delivery service Ele.me (owned by Alibaba) now also uses drones for food deliveries – albeit within an industrial area, Shanghai's Jinshan Industrial Park. Employees receive the deliveries and distribute them to the customers.
Will drone delivery service soon become a reality in Germany?
Admittedly, a delivery by air could definitely ease traffic congestion in some metropolitan areas. The booming e-commerce market and subsequent issue of faster, more eco-friendly shipping and returns management solutions urge us to look for alternative delivery options.
According to a comprehensive study in several EU countries, consumers are actually ready to use this form of delivery. Some manufacturers are already waiting in the wings to provide convenient payment solutions for drone deliveries.
But here is one caveat: If it is illegal in Germany to launch modest Chinese paper lanterns without first alerting the Aviation Authority, it's apparent that this particular delivery method might be doomed to failure in the long run. Drone flights are subject to increased regulations, which would make a commercial operation far more difficult.
German logistics experts predict that drone delivery won't take off in the long run: not enough space, limited capacity, and the list goes on. If anything, they consider central delivery points as an alternative, designed to relieve truck traffic on roads.
At the moment, European aviation authorities are still working on standard guidelines for drone use – though these are drones that play in a different league given their high 150-kg payload capacity. Yet it's clear that drones have only begun their journey and are gaining steady momentum. And who knows? Maybe Germany will manage to embrace a new technology for once and give it a chance.