Company News • 25.08.2021
Thriving Through COVID-19 Via Task and Workforce Management Apps
As with many other major retailers, COVID-19 forced Vera Bradley to adapt to radically new circumstances.
As with many other major retailers, COVID-19 forced Vera Bradley to adapt to radically new circumstances. Kelly Brown, Vice President of Stores at Vera Bradley, recently participated in a Fireside Chat session at the NRF Retail Converge event to discuss the subject. The session was titled "Thriving During Disruptive Times: How Vera Bradley Became a Store Operations Superstar." During the chat, Scott Simonton, Senior Solution Consultant at Zebra Technologies, posed questions to Brown. Below is an excerpt from the Fireside Chat, with edits for clarity and grammar.
Vera Bradley, based in Fort Wayne, Indiana, is a leading designer of women's handbags, luggage and fashion and home accessories. The company operates 144-plus full line and retail factory store locations throughout the United States. Vera Bradley has successfully rolled out and leveraged both Reflexis retail applications and Zebra inventory management and warehouse management solutions.
Supplier

Kokkolastr. 5-7
40882 Ratingen
Germany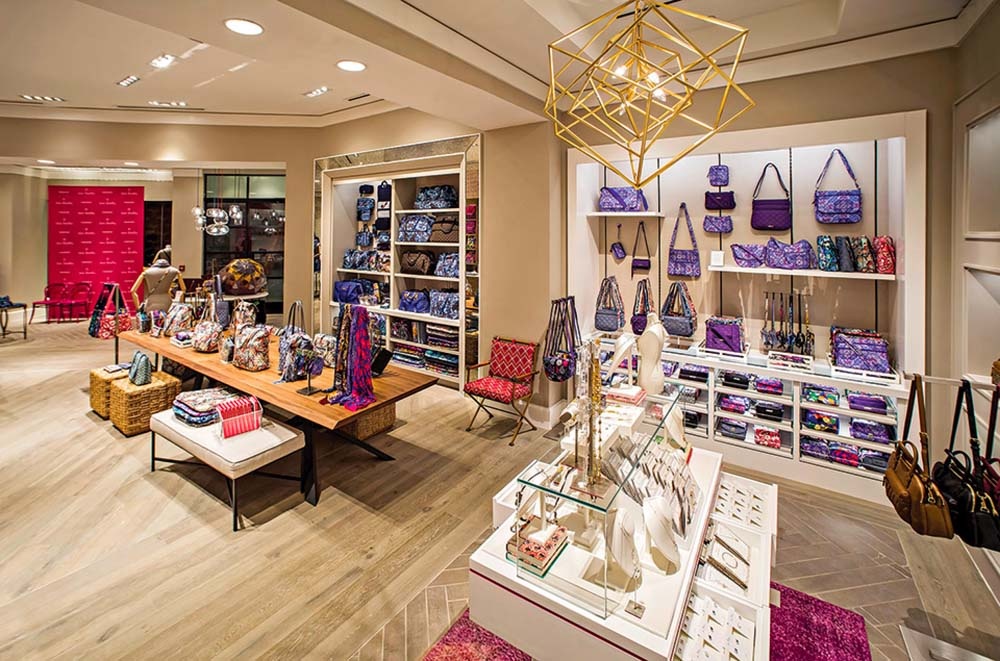 Source: Vera Bradley / verabradley.com
Could you share some of the challenges (and solutions) Vera Bradley encountered during COVID-19?
With sinking demand, the company needed to staff accordingly, like many other retailers. But Vera Bradley still had to provide the right mix of associates to maintain the company's best-in-class service. Fortunately, the company had already been leveraging the Reflexis Workforce Scheduler™ solution. This enabled district managers to do such things as monitor schedules, payroll, time and attendance "and keep up with what was happening in all of our stores," says Brown.
Simultaneously, the store managers faced suspected COVID-19 cases and quarantines and these led to extensive schedule rewrites "late in the moment." Luckily, the automated workforce management system enabled managers to handle it–in fact, a recent Reflexis upgrade saved store managers an additional 1-2 hours per week through faster forecasting. Reflexis Employee Self-Service™ also streamlined scheduling processes–enabling managers to monitor employee shift and vacation requests and approve or deny them quickly. Ultimately, these solutions and the communications they enabled contributed to Vera Bradley's high employee retention rate through the pandemic, suggests Brown. "That communication piece back and forth has been so easy, that it really helps with the employee experience and keeps them all engaged," she says.
Can you share how Reflexis Appointments also helped?
Reflexis Appointments™ allows a customer using a mobile device to book a fixed slot of time at a Vera Bradley store, where an associate is available to wait on them. The company used Appointments at their full-line stores and factory stores. For the full inline stores, customers can book time before, during or after regular store hours, for special attention.
Brown says: "We found that our customers really enjoyed that one-on-one time with our associates in our full-line stores." It was also useful during the pandemic, when many customers were uncomfortable being in a store with other shoppers. "But we feel like that's something we'll continue to use because it's been so beneficial to us," says Brown.
Additionally, Vera Bradley was using Reflexis Appointments to manage the customer flows at its factory stores. In this system, the customer used a QR code to be placed in a virtual line with a specific time slot, shared via text message. As Brown says: "For those customers that are embracing our line queue it makes for a really great experience."
You also implemented Task Manager last year. Can you share metrics?
Vera Bradley uses Reflexis Task Manager™ and its Q-Chat™ applications to streamline operations and communication processes between corporate and the stores. The company began their rollout of Task Manager while many employees were still running on reduced capacities. So, it was also necessary to promote all the company's new COVID-19 policies and procedures through the Task Manager interface, explains Brown.
To succeed, managers held Reflexis classes for the employees as the stores reopened. "The stores embraced it really quickly, which was great," she says. "They were able to easily find their tasks. They really liked having a calendar view feature so they can plan workload and prioritize tasks. Our district managers can see task completion and follow up really quickly, which is saving a lot of time for them."
The solution improves accountability for projects, and helps identify late tasks and address them before they become a problem. Stores also can upload pictures of such things as product displays–and managers can review (and share) these images to ensure consistent execution across the chain. The system also provides a rapid search capability that enables a quick review and retrieval of historical data.
Additionally, district managers leverage Q-Chat to talk to stores; stores can also use the solution to communicate with other locations facing the same issues and get fast answers to their questions. Leveraging Reflexis for streamlined communications between headquarters and the front line saves each operations team four-five hours per week. And relying on Reflexis Task Manager forms functionality streamlines the processes for headquarters to respond to stores' requests when managers there are facing unexpected events and need special guidance.
Can you describe the advantage of having a combined Workforce and Task management platform?
Brown says: "It makes it really easy for our store managers to toggle back and forth between Task Manager and Workforce Manager, because the login is all the same, it's all together in one place." They can quickly see these the tasks they need to schedule for and save time building schedules.