Interview • 14.06.2023
"Help yourself!": Are self-checkouts the next big thing in retail?
Efficient everyday business, efficient shopping
In the face of the digital age (and the rush just after the end of the workday or the day right before a holiday), retailers are looking for innovative technologies to continuously improve shopping experiences. Self-service checkouts (SCOs) allow customers to scan and pay for their purchases without having to wait for staff at the checkout. In this interview with Nico Müller, CCO at shopreme, we learn more about a new solution: the shopreme matrix.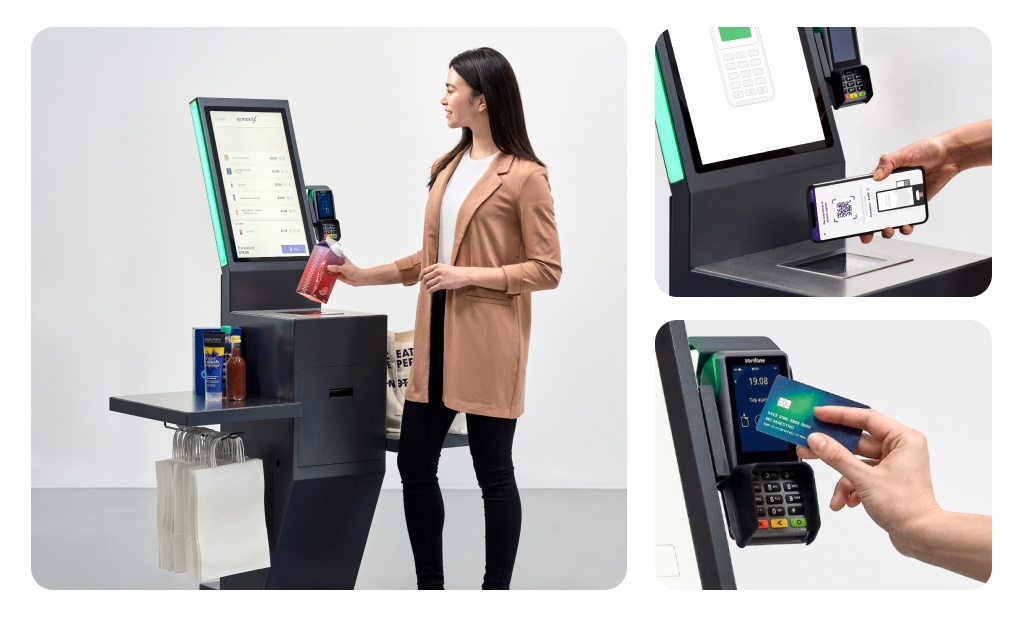 Source: shopreme
Nico, speaking in general terms: For whom is it worth considering self-checkouts at all?
For retailers, self-checkouts help to reduce queues at the checkout and thus improve the shopping experience for customers. Especially in times when cashiers are in high demand, SCOs can help relieve existing staff and allow other necessary tasks to be done in-store. In addition, retailers can use their space more efficiently, as multiple self-checkout kiosks often take up less space than traditional checkout areas.
But self-checkouts are also convenient and time-saving for customers, especially when store checkouts are busy. They allow shoppers to complete their purchases at their own pace without having to wait for employees to cash up.
What are the advantages of the shopreme matrix compared to conventional self-checkout systems?
We have redesigned shopreme matrix from the ground up with retailers and customers in mind.
There is a single integration for mobile scan & go, stationary self-checkout and hybrid. The latter is the shopping cart transfer from the mobile app to the shopreme matrix to pay at the traditional payment terminal. We also offer customers the option of saving their credit card details in the mobile app after making a one-time payment via a payment terminal at the shopreme matrix self-service checkout.
What's more, our self-service checkout is based on Android, can be maintained remotely and is set up in a store in just a few minutes. Plus, there's an integrated Bluetooth beacon for store recognition. The QR code printed on the receipts can be used to open the optional exit gate, but also to access the digital invoice.
Finally, an employee app is available for managing age checks, spot checks, and exit gate control, as well as for configuring the shopreme matrix or vector hardware.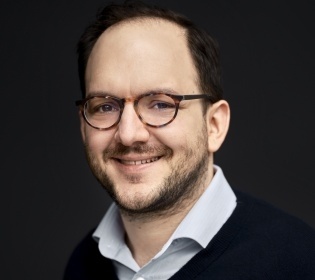 Source: shopreme
Does my store have to meet any requirements to be able to incorporate the shopreme matrix?
The shopreme matrix can be purchased in a slim version or with supplementary furniture such as shelves or hooks for shopping bags. Depending on the circumstances, you should therefore allow the appropriate space. In addition, only a reliable internet connection is required.
A key advantage of SCOs is the increase in efficiency for the business. Are there nevertheless situations in which existing personnel have to be called in to work directly on the system?

Although SCOs significantly automate checkout operations and increase efficiency, there are still situations where staff intervention is required; for example, age verification: For products that have an age restriction (such as alcohol or tobacco), human verification of age is often required by law. With the shopreme checkout assistant app for employees, they can perform age verification remotely. For further purchases, customers can use an optionally stored face ID or fingerprint with biometrics to purchase such goods without having to call an employee.
To minimize risks and ensure the accuracy of the self-checkout system, shopreme also performs spot checks. Customers are selected for these checks based on parameters previously set by the retailers themselves (such as the number of checks, the risk value of the store, the shopping cart value, etc.). Employees can then perform visual checks, partial checks, or full inspection scans using the employee app.
Finally, staff are also important to the success of modern SCO solutions, answering questions from customers and providing assistance in operating the system. Staff can act as multipliers by directing customers who are in line at the traditional checkout to alternative checkout options such as mobile scan & go and the shopreme matrix. So the role of staff is still crucial in ensuring a smooth and satisfying customer experience.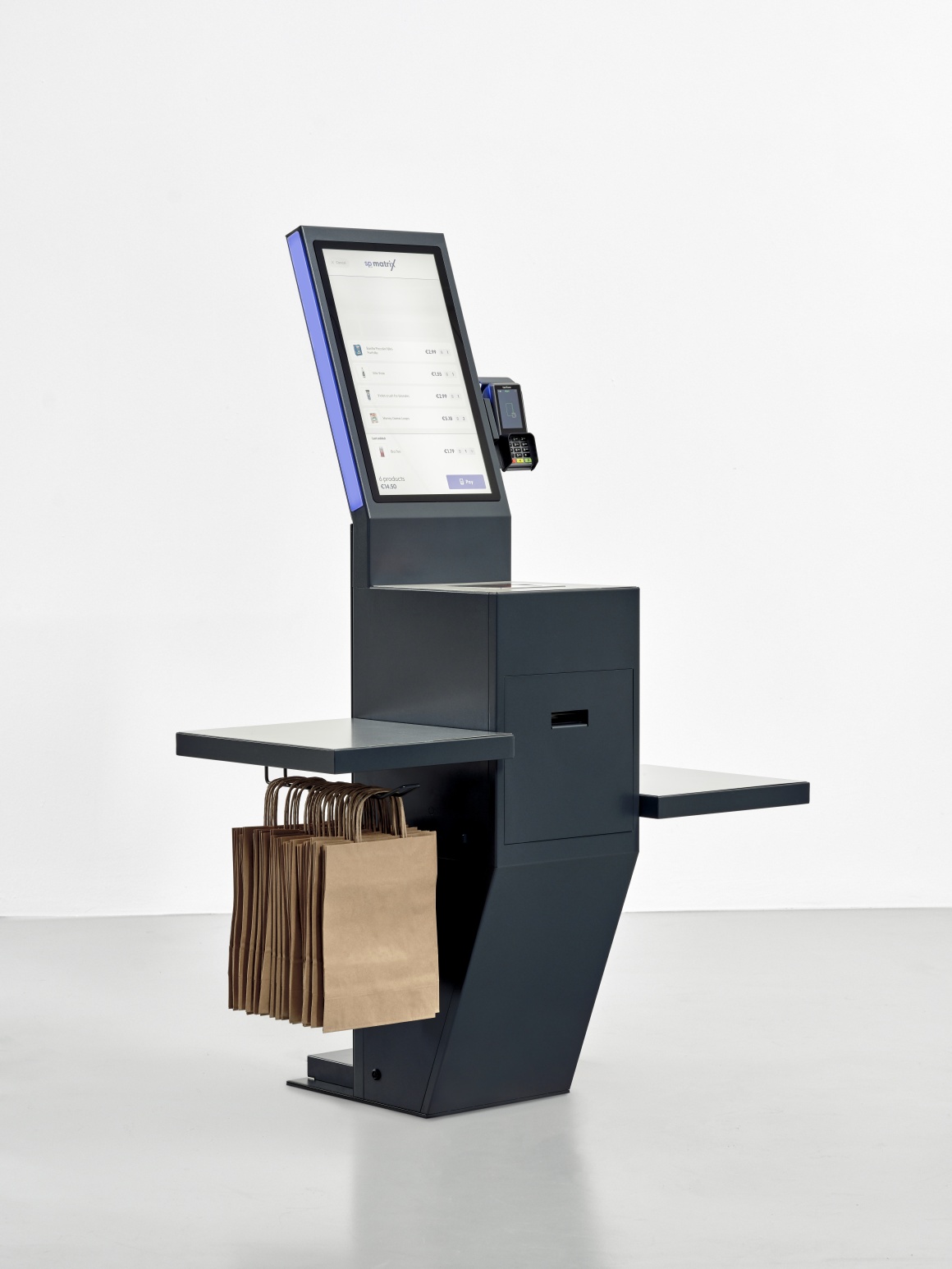 Source: shopreme
How does the shopreme matrix protect against theft?
In addition to the spot checks or employee app options just mentioned, a person cannot even leave the store without paying thanks to the (optional) exit gate, which can only be opened by a QR code on the receipt.
It's important to note that no system can completely prevent theft. However, we have designed our solution to minimize the risk and help retailers protect their products more effectively. Traditional security measures such as cameras and the staff themselves remain in place and complement the shopreme solution.
What feedback have you received from users so far?

The initial feedback from the Netherlands, where our solution is already in use, was phenomenal. For me personally, it was wonderful to see how even elderly people with rollators could use our solution flawlessly and independently. Many customers even asked the employees of the branches themselves that they thought this addition of a modern SCO was fantastic.
It is very interesting to see that SCOs are often used for smaller purchases, while mobile Scan & Go (with a pre-installed phone holder on the shopping carts) is used for large purchases. Customers ultimately have the choice of how they want to shop.