News • 09.08.2022
#DWMF Europe for top-level digital marketing insights
DMWF Europe at the RAI in Amsterdam on 21-22 November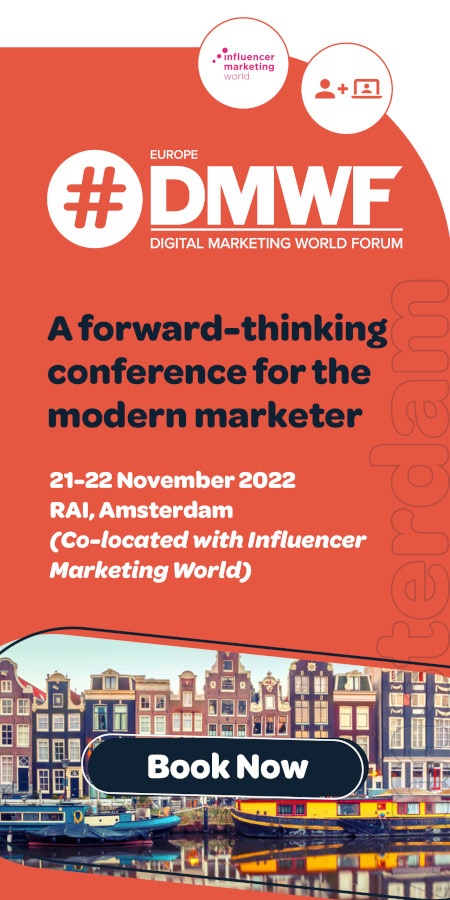 Source: DMWF
DMWF Europe returns to the RAI, Amsterdam on 21-22 November, for a must-see hybrid conference and exhibition bringing together the brightest minds in digital marketing. It's three days of top-level strategic content, digital marketing insights, networking, and inspiration! DMWF can take your marketing strategy to the next level, meanwhile allowing you to collaborate with the leaders paving the way forward in digital marketing.
The event will focus on key themes including; content marketing, digital brand strategy, social media marketing, community management, data, disruptive tech, UX, CX, AI, SEO, eCommerce, personalisation, consumer behaviour, marketing in a pandemic-era and now excitingly co-located with the in-person launch of Influencer Marketing World!
The unrivalled content will inspire, inform and support marketers in being the best they can be!
Over 80+ inspiring speakers will be sharing their expertise across 5 conference topics:
Social Media & Community Marketing
Data & Insights
Content & Digital Brand Strategy
Digital Experience & eCommerce Strategy
Influencer Marketing Word
Speakers at the forefront of their industry will be on hand to provide the guidance and essential skills marketers need to surpass their 2022 marketing goals and beyond.
#DMWF Europe prides itself on its global brand speaker line-up and has united thought leaders from across the globe from renowned brands such as FitBit, Mastercard, Radisson Hotel Group, Heineken, Coca-Cola, Hunkemöller, Teva, Renault Group, Twitch, TikTok, Trivago, Unilever, PVH, Telefonica, Nissan, Shiseido, Lufthansa, Airbus, Pepsico, and many more!
Attend the event with an all-access conference pass and get access to:
All conference sessions and tracks at DMWF Europe
All conference sessions and tracks at Influencer Marketing World
Exhibition floor
Lunch & refreshments
Networking drinks
Full access to conference and networking app
Plus, full access to the virtual conference taking place on 30 November
Register here and be inspired!
For more information on #DMWF Europe 2022, including details of how to attend, exhibit or sponsor, please visit digitalmarketing-conference.com/europe/.