News • 27.04.2022
New contact-free food and beverage checkout in time for baseball season
Instacart and Aramark Sports + Entertainment unveil Caper Counter, an AI-powered point-of-sale system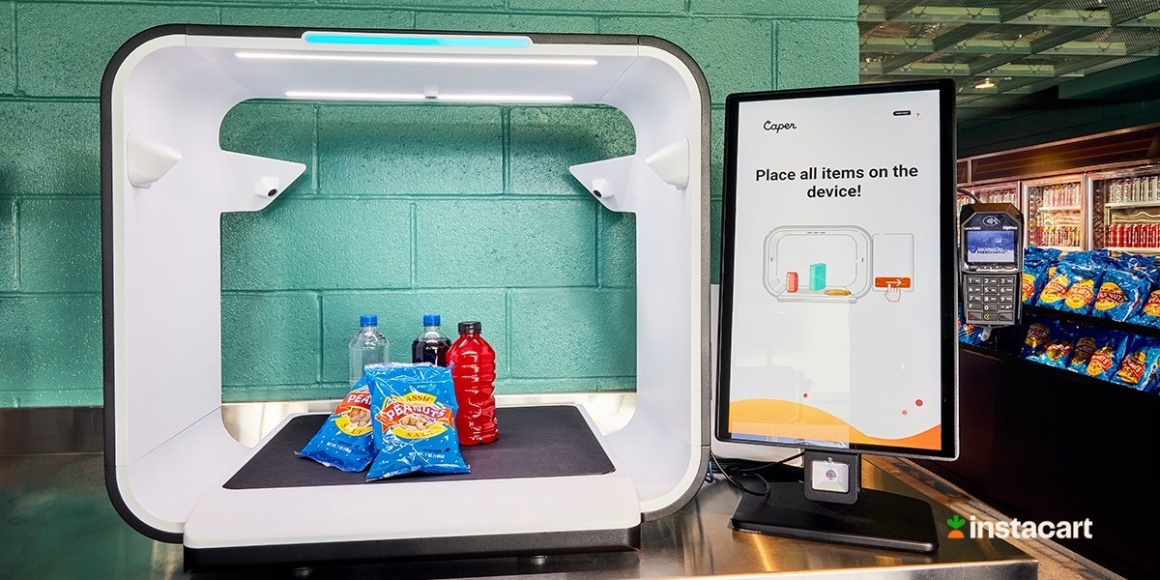 Source: Instacart
Instacart announced that it is unveiling its Caper Counter, an artificial intelligence-powered point-of-sale system, at Boston's historic ballpark in partnership with Aramark Sports + Entertainment.
The new Caper Counter checkout systems will provide fast, contact-free transactions of food and beverage selection for fans through visual recognition and AI technology, helping to reduce transaction times.
Customers will be able to use three Caper Counters for contact-free checkout experiences at select areas around the Boston stadium, located at the Truly Terrace and Walk Thru Bru. Caper Counter's technology allows for packaged food and beverage items - such as peanuts, soda, beer and candy - to be scanned and purchased in seconds while also increasing health and safety throughout the ballpark.
Caper Counter is powered by AI - including computer vision and Sensor Fusion technology - to visually detect and identify items based on their shape, color, key features and sizes. Customers place items for purchase on Caper Counter, where they will be automatically detected and added to the cart for checkout. Customers then select 'pay' and choose from either a credit card, loaded ticket or team rewards as their method of payment, and can then gather their food and beverages, completing a seamless, autonomous transaction.
A world class experience for baseball fans
"Boston baseball fans enjoy one of the most iconic venues in all of sports, offering a truly authentic atmosphere," said Alicia Woznicki, Vice President of Design and Development for Aramark Sports + Entertainment. "By introducing Caper Counter, we are providing a world-class experience and helping fans quickly and seamlessly grab their favorite snack so they can get back to their seats to enjoy the game with their family and friends."
"Nothing compares to the experience of attending a game in person at the stadium, but we know fans increasingly want a more engaging, seamless and contact-free checkout experience. By helping to speed up the checkout experience, fans can spend less time buying their peanuts and beer and more time where they want to - in the stands, cheering on their team," said Lindon Gao, Vice President of Engineering at Instacart. "On average, Caper Counter decreases transaction times by approximately 65%. We're excited to continue bridging the gap between in-store and online experiences through our omnichannel solutions, and look forward to expanding our partnership with Aramark Sports + Entertainment in the future."
Technology & experience for retailers
Caper Counters are one example of the in-store technologies offered as a part of Instacart Platform, a suite of enterprise-grade technologies to enhance and digitize retail experiences. Caper Counter is designed for retailers that have a smaller physical footprint and stock-keeping unit (SKU) count, allowing customers to seamlessly purchase a handful of items at a time – ranging from stadiums to convenience stores.
To power in-store technologies for larger retailers, Instacart also offers Caper Carts, smart carts that auto-detect items instantly with AI-powered cameras. Instacart Platform provides retailers access to the technologies behind Instacart's consumer marketplace to power their own digital properties and retail operations. The platform brings together the technologies retailers need to improve the consumer experience online or in-store and digitize the end-to-end grocery operation.
---
Find more exciting news and reports about technologies for retailers in our Technology Special for EuroCIS 2022.
More about technological solutions in retail and EuroCIS 2022