News • 30.03.2020
Corona crisis: Contactless payment more popular than ever
Practical, fast, and, above all, hygienic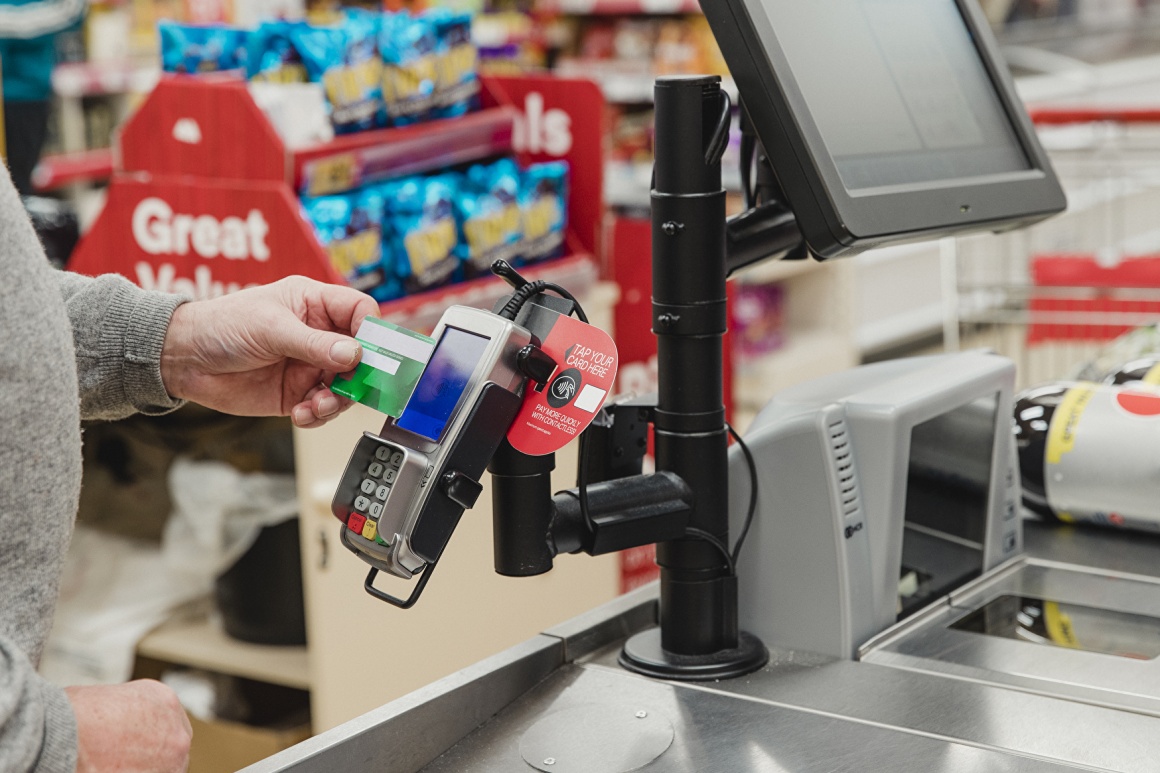 Source: Bildagentur PantherMedia / DGLimages
"Please make contactless payment if possible." These or similar notices are currently in the checkout area of many grocery stores. By reducing necessary contact points in the checkout zone, it is hoped to counteract the spread of the coronavirus. Will contactless payment finally become acceptable in Germany?
The Germans and their love of cash
Whether it's the chocolate bar at the kiosk, the weekly grocery shop in the supermarket, or the bill in the restaurant – Germans, unlike other Europeans, still like to pay with cash.
However, contactless payment is gaining more and more popularity. According to a study by the German Banking Industry Committee on the use of the debit card, the percentage of contactless payment transactions with the EC debit card rose to 35.7 percent in December 2019, compared to 19 percent in January of the same year. The Corona crisis now seems to have given this trend an additional boost. According to the Deutsche Kreditbank, a German direct bank, the number of contactless transactions with debit cards rose to over 50 percent in March.
Contactless already technical standard
Nowadays, almost all cards – debit and credit cards – have the contactless function. This can be recognized by a small symbol on the back of the card, consisting of four curved lines. Holders can set the function to active or inactive via their credit institution. Contactless payment is also possible via smartphone. The service can be provided either through the credit card provider and the use of a digital credit card or through mobile payment services such as Google Pay or Apple Pay.
Contactless payment works at all cash registers that are equipped with an NFC reader. NFC stands for near-field communication, the international technical standard for data transmission in contactless payment. Today, a large majority of terminals have this function and are also suitable for contactless payment procedures.
The advantage is that transactions of up to 25 euros can be made without entering a PIN, provided this is done without contact with the card reader. Major credit card providers such as Mastercard, VISA, and American Express have now increased this limit to 50 euros. The giro/debit card, on the other hand, has kept to the limit of 25 euros. According to the Handelsblatt, this limit is expected to be raised to 50 euros. A higher limit is not possible at this time due to the requirements of the EU Payment Services Directive PSD2.
Contactless: A must in times of Corona?
Bitkom, Germany's digital association, is calling for an obligation to offer contactless payment options. "Bitkom has been advocating for a long time that wherever payment processes are in place, there has to be at least one electronic payment option. We should now implement this consistently, if necessary, also with a legal requirement," says Bitkom CEO, Dr. Bernhard Rohleder.
Retailers welcome the increased use of contactless payment methods in the era of Corona. "For their own protection and that of our employees, we ask our customers to observe the important hygiene and distancing rules and, if possible, to pay without contact using card payment," says the press office of Aldi Süd. However, no customer should be forced to use contactless payment options. "Basically, we offer our customers the entire range of payment options. But contactless card payments have increased enormously. We, and especially our cashiers, welcome this."
It remains to be seen if and to what extent the Corona crisis will lead to a longer-term increase in contactless transactions.