Report • 23.08.2021
Long-term preparations for mid-pandemic brick-and-mortar retail
Under what circumstances do consumers enjoy their physical customer journey?
The COVID pandemic is not over. That's a hard but necessary truth. And brick-and-mortar retailers need to face that. But there is also good news. While expanding e-commerce and omnichannel services is important, surveys show that consumers still value going shopping in physical retail stores.
There are several reasons why customers all over the world still plan on using brick-and-mortar stores, according to YouGov research from February 2021. To name only three:
Physically experiencing and trying out products
The experience of visiting stores
Speed of purchase
"Global YouGov data shows that, for many consumers, the ability to trial products and services in the flesh is a key motivator. In every one of the 17 nations featured in our study, a majority of the public say experiencing products in-person is a key reason to shop in a brick-and-mortar store. […] There's also evidence that the brick-and-mortar shopping experience is something a significant proportion of consumers value in and of itself. "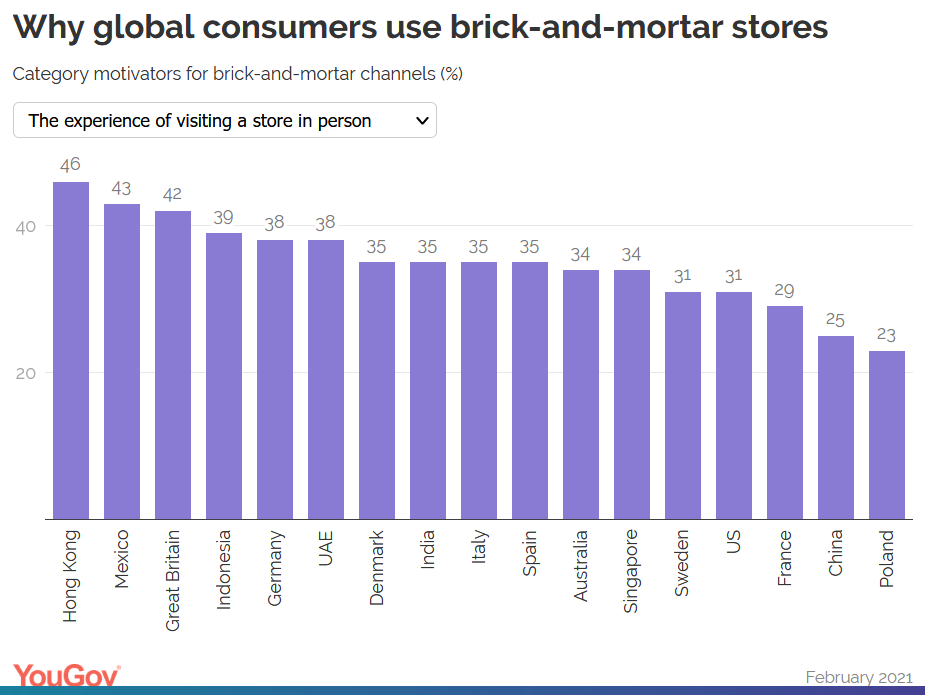 Source: YouGov
But for consumers returning to physical stores is not a no-brainer. They do need to feel safe and comfortable with the experience. But what are the requirements for this?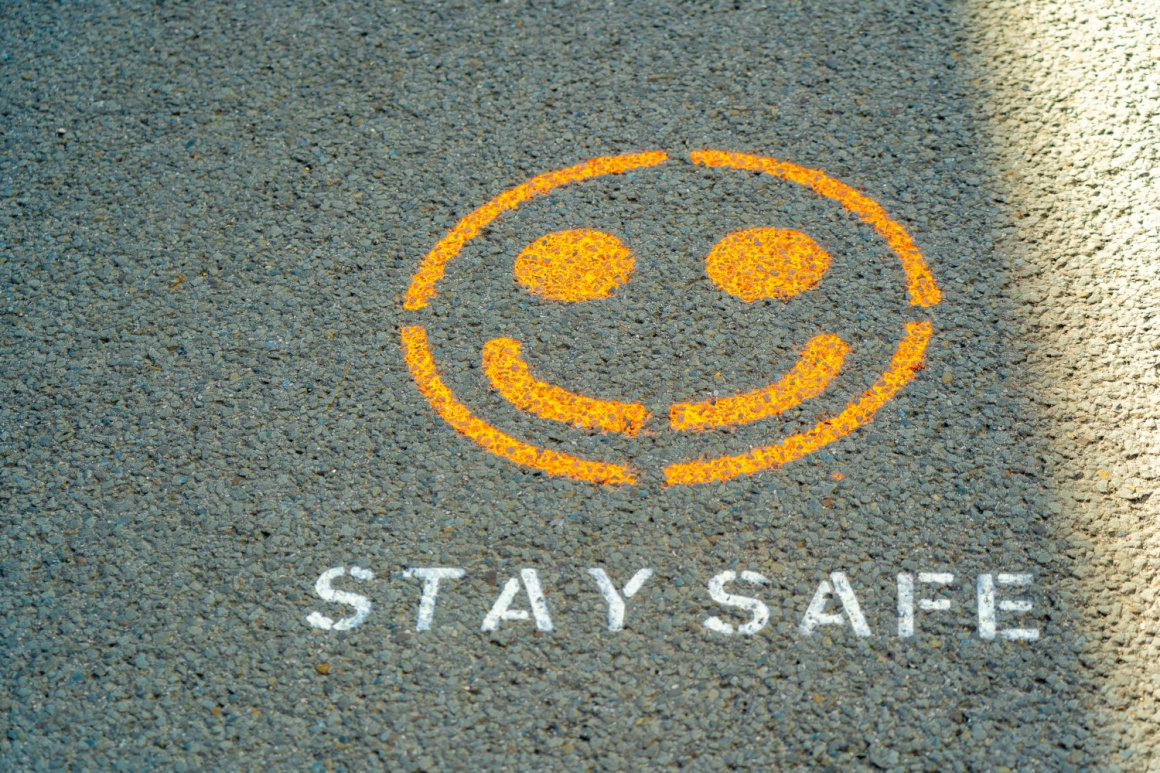 Source: Nick Fewings/Unsplash
What do customers expect in brick-and-mortar retail from now on?
In Great Britain, Ubamarket, a provider of 'Scan Pay Go' technology, has asked consumers how they feel about returning to in-store shopping and what measures they expect retailers to take. Even keeping in mind that Ubamarket may profit from retailers introducing technologies that address these issues, I expect that there is still some truth to these statements:
They only want to return to physical venues if the establishment has measures and technologies in place that minimize contact with other guests and servers.
Half of customers want to avoid touching anything except the products they purchase.
Many people want their shopping experience to require as little human interaction as possible.
Many customers now prefer cashless payment methods.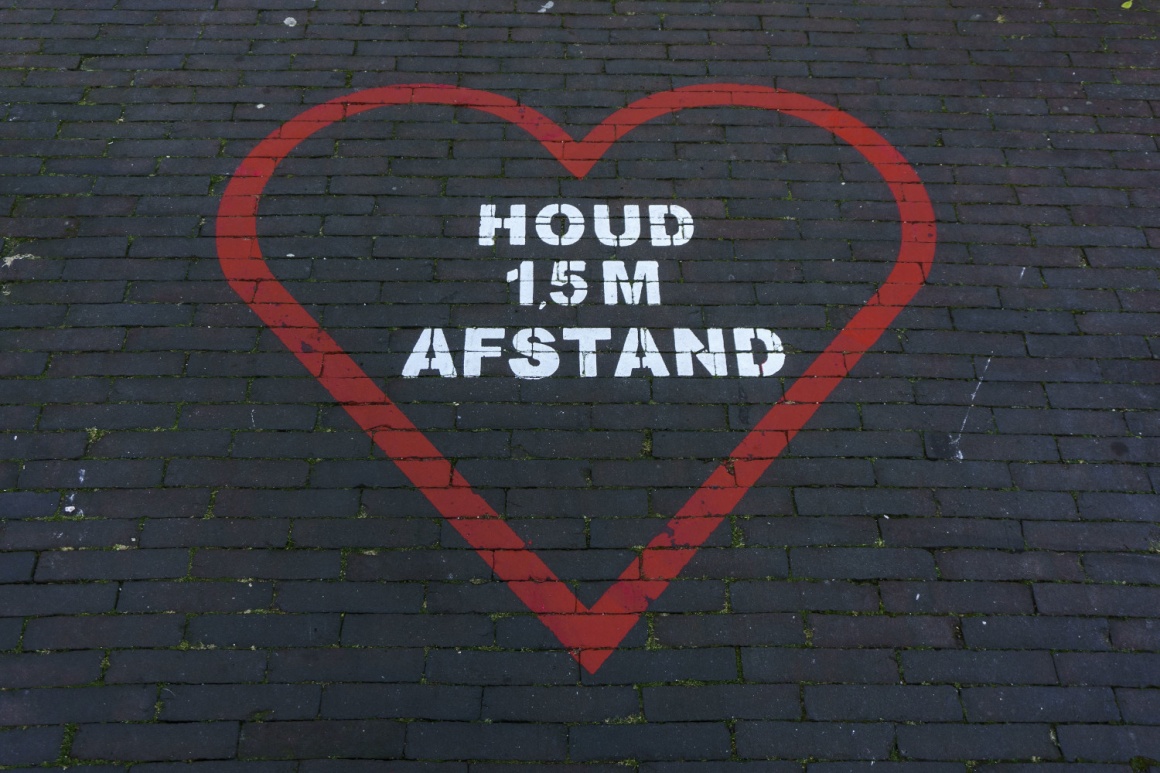 Source: Daria Nepriakhina/Unsplash
What measures can help customers feel comfortable in brick-and-mortar retail?
The good news? Many consumers still want to go shopping and buy their groceries, furnishings or clothes in physical stores. Brick-and-mortar retailers have to prepare for that – long-term. The time for temporary workarounds is over. The greater want for hygiene may not go away for many years. And some of the changes the COVID pandemic brought, as well as some technologies and solutions, may even be sensible.
But retailers face a great dilemma: On the one hand they need to make sure not only that customers feel safe in their stores but also that they actually are safe. On the other hand it is not easy to create a great shopping experience for customers while they navigate through visible safety and hygiene measures like acrylic or plexiglass panels, steel fences and security cordons, caution signs and markers everywhere that tell them in which direction to move, restrict their freedom of movement and constantly remind them to keep their distance from each other at all times.
Source: Jamie Templeton/Unsplash
What can retailers optimize and learn?
There is not much retailers can do about all of those pesky appliances, they might be necessary for many more years. But how you present and design them, how these measures are incorporated into a store design or how much they stand out, that is something retailers can work on and learn to optimize.
Analyzing the store layout
How do my customers walk through the store? Where do they stay put? Are there choke points that can be prevented? Can I channel the foot traffic any better through the store? Can I use or move shelves to create more space or funnels?
Do I have long waiting times and crowded queues at the check outs? Can I reduce those? Is it a solution to let customers know in advance when to expect a lot of traffic in my store? Or which times are the best to go shopping?
Can I integrate signs, markers, or barriers into my store design and corporate branding? Can I use them as creative advertising space?
Are there new payment and service solutions that make the customer journey faster, more comfortable and contactless?
Protecting customers and staff
How do I protect my customers and staff long-term? Which measures do they feel comfortable with? How can I design a safe and comfortable working place including break rooms etc.? Are those smart investments even after a COVID pandemic? (Remember, you might reduce sick days over all.)
As retailers well know by now, they have to be creative and spontaneous to successfully navigate these difficult times. And many of them have proven that they can.