News • 06.07.2020
The Virtual Africa Big Retail Expo 2020 (ABRE 2020)
The spotlight is on the emerging trends in the retail industry at The Virtual Africa Big Retail Expo 2020, set to take place on 6th August 2020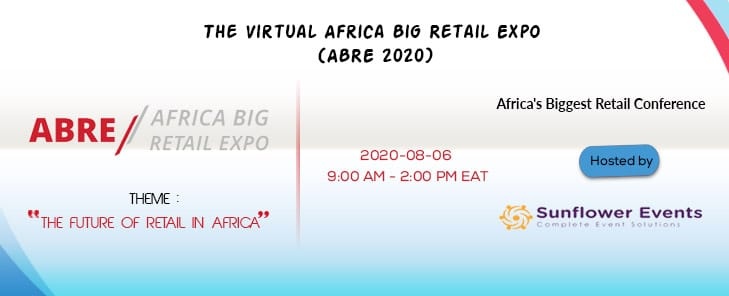 Source: ABRE
The event is scheduled to begin from 0900 EAT till 1400 EAT. This exhibition is the first annual event which is dedicated to discussing the following:
How do retailers keep up as the world tries to deal with the enormous pressure to adapt to challenges like the current COVID - 19 and others to come?
How can the retail industry survive and adapt to the ever-changing dynamics that shift the customers' needs and demands every day?
What policies can the government put in place to ensure the economy keeps running amidst the recession?
What is the way forward for Retail Market in Africa?
ABRE 2020 brings together prominent speakers and thought-pioneers, retail specialists, industry disruptors, and forefront new companies to share ideas as well as gain valuable insights. The panel team entails the likes of Dr. Mukhisa Kituyi, Secretary-general at UNCTAD; Priscilla Muhiu, Head of Marketing of Glovo; Victor Mwangi, Chief Commercial Officer of Sendy; Angela Nzioki, CEO of Sokowatch; John Murunga, Regional Director for Eastern Africa of GeoPoll; Dr. Vimal Shah, Chairman of Bidco Africa; Nicholas Nesbitt, General Manager of IBM Eastern Africa; Kingsley Abrokwah, Chief Enabler at KudiGo Inc; Marek Zmysłowski, General Manager Africa at RTB House; Danson Muchemi, founder and CEO of JamboPay; Tim Steel, CEO of Copia Global; Anne Kariuki, energy engineer.
As event organizers, Sunflower Events (K) Limited, together with its partners, are delighted to further knowledge sharing and innovation within the African retail industry. Faced with an incredibly fast-changing, disruptive, and complex economic environment, we believe that deep-seated research, knowledge sharing, and out-of-the-box thinking is essential to long term success and sustainability for all stakeholders. This year, we place emphasis on understanding the 'The Future of Retail in Africa' following a myriad of disturbances as well as how retailers can innovate and re-invent retail models to deliver a shopping experience that bridges and merges the gap between online and offline retail.