E-commerce • 02.06.2017
Strategy for the future: back to consulting
Curated Shopping promises an ideal shopping experience in online retail
Online shopping – a shopper's paradise. It offers a huge selection, there is no commitment, you can do it without interruption and it's fast. At least that's the ideal concept. Reality often differs greatly. Finding the right everyday outfit quickly resembles finding the proverbial needle in a haystack. Curated shopping is designed to help and combine the best of online and offline retail.
Exasperated non-stop clicking and scrolling when you shop online. More isn't always better and that also applies to the selection of products. After what feels like browsing through twenty pages, all blouses start to look alike. Things become overwhelming and the customer gives up. And once again it dies a slow and lonely death – the shopping cart. The joy of shopping means something else entirely. That's why the main challenge for the virtual shopping world is to put the fun back into online shopping before customers become completely disenchanted.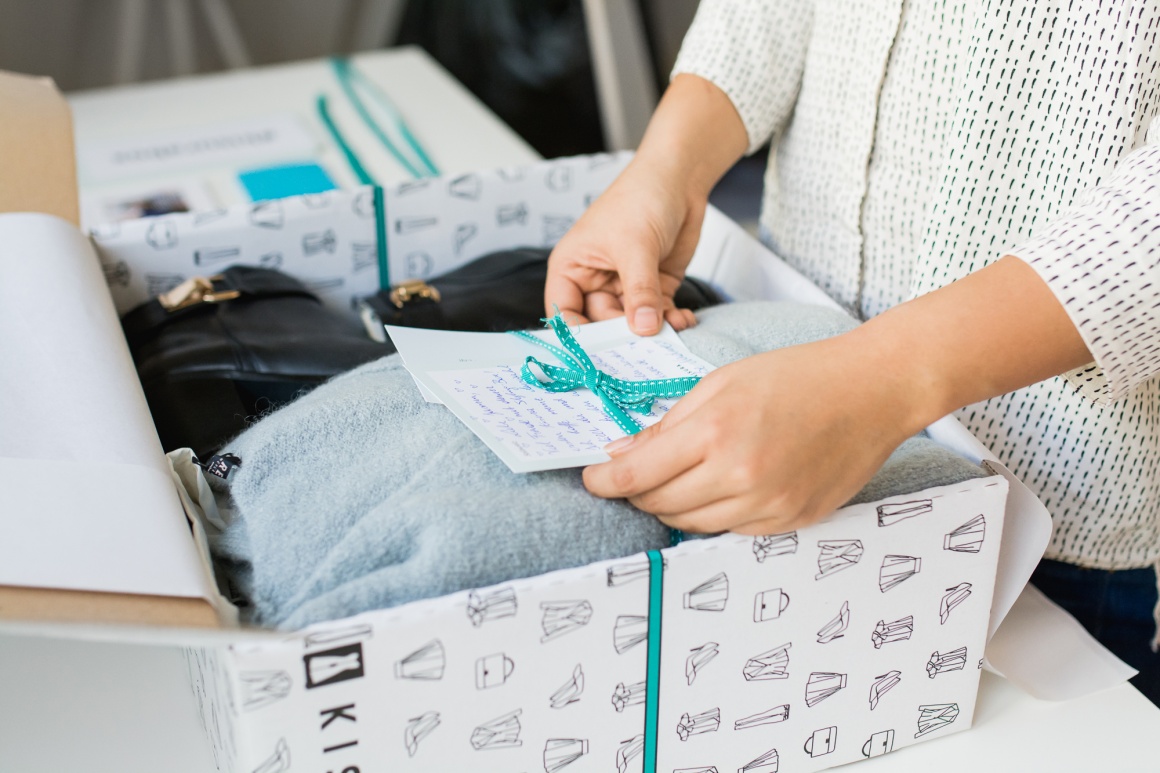 Source: Kisura
The curator – your guide through the fashion jungle
A few years ago, a solution made its way from the U.S. into Germany: curating. The word is of Latin origin and actually means "to take care of something, to worry about something". This sales concept, also called curated commerce or personal shopping service, offers customers an online-based personal consultation by a curator. In doing so, the unique selling point of brick-and-mortar retail is combined with the advantages of the online world.
In other areas, curative consumption has already become a part of everyday life. Based on user information, movie and music streaming websites are not the only venues that deliver personalized recommendations. The curated shopping models of providers like Kisura, Sugarshape or Kindhochdrei also include a personal stylist and give the shopping experience a more personal touch. In this case, special emphasis is placed on strengthening customer relationships through direct dialog. The sites promise personal consultation that is able to deliver the perfect fit and satisfy personal taste.
The times when you comb through product choices all on your own are over; that's now the curator's job. This innovative business principle seems to be well received by industry experts. Outfittery, a clothing store for men's fashion, was delighted in May when it received the Forum Award by the TextilWirtschaft publication. Having said that, curated shopping is not just an opportunity for fashion retailers but can also be applied in various other industries, for instance, in furniture retail or pet supplies.
Is personalization right on trend?
The needs of consumers have drastically changed. Today they expect fast results and personalized offers. Price is no longer the only buying trigger. The market is saturated with choices, which is why online retail needs restructuring. The global market research and consulting firm Ipsos discovered that nearly 59 percent of consumers would welcome personal consultation services when they shop online.
According to the 2017 Accenture Global Consumer Shopping Survey, approximately 73 percent of adolescent "Generation Z" shoppers are open to using service options like curated shopping. This means that these services can definitely garner retailers a competitive advantage. Customers and their various needs like convenience, experience, and emotionality take center stage and strengthen customer relationships.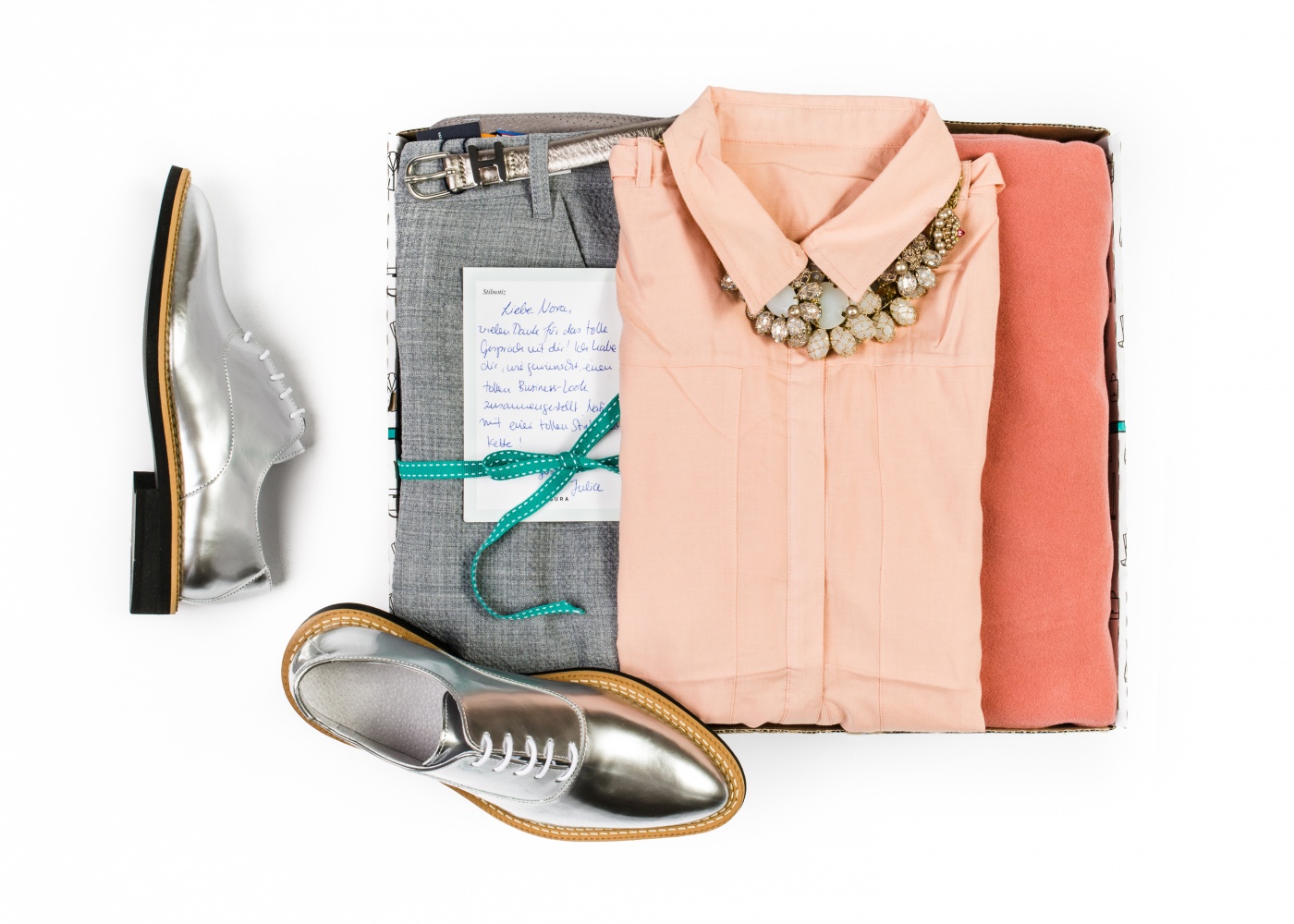 Source: Kisura
Prerequisites for curated shopping
Retailers who want to implement a curated shopping approach in their stores need a CRM system, style consultants and storage space. The style consultation can be handled by actual employed stylists or take place virtually via an algorithm and chat bots. Style consultants don't necessarily have to be on-site and can be supplied by third-party sources. Many providers provide CRM and database systems with fitting and sizing models, which can be seamlessly integrated into already existing stop systems.
Warehouse costs are likely to be a sticking point. Pure players like Zalando's subsidiary Zalon have access to a large warehouse. To be able to meet all needs, retailers need access to an extremely broad range of products. That being said, this solution does not necessarily guarantee that retailers are able to satisfy all customers. For users, who prefer to do their own "hunting" and browsing, leaving the choice in someone else's hands might not be a desirable option. Nevertheless, the service approach is something that might give online retail a new impetus and boost.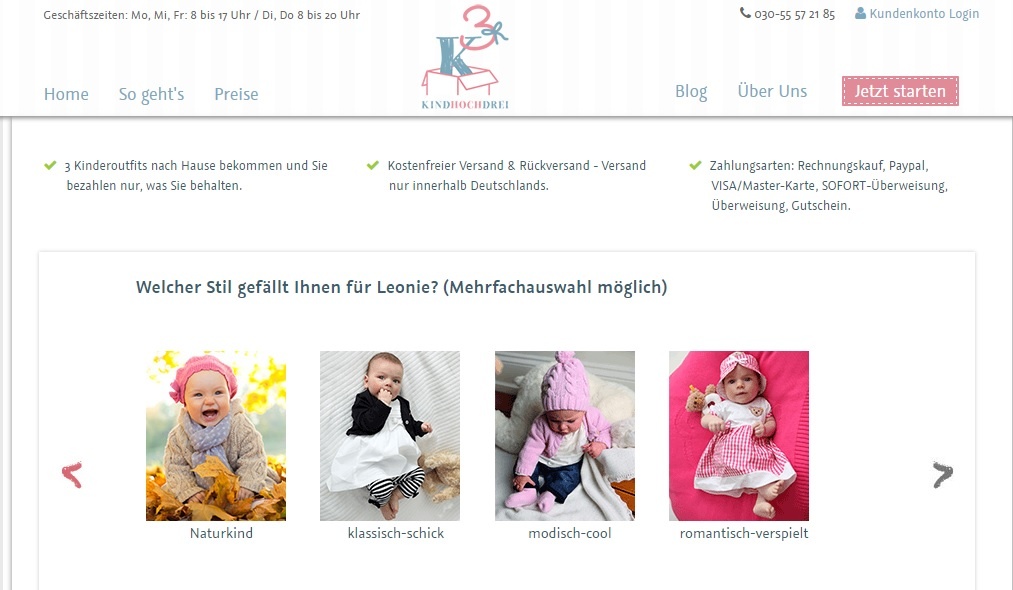 Source: Screenshot Kindhochdrei
The process: boosting customer retention by creating an emotional connection is the end all, be all
This interactive service model looks promising to customers and providers. The consumer won't find a catalog on the retailer's clearly organized website but step-by-step instructions to assisted shopping. Registering on the website is required but it does not translate into a commitment or obligation. Fashion retailers use online questionnaires to first chart the customer's preferences and no-goes as well as his/her physiological circumstances. Some retailers like Zalon also let customers upload a personal photo, the curator uses to work with. This gives everything an even greater personal touch. The collected data is directly fed into the customer relationship management system (CRM). The resulting image is not static but constantly evolving. Returns or changed preferences are incorporated and enable a flexible customer profile.
The next step is to establish contact, either via phone, videotelephony or chat using messenger. Depending on the provider, customers are even able to choose the expert, who get to take care of them throughout the entire consultation sequence. Both come together to once again review personal interests during the conversation. Customers are now able to sit back and don't have to actively search because the curator prepares a custom packet for them.
Depending on the business model, the customer then approves the outfit recommendations online prior to shipment or is being sent a surprise package. The best thing about it? It contains coordinated outfits and not just individual pieces. Plus the average shopping cart value is significantly higher than is the case with other e-commerce business models.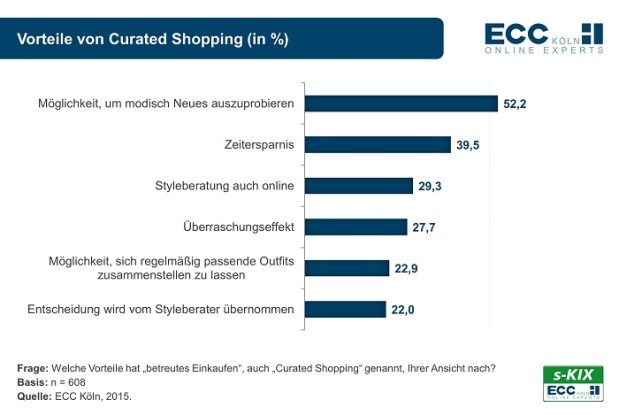 Thanks to the outfit suggestions, it is inevitable for customers to be inspired to buy the products. According to a representative study by ECC Cologne, approximately 52.2 percent of consumers, who were open to this service or have already used it, view this as the biggest advantage of the curated shopping business model.
The only task for customers is to take their time at home and decide which clothing items they would like to keep and simply return the remaining items. The consultation is free and generally, so is the shipment. The packaging and an enclosed handwritten note make the mail order seem more like a present than a purchase.
The complete package provided with the help of curated shopping makes customers feel like they are not alone online but that someone takes them by the hand, understands and accepts them and has the finger on the pulse.
From a psychological perspective, shipping a package that is filled to the brim and includes coordinated items can also benefit retailers. Due to consumer's loss aversion, it can be more difficult to return products than it is to keep them. The surprise factor and a feeling of "being understood" can also trigger positive emotions, which may entice customers to not only satisfy their original needs but to buy more than they initially intended.