Company News • 06.05.2015
PeGast has renewed its trust in its IT partners
Gourmet fast-food chain has chosen Yuno EPOS terminals for its multi-site IT management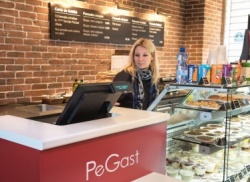 Source: AURES Technologies
PeGast, the gourmet fast-food chain inspired by traditional French cuisine, is continuing to expand with company-owned and franchised restaurants.
The Peillon family, which has run the business since the early 20th century, is to open the chain's thirty-fifth restaurant by the end of the year. The aim is to have seventy restaurants within the next three years. PeGast has renewed its trust in its IT partners by choosing CLYO Systems' EPOS management software combined with AURES' Yuno point-of-sale terminals.
Fast-Food with a long history
"PeGast's history began in 1912," explains Oriane Peillon, Marketing & Development Manager and great-granddaughter of Gaston Peillon. "After moving to the USA, Gaston, whose ambition was to promote French cuisine, joined the kitchen brigade of a restaurant in Denver. While preparing a pot-au-feu, he suddenly thought of serving his dish sandwiched between two slices of bread. That was how 'Cuisignons' came into being, a speciality that still holds a special place on PeGast's menu today. Ideas and concepts at PeGast always emerge from products rather than the other way round. Products are and will remain the source and centre of our business."
Over a century later, the family perpetuated its tradition by setting up Les Enfants de la Cuisine, which became PeGast as a tribute to Gaston Peillon, the grandfather and great-grandfather of the current company managers and founders: Jean-Philippe Peillon, his brother Gilles and his daughter Oriane. "We've always been passionate about delicious, home-made, great French cuisine," says Jean-Philippe Peillon, a chef of almost 30 years' standing who was trained by Joël Robuchon. "We prepare and cook all our dishes on site and only order stock from local suppliers, producers and shops. We work with fresh products, which we then offer to our customers. Creating the best taste at the best possible price is our constant concern. We have 21 outlets, with 15 in Paris and 6 in the provinces: Aix-en-Provence, Bayonne, Lille, Calais, Grenoble and Saint-Denis in La Réunion."
Additional requirements for multi-site management capabilities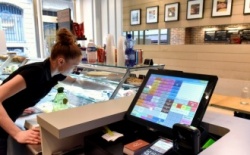 Source: AURES Technologies
"To support our accelerating growth and aid multi-site management, we needed recognized, dependable IT partners who could provide long-term reliability and help us develop complete, well-thought-out, very fast EPOS management solutions," explains Gilles Peillon, the company's co-founder.
"PeGast has enjoyed the benefit of our know-how and expertise from the very beginning of this adventure," adds Pierre Koubi, Sales and Development Manager at CLYO Systems. "We've given the chain access to our CLYO Series PME licences, which enable till function, sales statistics and CRM settings and tools (e.g. loyalty cards) to be managed simultaneously. Additionnally, the CLYO Series back office platform centralises data consolidation (foundation and transaction data). AURES systems were an obvious choice from the start of our collaboration. We needed guaranteed, robust, reliable equipment on our sites. We couldn't take a gamble on low-grade hardware, which would have risked undermining our software's credibility. The technical quality and performance of AURES' machines made it stand out from other manufacturers'. Another benefit is that these terminals are very easy to access, which makes them much more simple to maintain."
Responsiveness and speed of the terminals are absolute musts
"The CLYO/AURES solution is a great success, combining simplicity, efficiency, reliability and a designer look." PeGast used to work with former Elios EPOS terminals but has now replaced them with Yuno, the latest product in AURES' range. "We tested several types of hardware and various EPOS manufacturers," adds Oriane Peillon. "AURES terminals are by far the most reliable, robust and long-lasting for our business. For example, waterproof touchscreens have become essential in our sector."
The responsiveness of the solution installed and the speed of its EPOS terminals are also absolute musts for PeGast: "With one payment receipt every 15 seconds and a tailor-made customer loyalty programme containing up to 2,000 or so cards per restaurant, we needed an extremely efficient, very fast system. It's out of the question for our brand image to make customers wait longer than 10 minutes in total, even during rush-hour periods. The designer look is another benefit, especially since this equipment is good value for money, which we really appreciate," concludes Peillon.
Source: AURES Technologies
Supplier

Maisacherstr. 118
82256 Fürstenfeldbruck
Germany