Company News • 17.02.2016
Posiflex showcases extensive POS portfolio
Latest product innovations for retail at EuroCIS 2016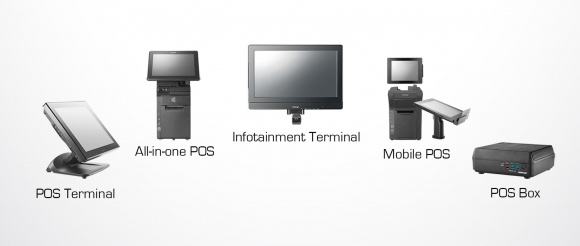 Source: Posiflex
Posiflex Technology will be exhibiting its full POS portfolio and revealing the latest POS product innovations at EuroCIS 2016, the world's leading Retail Trade Fair for Retail Technology, from 23-25 February 2016.
Owen Chen, President and CEO at Posiflex Technology, Inc. comments, "Posiflex is a world-leader in developing innovative POS solutions that enable retailers to provide customers with the shopping experience they expect in today's increasingly complex retail world. We are delighted to be at EuroCIS to demonstrate our continued commitment to drive the retail POS market forward and set new standards in POS solutions throughout 2016."
MT Series: Multi-award winning Mobile POS
The company will showcase the latest model from its mobile POS MT Series – the MT-4308W. Purpose-built for business mobility, the MT-4308W features an 8" Corning Gorilla Glass touchscreen that provides a higher level of durability for retail work. Built with Intel's new Cherry Trail processor, the tablet, running on Windows Embedded 10 IoT, delivers enhanced performance and impressive productivity that retailers need for store operation.
The MT Series has received international recognitions by successively winning several prestigious awards, including the Red Dot Award, Good Design Award and Taiwan Excellence Award. It addresses a new wave of mobile POS adoption – a hybrid POS terminal that can bolster mobile POS capabilities, whilst having the ability to convert to a full-fledged stationary POS when necessary.
HS Series: Ultimate space-saving All-in-one POS
Also on display is the compact-sized HS-3510W series POS terminal, which is ideal for any application where space is at a premium. Despite its small footprint, the fanless HS-3510W series is a true "all-in-one" POS solution. The 10" touch-screen terminal integrates the most widely used peripherals in daily POS operation. This includes a detachable thermal printer, optional built-in 2D barcode reader, MSR, fingerprint biometric reader, RFID, Wi-Fi module and 2nd customer display.
XT Series: High quality performance and versatility fanless POS terminal
With its stunning slim-line design and a bezel-free touch screen, the XT Series features a patented foldable base that can be configured into "Flat Folded Mode", "Low Profile Mode" or "Full Extended Mode" offering unrivalled flexibility for retailers. Posiflex will unveil the new 15" touch POS XT-5515Pro at the show, the enhanced model of the flagship XT-5515, which is powered by an Intel Core i5 CPU and vPro technology for remote management. The XT-5515Pro now has 6 x USB 3.0 port, and HDMI port replaces the original DisplayPort found in the standard XT-5515.
HC Series: Next generation infotainment technology
The newly launched state-of-the-art HC-1521IR/HC-1521P Series is a high end 21.5" system that is designed to work as an infotainment terminal for various applications including price checkers, self-ordering kiosks and healthcare bedside terminals. Equipped with a wide selection of Intel Haswell family processors that includes Core i-series, the HC Series integrates a wealth of connectivity options that allow for devices such as built-in camera (HC-1521P series), handset, TV tuner (1521P series), fingerprint sensor, magnetic strip reader and 2D image scanner to be easily connected. This provides rich infotainment content to the user whilst simultaneously collecting essential user data.
Posiflex's products are designed and manufactured in-house and have proved to be robust, as they are specifically designed for the highly demanding and fast-moving retail industry. For more information on these solutions from a Posiflex sales representative, please visit Hall 9 booth #D40.

Supplier

Flinger Broich 203
40235 Düsseldorf
Germany