Company News • 22.07.2015
RetailNext selected by BucketFeet as in-store retail analytics provider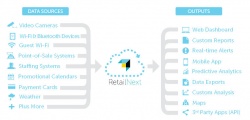 RetailNext Inc. announced it has entered into an agreement to be the analytics solution provider for BucketFeet as the artist-designed shoe retailer further expands its footprint of physical stores. Available online and through select retail partners since 2011, BucketFeet opened its first physical stores, called studios, in 2013, and plans to strategically expand to extend the brand's brick-and-mortar service and shopper experience capabilities.
"BucketFeet is deploying RetailNext's market-leading in-store analytics platform to better understand in-studio shopping behaviors," said Bobby Stephens, Operating Co-Founder, President and COO at BucketFeet. "RetailNext's platform will support growth at our brick-and-mortar locations and help us ensure our omnichannel customer experience is consistent and compelling."
BucketFeet is a brand connecting people through art by sourcing designs from artists worldwide on its footwear, all the while sharing the story behind the artists and their work. Inspired by a single pair of hand-designed shoes, BucketFeet is now a company that sells products and delivers strong shopper experiences globally through its e-commerce site and studio stores, and through retailers like Nordstrom, Bloomingdale's and Lord & Taylor.
BucketFeet joins RetailNext's growing client list of established online retailers entering the physical retail channel, as well as robust portfolio of stores with smaller footprints and small- and medium-sized enterprises (SMEs).
"RetailNext is excited to be working with a creative, innovative company like BucketFeet, and we're enthusiastic to help with its ongoing mission to support emerging artists from around the globe," said Alexei Agratchev, co-founder and chief executive officer of RetailNext. "Retail analytics used to be the sole purview of large chain stores, but online merchants growing into the brick-and-mortar space understand the importance of accurate, objective data and deep shopper insights in developing the experiences today's empowered shoppers demand."
Source: RetailNext