News • 13.06.2023
Perfect Corp. and Warner Bros. partner for interactive AR movie try-on experience
YouCam Apps launches an exclusive collection of AR movie effects for Warner Bros. The Flash
Perfect Corp., the leading AI & AR beauty and fashion tech solutions provider and developer of the YouCam Suite of Apps, has launched an interactive augmented reality (AR) movie experience for Warner Bros. Pictures' upcoming film The Flash.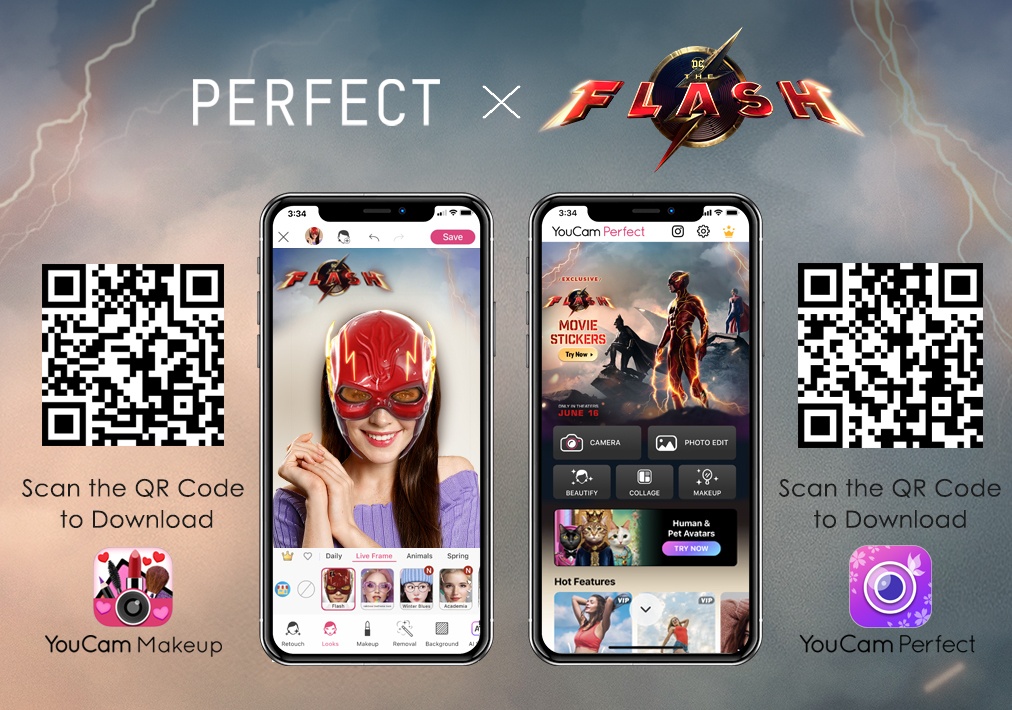 Source: Business Wire
The immersive movie filters and effects are available free to users in the award-winning AR try-on app, YouCam Makeup, and photo-editing app, YouCam Perfect. The Flash virtual experience features an exclusive animated effect and stickers that invite users to activate their inner superhero and step into a time travel adventure powered by Perfect Corp.'s AI virtual try-on technology. The interactive AI and AR effects are available now, leading up to the launch of The Flash, in theaters June 16th.
An AI superhero movie experience
Perfect Corp. and Warner Bros. team up to help movie fans get one step closer to the onscreen action with a chance to virtually try-on the iconic The Flash red lightning helmet through a true-to-life AI/AR virtual try-on in YouCam Apps. Movie go-ers can instantly activate their inner superpowers and step into their own time travel adventure with these exclusive virtual effects that bring The Flash to life in the palm of their hand. Fans are invited to immerse themselves in the ultimate The Flash interactive film experience with virtual try-ons in YouCam Makeup and YouCam Perfect apps.
Immersive movie moments with virtual try-on
"We are excited to kick off an exciting partnership with Warner Bros. for the launch of their summer box office adventure, The Flash," shares Perfect Corp. Founder and CEO, Alice Chang. "Through the use of AI and AR virtual try-on we are creating impactful movie moments for The Flash fans inviting a completely new, hyper-engaged way to connect with their favorite superhero. We invite movie goers to step into their own cinematic The Flash adventure powered by AI and AR virtual try-on."
How to download the apps:
Fans can experience the exclusive The Flash virtual effects by downloading the free YouCam Makeup and YouCam Perfect apps and share their time travel content across social media. The Flash is only in theaters June 16th.