Report • 19.07.2017
From shopping center to third place
Entertainment and gastronomy dictate tomorrow's shopping center concepts
Only eight shopping centers are currently being built in Germany. There are a number of reasons for this. Booming online business, extensive approval processes and the development of new building sites thwart development. To stay attractive, operators and investors have to boost revitalization measures and try new experience-driven concepts.
After years of steady growth, German shopping centers now face a revitalization and optimization phase because half of the currently existing 476 centers are most likely outdated and in dire need of renovation. Having said that, increasing online retail presents a far bigger problem. During the "Bau und Betrieb von Shopping-Centern" Congress (English: Construction and Operation of Shopping Centers), Alwin Lindeman, Managing Partner of hib GmbH projected that "if e-commerce development continues at this rapid pace, we can soon expect a large number of vacancies in town centers and high vacancy rates in shopping centers." He added that the challenge is to respond to this trend. This is why in the coming years, there will be a focus on a repositioning of shopping centers featuring an experience factor.
Revitalization: the shopping center becomes a lifestyle hub
Quality of life is a crucial factor, especially in city centers. Along with attractive urban quarters and employment conditions, this includes extensive leisure time, recreational and educational options. Equally attractive are also those places we don't consider to be a part of our living space.
The Congress participants all agreed on one point: shopping centers have the potential to become the "third place", that being the social surroundings aside from our own home and workplace where we like to spend our free time. Hybrid concepts that emphasize a mixed use aim to turn shopping centers into lifestyle hubs and facilitate the integration of these spaces into the everyday life of consumers. The expansion of gastronomy and leisure options is currently at the top of everyone's agenda. The integration of health services and educational opportunities are also relevant in this context. According to the report titled "European Shopping Centres: The Development Story" by the U.S. consulting group Cushman & Wakefield, medical centers have been increasingly positioned in regional shopping centers in Switzerland. Meanwhile, in Russia, social and educational organizations settle in shopping centers to promote recreational options or discussion forums.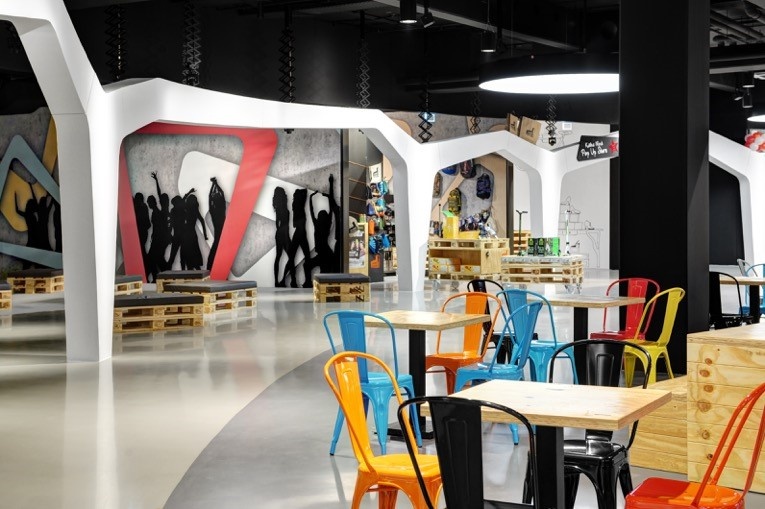 Source: kratz photographie Düsseldorf
In addition, flexible event and sales concepts are increasingly popular and expected to promote communication among tenants and customers. That's why the Köln Arcaden shopping mall focuses on an "open space" at its lower level that's designed like a market square. Instead of the usual glass store windows, the facades feature an open design. This eliminates the separation between store and mall. The uniform furnishings of the stores highlight the market square vibe and tie the individual concepts together. Right in the center between the stores is a food service segment that acts as a communication area. In addition, a multi-use activity area provides opportunities to utilize the space to host workshops, events, and various sales campaigns.
Aside from the mixed-use aspect, it's mostly the entertainment sector that pushes shopping centers towards becoming a third place. "In the future, customers will increasingly choose their shopping channel based on entertainment criteria," said Dirk Hünerbein, Head of Retail at Drees & Sommer during the Congress. He added that shopping centers in collaboration with retailers should create sustainable shopping experiences to stay competitive.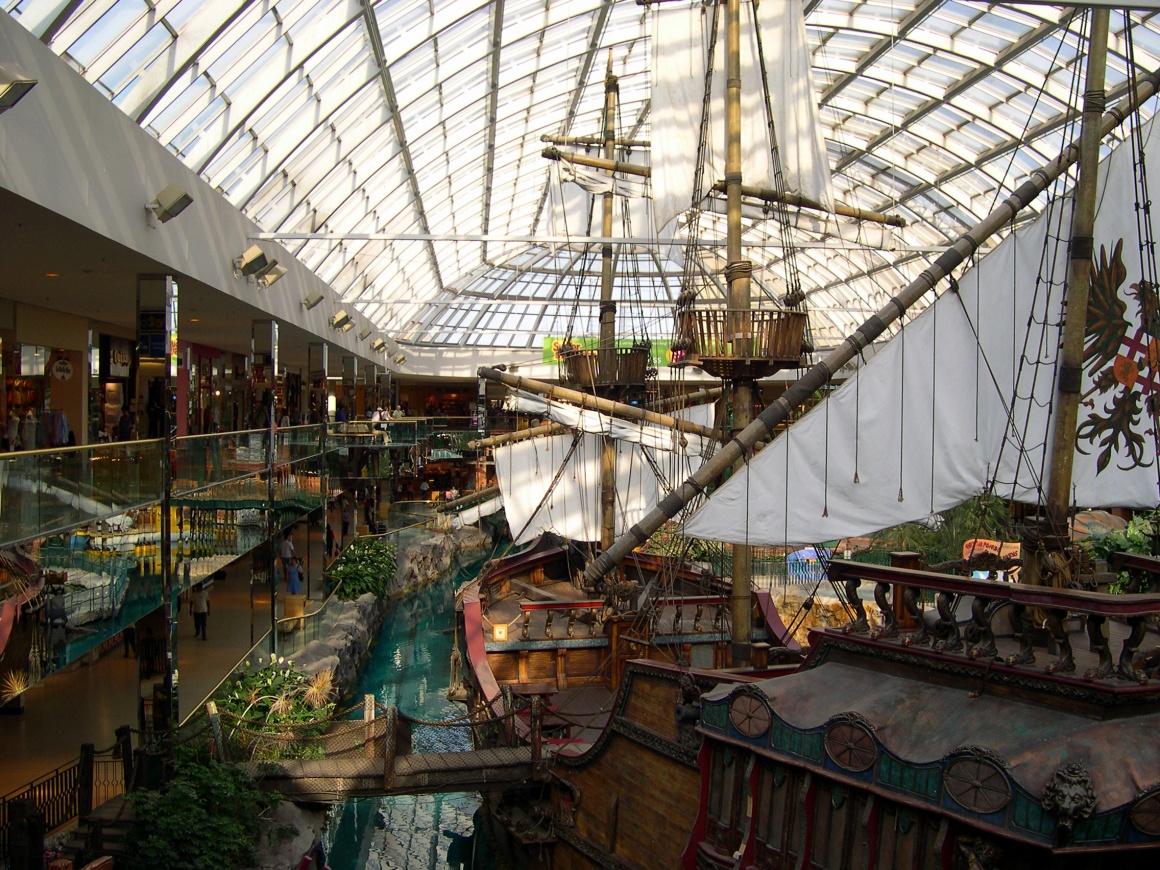 Source: Dylan Kereluk/White Rock, Canada
Shoppertainment: when shopping centers turn into shopping resorts
Canada's West Edmonton Mall is more like a recreation center than a shopping center. Featuring over 800 stores and a sales area of nearly 500,000 square meters, it is not only among the biggest malls in the world but also boasts one of the largest recreation centers in the region. Alongside Galaxyland, the world's biggest indoor amusement park, the different levels are host to a waterpark, a Sea Life Aquarium as well as an ice rink.
According to Cushman & Wakefield, Spain and Portugal show a strong trend towards theme-oriented shopping centers. At 122,000 square meters in size, Portugal's Dolce Vita Tejo is said to currently invest heavily in an expansion to become a shopping resort that boosts the shopping experience and the feel-good factor.
The G3 in Vienna is explicitly considered a shopping resort. The claim of the ECE Projektmanagement Austria GmbH operator: the G3 Shopping Resort Gerasdorf combines shopping experience and feel-good factor and unique architecture with a responsibility towards the region and the environment.
Gastronomy: embracing trendy concepts
Next to the experience factor, gastronomy and food service choices are also gaining momentum in shopping centers. This was the conclusion of the study titled "Successful Integration of Food & Beverage within Retail Real Estate" conducted by real estate specialist Jones Lang Lasalle (JLL) on behalf of the International Council of Shopping Centers (ICSC). According to the study, the percentage of food service options in shopping centers will increase to more than 20 percent of the total gross leasable area by 2025. The growing importance of gastronomy and food service is said to provide new opportunities for shopping mall operators to increase customer dwell time in the centers. Concepts need to be rethought: decentralized positioning is nothing out of the ordinary. Having said that, the center's management should not exclusively rely on big name restaurant chains since new food trends are often kicked off by smaller vendors or startup companies. Success is all in the mix.
During the remodeling process of the Minto in Mönchengladbach, Unibail Rodamco and kplus konzept co-developed this kind of decentralized concept. It is centered on the shopping mall's guiding theme, "Feel at Home" ("Sich zu Hause fühlen"). Individual, uniquely designed "rooms" become community dining areas. Customers can choose whether they prefer to eat in the living room, the study or the winter garden.
Adapting concepts to the location
That being said, the best experience-driven concepts are pointless if you don't fully tap into their potential. One great example of this is the multi-floor "Highlight Facades" of the Minto Mall. Five facades were originally intended to entice guests to shop and increase dwell time in the interior area of the Center thanks to a combination of materials, sound and scent design. What remains now are individual components that no longer interact with each other. The scent concept was discontinued for example.
In addition to intensive planning, concepts have to be managed and evaluated based on long-term considerations in order to create sustained experiences. After all, not every concept is equally suited for every location. For example, Dirk Hünerbein points out that shoppertainment concepts primarily lend themselves to sites outside the city center with easy freeway access. Meanwhile, malls in city centers continue to take care of basic provisions and are thus more receptive to mixed concepts.
This is why in the future, shopping will only be one aspect of many to visit a shopping center. The amenity value of shopping centers will be increased by the development of hybrid concepts – that being a mix of retail, food service, entertainment, educational, health, and wellness choices.