News • 20.03.2023
e-Commerce Day
05.05.2023 - 05.05.2023 | Cologne, Germany
e-Commerce Day by Kaufland – The trade fair for e-commerce
The e-Commerce Day by Kaufland opens its doors once again and invites industry newcomers, professionals and interested parties to Cologne to exchange views on current trends and challenges in online retail. In addition to exciting lectures by established speakers, the all-day event offers a large exhibitor area with up to 100 well-known partners from the world of e-commerce. Exhibitors from the fields of online marketplaces, shop systems, payment, online marketing and logistics will be just as represented as financial service providers or fresh start-ups. Among others, JTL-Software-GmbH, Plentymarkets, DHL and tricoma will be present. Take advantage of the opportunity for 1:1 talks with our invited experts and, of course, with the Kaufland Global Marketplace Team.
The fair programme will be rounded off by our after-show party, where visitors will have the opportunity to network extensively. Food and live music will be provided.
When and where?
Date: 5 May 2023
Time: 9.00 a.m. to 6.00 p.m. with subsequent after-show party
Venue: RheinEnergieSTADION, Aachener Str. 999, 50933 Cologne, Germany
Organiser: Kaufland e-commerce GmbH, Stiftsbergstraße 1, 74172 Neckarsulm, Germany
Website: www.ecommerceday.de/en
Are you arriving the evening before? Then come to the Playa Beachclub in Cologne from 6 p.m. and enjoy the evening before with other online professionals at a relaxed beach BBQ with our popular beach volleyball tournament.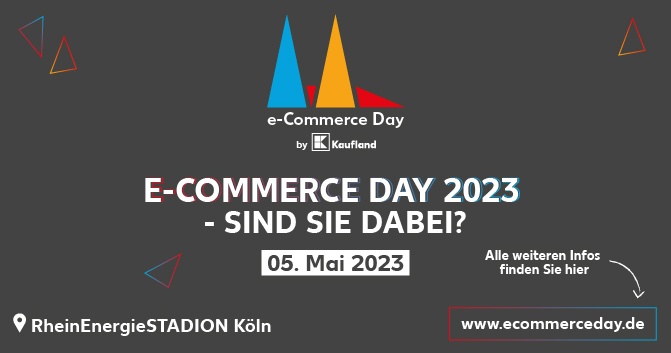 Source: Kaufland e-commerce Services GmbH