News • 08.11.2021
DICK'S Sporting Goods and NIKE create connected partnership
Omnichannel app and event marketing for an enhanced shopping experience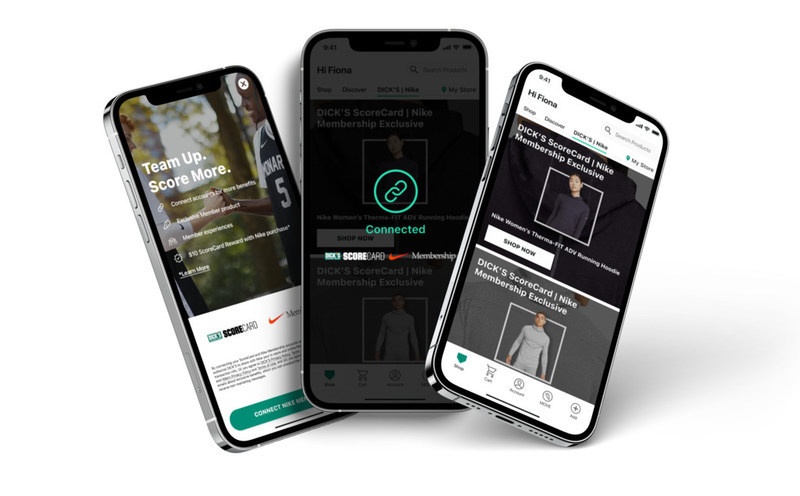 Source: Dicks Sporting Goods
DICK'S Sporting Goods and NIKE, Inc. have forged a transformative, connected partnership designed to enhance the shopping experience for DICK'S and NIKE customers. This first-of-its-kind collaboration will allow DICK'S and NIKE to each reach more customers and provide them with access to exclusive products, experiences and offers.
DICK'S and NIKE customers can now connect their DICK'S Scorecard and NIKE Membership accounts through the DICK'S mobile app. DICK'S and NIKE aim to make the experience simple and convenient by providing an easy-to-use platform where customers can seamlessly shop an expanded selection of NIKE footwear and apparel. Among the highlights of the partnership are:
Member-exclusive footwear and apparel launches and collections, including running and yoga apparel that's already available and a Nov. 4 NIKE Air Force 1 and Blazer launch; new styles will be added on a regular basis.
In-store events for members starting at DICK'S House of Sport locations in Rochester, N.Y., and Knoxville, Tenn., in November and December respectively, and expanding to additional DICK'S stores over time.
As part of this collaboration, DICK'S and NIKE will continually work together across their respective physical and digital properties to deliver enhanced convenience, new experiences and content for customers and better anticipate and fulfill their evolving needs.
"NIKE Membership is how we serve our consumer personally – it fuels deeper engagement and greater access to the very best of NIKE," said Sarah Mensah, Vice President and General Manager, North America, NIKE. "We're helping consumers connect with sport and our products whenever, however and wherever they shop NIKE. Our partnership with DICK'S is just another example of how we are reimagining how people connect with NIKE across an increasingly digital and connected marketplace."