Company News • 06.07.2011
Xtralis acquires HeiTel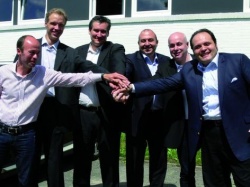 HeiTel Digital Video decides to be acquired by Xtralis. Both companies together will develop and dominate the market for intelligent remote video monitoring.
Xtralis Solidifies Its Position as the Premier Provider for the Fast-Growing Global Intelligent Remote Monitoring Market.
 Xtralis™, a leading global provider of powerful solutions for the early detection of fire, gas and security threats, announced today the acquisition of Germany-based CCTV manufacturer HeiTel Digital Video GmbH. This acquisition enhances significantly Xtralis' position as the premium manufacturer of video surveillance and central monitoring solutions globally.
"The intelligent remote monitoring market is one of the fastest growing segments of the maturing video surveillance market due to quickly advancing technology and industry standards. Intelligent remote monitoring provides proactive protection through video verified alarms and controlled response at much lower annual costs than alternative solutions.", Samir Samhouri, President and CEO of Xtralis explains. The ADPRO® by Xtralis brand makes Xtralis a leading provider of remote monitoring solutions worldwide.
Like ADPRO by Xtralis, HeiTel has a very strong presence with central monitoring stations. By joining forces Xtralis and HeiTel will provide a complete intelligent remote monitoring platform including video verification, analytics and perimeter protection to the global market.
Samir Samhouri: " The addition of HeiTel will help the Xtralis group of companies excel and expand in the early detection marketplace in both geographic areas and market segments. The HeiTel and ADPRO product offering, channels, and geographic presence complement each other. Together we will dominate the market for intelligent remote monitoring solutions. We think there is no considerable overlapping regarding ADPRO and HeiTel and we intend to keep going all products, channels, facilities and talents that HeiTel generated in the past 20 years."
Xtralis and HeiTel will both work to increase the awareness of remote video monitoring and therefore expand the market. But both companies will also operate as two totally separate business entities working with their respective channel partners.
Supplier

Hamburger Chaussee 339-345
24113 Kiel
Germany