Company News • 20.01.2020
Wireless with SVN-Flex from SALTO
SALTO has launched SVN-Flex, a new technology that enables virtual networked access control solutions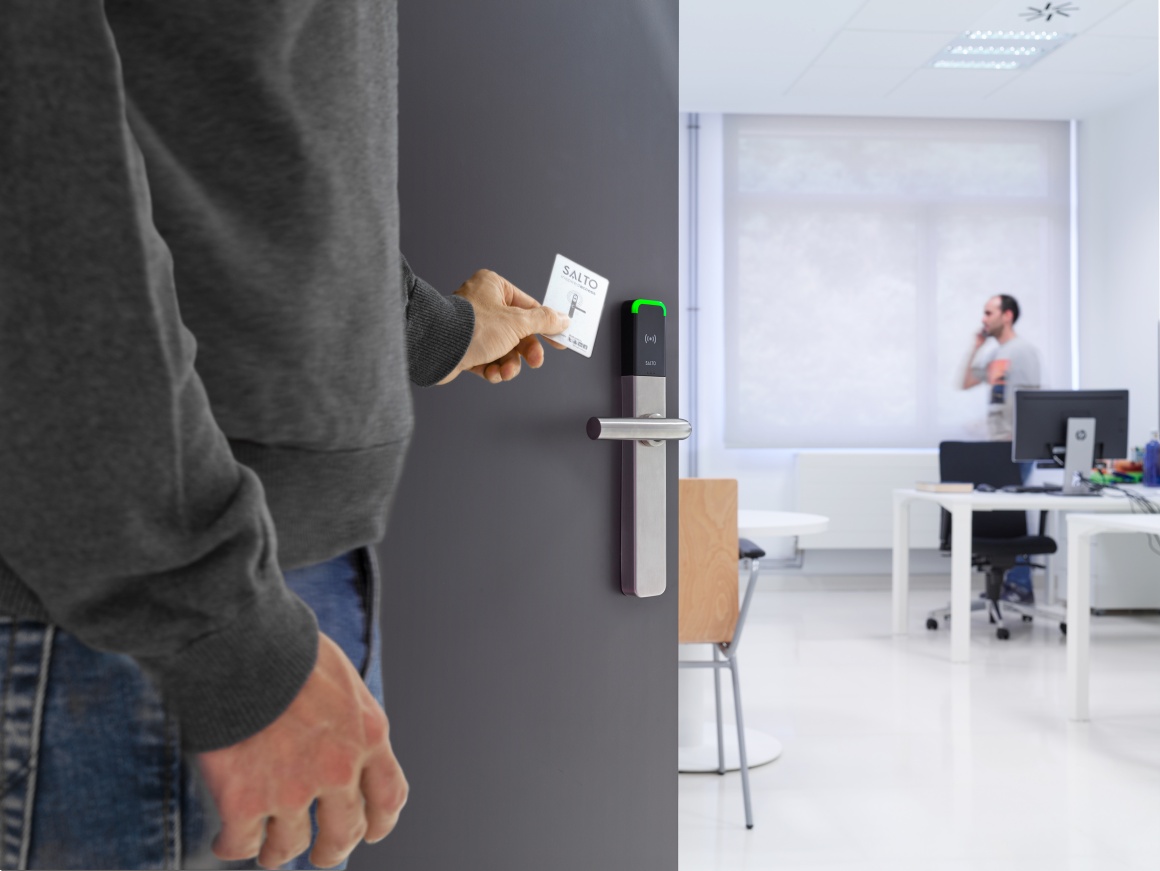 Source: Salto Systems
In the solutions wireless electronic escutcheons and cylinders act as wire-free updaters. This leads to greater efficiency, security and convenience.
The innovation of the SVN-Flex is that users no longer necessarily need hard-wired wall readers to update access rights on the card and exchange data with the server. This now works directly at the door on any electronic escutcheon or cylinder activated for this purpose. SVN-Flex uses a combination of the SALTO Virtual Network (SVN) and Bluetooth based SALTO BLUEnet Wireless technology.
SVN-Flex will dramatically cut costs of update points within buildings. As end users do not require hard-wired components for updates, hardware and installation costs are reduced. At the same time, the cost effective architecture of the virtual networked components is maintained, as only individual doors are defined as wireless updaters - which is significantly cheaper than expensive wiring or Wireless infrastructure for the entire system.
At the same time, a system with SVN-Flex increases security because the doors with updaters provide real-time access control and the data flow to the virtual networked doors is much faster. This means that critical information such as blacklists, battery status, etc. is now transferred more quickly from the offline doors to the server and back, and access rights are updated more frequently.
Thanks to SVN-Flex, operators can now select high traffic doors as updaters and even adjust this selection later if the occupancy of buildings, floors or offices changes. Users can stay on their natural daily walkways within a property instead of having to go to certain points they would not normally have to pass.
SVN-Flex is based on two core technologies: the SALTO Virtual Network (SVN) with Data-on-Card technology and bi-directional encrypted data transmission and SALTO BLUEnet Wireless technology. In the SVN, access rights are stored on the credential, eliminating the need to hard-wire doors with electronic escutcheons and cylinders.
The Wireless technology based on Bluetooth connects the Wireless electronic door hardware with nodes, which in turn communicate with the server via IP-based gateways over Ethernet. Wireless networking offers a wide range of functions for door control in real time: door status monitoring, remote opening, opening alarms or emergency closures can all be programmed and automated via the management software.
Matching hardware from SALTO comes standard with Bluetooth for Mobile Access and uses the same chip for the Wireless technology. This means, it only takes one click in the software to configure Wireless escutcheons and cylinders as updaters, without having to make any changes to the hardware.
SALTO Systems at EuroShop from 16th to 20th February 2020 in Düsseldorf: hall 6, booth E17
Supplier
Schwelmer Str. 245
42389 Wuppertal
Germany