Company News • 24.01.2014
Toshiba Global Commerce Solutions Certifies VeriFone Terminals for Point of Sale Software Widely Used by Grocers
VeriFone's MX product family is the de facto standard in card acceptance used by 19 of top 20 U.S. supermarkets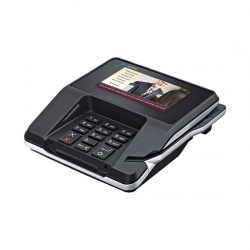 VeriFone Systems, Inc. (NYSE: PAY), announced today that its MX 915 and MX 925 consumer-facing, multi-media payment terminals have been certified by Toshiba Global Commerce Solutions, Inc., for use and support with Toshiba's SurePOS Application Client/Server Environment (ACE) software.
SurePOS ACE software is widely used at the point of sale (POS) by retail grocers and other retailers in the U.S. Toshiba will support VeriFone's MX 915 and MX 925 payment terminals for customers with current software maintenance on Toshiba ACE/EPS Version 7 Release 3 and later.
"Toshiba represents the largest percentage of installed POS systems, and the VeriFone MX product line is the de facto standard in retail card acceptance, as it is used by 19 of the top 20 supermarkets in the U.S.," said Joe Mach, senior vice president and general manager of Vertical Solutions for VeriFone. "Retailers that use Toshiba SurePOS ACE now have the option to seamlessly integrate the MX 915 and MX 925 to help further increase customer satisfaction, speed checkout lanes, reduce costs and help drive new revenue. Helping retailers expand commerce in such a way demonstrates the flexibility of the MX solution for use in any retail environment."
VeriFone works with partners and retailers to ease the integration of almost any new payment technology and meet the changing needs of consumers. The VeriFone MX 900 Series of payment terminals, which are NFC-enabled and support EMV-approved chip and PIN payments, provide an enhanced customer experience at the POS.
The MX 925 features a stunning color display that enables retailers to enrich the shopping experience with targeted video and promotional presentations at the point of sale. The MX 915 also provides full-motion video capabilities in a slim, space-saving design.
Supplier

Seilerweg 2f
36251 Bad Hersfeld
Germany