Advertorial • 06.02.2019
ROQQIO Commerce Solutions connects worlds
Have you ever missed your connection when flying or taking the train? Customers who are having a bumpy journey should not feel that they have fallen out of rhythm with their schedule. Every stage of the journey that a customer embarks upon before deciding to buy something should be well connected. That is why we have joined forces: three solution providers for both stationary and e-commerce trade. eFulfilment, Futura Retail Solutions and höltl Retail Solutions - ROQQIO Commerce Solutions GmbH.
Structuring multi-layered data
From finding information right through to the actual purchase, customers use different media and channels. The processes that are initiated as a result use various systems in the background that export this information, capture orders or simplify dispatch.
Whether you are a stationary retailer and want to operate an online shop or vice versa: With ROQQIO's integrated omnichannel solution, you connect both worlds. In addition to merchandise management and store solutions, the software solution for the retail industry covers all eCommerce processes. This starts with order management and continues through to logistics and dispatch.
Information in real time
For a comprehensive customer overview, the various data and information on the customer from all sales channels must be integrated and stored in a database in real time.
Live data transfer ensures that the inventory displays are up to date in the branch, in the online shop, and on other online portals. In this way, products can be coordinated in the best way possible and dispatched automatically.
For example, you can create a storage pool from your stationary business and your warehouse. An intelligent system automatically customises inventories on all channels and generates suggestions for follow-up orders.
Convincing customers
For the customer, the omnichannel transformation is noticeable when they can freely switch between the shopping channels at the till. Modern till systems enable cross-channel purchasing, exchanging and returning - not to mention new orders. What's important is that the till system recognises the customer. Therefore making a referral to a loyalty programme possible
Supplier
Harburger Schloßstraße 28
21079 Hamburg
Germany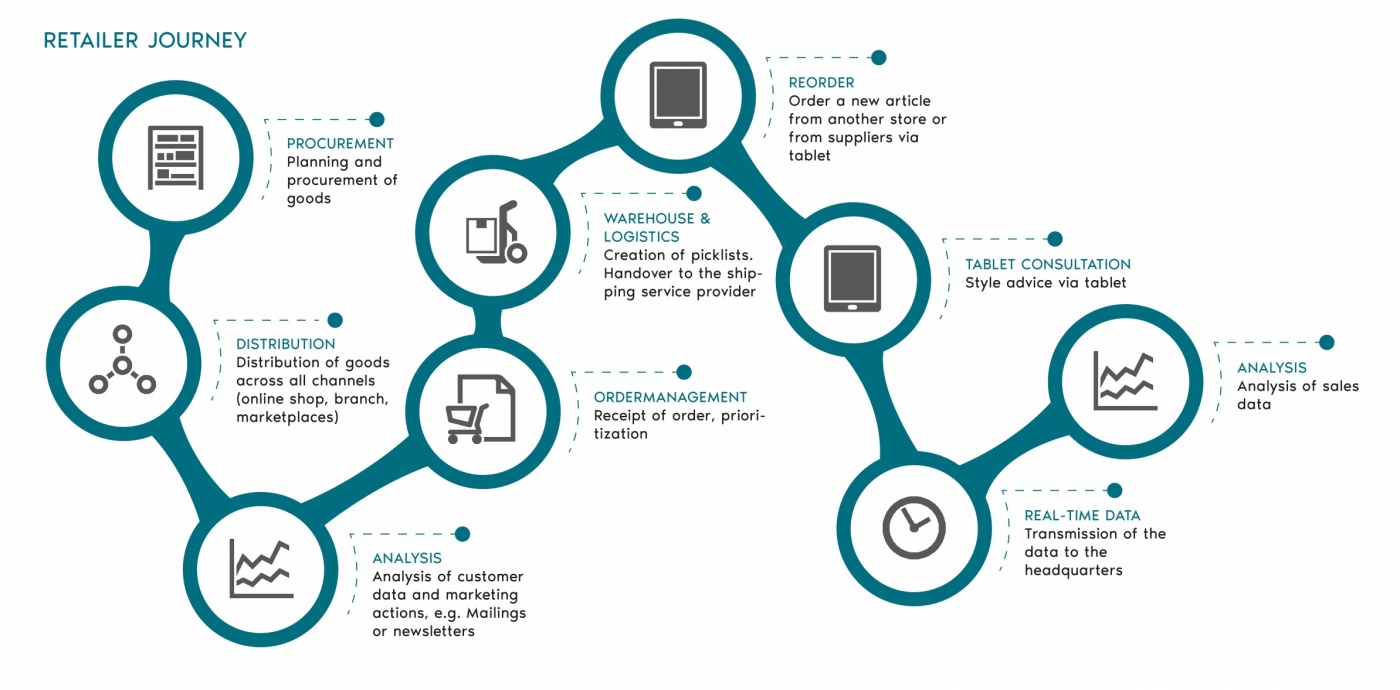 Source: ROQQIO
Support through mobile solutions
When it comes to the point of sale in the branches, you can also use digital tools for the space. Integrated into the overall system, your sales consultants on the floor have all the customer data at their fingertips. The sales consultation continues with the aid of a tablet. Purchases made online by the customer can also be included in the consultation.
Our offer is complemented by mobile checkout solutions and a platform that supports the sales team both in the back office and by offering omnichannel functions within the branch.
Technical infrastructure
We support you with the technical basics for the development of an omnichannel infrastructure by:
Ensuring error-free data communication between the individual platforms
Centralising KEY data such as stock level and customer data
Ensuring the time stamp on all data on the leading system (realtime/neartime)
Optimising and reducing internal ports
Supporting branch sales with effective digital tools
The technical infrastructure should ensure that data flows smoothly when customers switch between channels on the way to completing a purchase. That's why we connect these worlds.
Visit us at EuroCIS at the Düsseldorf exhibition grounds from 19th to 21st February: ROQQIO Commerce Solutions GmbH, Hall 9, Booth F04