Company News • 24.03.2016
Retailers find keys to impressive ROI in shopper conversion research study
Study shows net sales productivity lift of 537 basis points with innovative data-driven coaching approach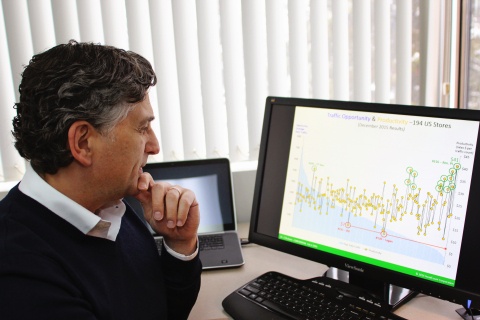 Source: HeadCount
A new research study clearly demonstrates the ability of a new data-driven coaching and analytics program to drive net sales productivity in retail stores. The 'In-store Traffic and Conversion Study' by RetailWire and HeadCount Corporation documents a lift in net sales productivity of 537 basis points during the test period.
"Physical stores are on the chopping block," says Al McClain, CEO of RetailWire, the retailing industry's premier online discussion forum. "Store traffic counts are on the wane and retailers are battling with online and mobile channels for the attention of digitally-attuned shoppers. Yes, retail execs are experimenting with all sorts of initiatives to drive results, but few have connected the dots to pull the ROI they need from their investments."
More than ever, as store traffic softens, retailers need ways to drive real results in their stores – results that include actual revenue increases. This new study delivers that answer, pulling results from seven discrete experiments spanning four retail verticals. Test stores in the study experienced an average sales productivity increase of $.67 per traffic count. When extrapolated for the 600 retail locations evaluated in the study, that would equate to annualized revenue increases of $33 million.
"No matter what's going on in the industry, good results don't go out of fashion," says Mark Ryski, CEO & Founder of HeadCount Corporation, a pioneer in the science of store traffic and conversion measurement.
With more than a decade of experience working with retailers to improve sales productivity and conversion rates, HeadCount created an innovative, results-oriented approach to data-driven coaching and then devoted nearly a year to proving the efficacy of the program.
"Any provider that claims that their solution can deliver an outcome should be able to prove it," says Ryski. "Our goals were twofold: first, to prove the efficacy of our approach to conversion improvement, and second, to encourage retailers to embrace the A/B test methodology as a way to evaluate solutions like ours," Ryski says.
The new In-store Traffic and Conversion Research Study is available at RetailWire.