Product • 11.01.2016
Posiflex announces new upgraded all-in-one space-saving POS system
The HS-3510W similarly delivers when it comes to performance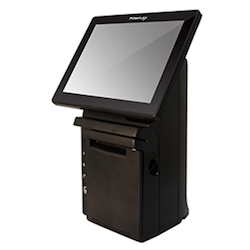 Source: Posiflex Technology
Posiflex has announced the launch of its new, fanless, compact, all-in-one EPOS system, model HS-3510W. This new addition to the extensive Posiflex POS range is an upgraded version of Posiflex's successful HS-2510 series, and will be available in Q1, 2016.
With its compact footprint, the HS-3510W is the ultimate space-saving POS touch screen, freeing up counter space and enabling retailers to display and promote more merchandise to maximise sales. It is ideal for use in retail, hospitality, banking, healthcare or any application where space is at a premium.
Despite its small size, the fanless HS-3510W is a true "all-in-one" POS solution, and the 10" touch-screen terminal integrates the most widely used peripherals in daily POS operation. This includes a detachable 3" thermal printer, optional 2D barcode reader, MSR, smart card reader, fingerprint/ biometric reader, RFID, and customer display. It also has the additional option of a built in Wi-Fi module.
The HS-3510W similarly delivers when it comes to performance, boasting a powerful Intel Bay Trail quad core processor running up to 2.40GHz and a system memory holding up to 8GB RAM. Its Projective Capacitive touch screen supports multi-touch functions and the ability to accurately track touches, enabling quick transactions and minimal queuing time. The screen is also adjustable for operators' ease of use.
Owen Chen, President and CEO at Posiflex Technology, Inc. comments, "We are constantly re-evaluating our POS terminals to identify where enhancements can be made. We have built on Posiflex's highly successful HS-2510 series to create the improved HS-3510 terminal, which offers even greater performance and more features despite its compact design. The HS-3510 is another example of Posiflex driving forward the POS market and setting new standards in POS solutions."