Company News • 12.02.2016
NCR deepens options for retailers with new POS solutions
New configurations, interfaces and performance options in sleek, modern design
NCR introduced two new point-of-sale (POS) models, NCR RealPOS XR5 and XR8, that bring more configuration options and choice for retailers, while retaining the reliability and performance expected from NCR RealPOS solutions.
For gastronomers NCR Orderman presents the new Columbus800 which is optimized for the use with the Orderman7 handheld devices. Trade show visitors can experience these solutions in action at EuroCIS from February 23 to 25 in Dusseldorf in hall 10, stand A04.
Supplier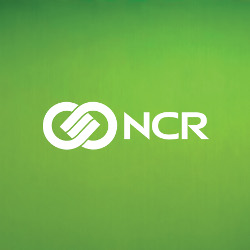 Steinerne Furt 67
86176 Augsburg
Germany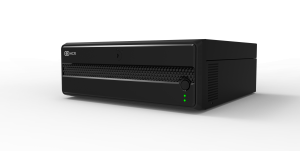 Source: NCR GmbH
NCR RealPOS XR8: powerful and flexible
The NCR RealPOS XR8 is powered by the latest 6th-generation Intel Core processor technology in one of the smallest form factors in its class. The XR8's compact design will fit into nearly any retail environment, including under a counter, on top of a counter or with a peripheral integration tray. It features a unique new design that allows front or rear peripheral connectivity, which simplifies cabling and service accessibility. In addition, all input/output is behind a locking door to help secure connections. NCR's image recovery button lets store associates easily restore a corrupt POS system within seconds.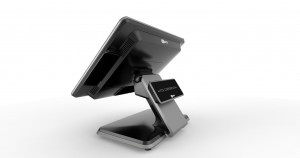 Source: NCR GmbH
NCR RealPOS XR5: compact and energy efficient
The NCR RealPOS XR5 is an energy-efficient, fan-less, multi-touch POS terminal packaged in the NCR X-Series all-in-one design. With a sleek design that can be deployed on a countertop stand, a floor-standing pedestal or hanging on a wall or pole, the XR5 provides flexible installation options to meet the needs of many different store formats.
The XR5 is powered by the latest Quad core Intel Celeron system-on-chip (SoC) technology to give retailers high energy efficiency, lower operating temperature, and uncompromised performance. On-board "odometers" proactively capture vital health and usage statistics to prevent downtime. The projective capacitive display provides multi-touch and gesture support to boost associate productivity and to let them interact in a way that is familiar to them.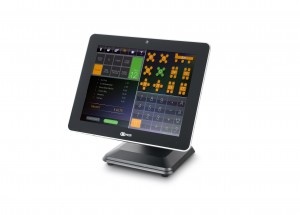 Source: NCR GmbH
Columbus800 and Orderman7: The Winning Team for Hospitality Professionals
The Columbus800 has been specially designed for the hospitality and restaurant sector and offers proven quality in a new sleek design. The new system enables seamless communication with all Orderman handhelds.
When used together, Columbus800 and Orderman7 handhelds create the ideal hospitality experience: Guests are greeted by the service staff and asked about their wishes. With a few clicks on the mobile POS the order is sent directly to the bar, where staff prepares the order and serves the drinks and snacks in a flash. The service staff can print the bill directly at the table using the belt printer.
Trade show visitors can experience the seamless interaction first hand in the meeting area at the NCR booth in Hall 10, Booth A04.
"Surveys have shown that restaurant owners and managers can increase their turnover by up to 25 percent with our mobile POS systems", explained Richard Goodall, Vice President NCR Hospitality in EMEA. "They are as robust as our stationary POS systems and as easy to use. What's more, with their new design our Columbus800 and Orderman7 are real eye catchers. Modern software solutions like NCR Aloha provide additional value to customers by making key operational data of their restaurants available on their smartphones, enabling them to make informed business decisions."