Advertorial • 02.02.2023
Hybrid stores: Connected components for the store concept of the future
Intelligent network audio, video and access solutions for hybrid stores from Axis
A hybrid store concept that operates autonomously outside regular business hours sounds like a highly complex challenge.
In many cases, however, the existing infrastructure is already a solid basis and only needs to be integrated sensibly with smart IP audio, video, and access solutions.
Competing with online retail as a brick-and-mortar retailer is not easy, because customer expectations are increasingly moving toward "getting what you want, when you want it, without waiting". This requires being open around the clock for customers. Due to occupational health and safety regulations as well as lower sales expectations coupled with additional costs outside of regular business hours, it makes sense to design these additional opening hours autonomously, i.e., without staff on site.
.
Supplier

Adalperostraße 86
85737 Ismaning
Germany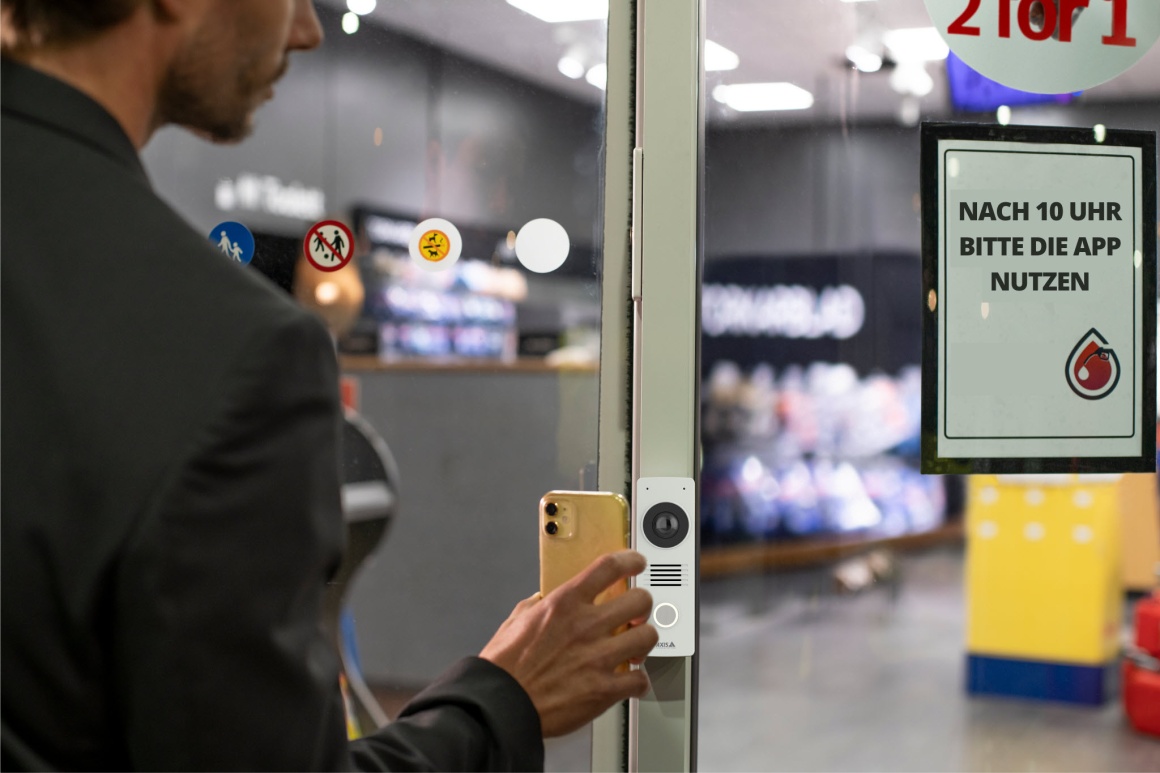 Source: Axis Communications
For retailers with an existing store network, however, it is not efficient to set up several new, fully autonomous stores. On the one hand, lucrative locations in city centers are rare and expensive, and on the other hand, existing stores are already integrated into a logistics network and are therefore more cost-effective and efficient in terms of delivery. It, therefore, makes more sense to convert existing stores to a hybrid concept: with staff during regular opening hours and autonomous outside them.
Combining existing and new infrastructure sensibly
To operate even larger stores in this way, it is necessary to make good use of existing infrastructures and new, AI-based network solutions. Self-checkouts, for example, are already installed in many stores, as are network cameras, loudspeakers, and other solutions to ensure customer and employee security. Other systems, such as for QR code-based access via app, usually still need to be added. Seamless integration and interaction of existing and new components is essential and usually starts with providing additional security as part of an IP-based security system.
For example, camera systems should be equipped with a smart, AI-based analytics function to identify wrangling or fallen people as such. An audio analysis option additionally identifies unusual noises such as aggressive voices or breaking glass. In these cases, an IP-based audio solution integrated into the network turns down the background music and plays announcements, e.g., to inform people that the police or emergency services are on their way. An IP loudspeaker can also act as an intercom system for people in the store to communicate directly with a connected service center or alarm control center.
Want to learn more about intelligent network audio, video, and access solutions for hybrid stores? Then visit Axis Communications in Hall 6, Booth E03 at this year's EuroShop from February 26 to March 2, 2023. For more information, click here.