Company News • 23.02.2018
Explore DataVan's latest revolutionary retail solutions at EuroCIS 2018
Self-checkout, universal tablet docking, and lightweight POS terminals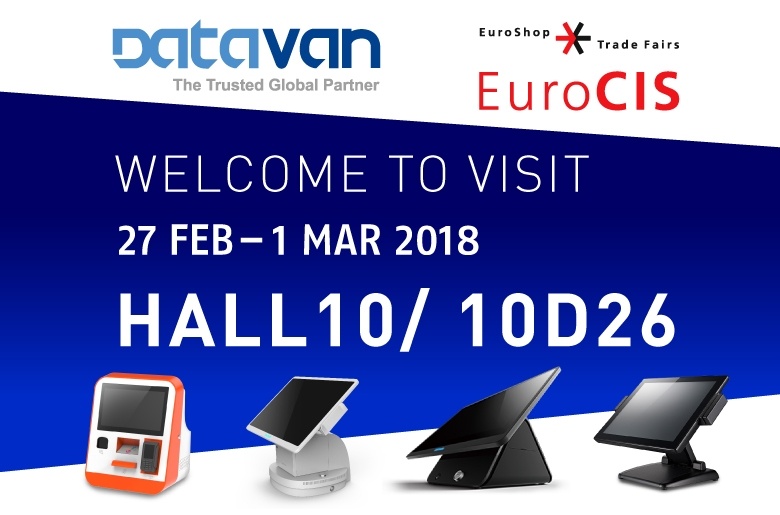 DataVan, one of the world's leading retail and hospitality touch-point technology providers, is pleased to join EuroCIS 2018 in Düsseldorf to showcase its new range of self-service kiosk terminals, multi-purpose touchscreen terminals, and a universal tablet docking station. The new self-checkout kiosk terminals have a variety of integrated digital payment solutions to deliver the most flexible self-checkout options for customers. The light-industrial designed touchscreen terminals allow exploitation in an enterprise or challenging retail environments. Finally, the Uni Move, a universal tablet docking station, can transform a tablet into a POS system for quick conversion of customer interaction to sales generation.
Compact Self-checkout Kiosk Terminals
To catch up with today's cashless payment economy, DataVan is pleased to introduce its new self-checkout kiosks terminal that enables fast, safe and secure digital payments, including encrypted card payments, mobile wallets, NFC contactless payments and more. The terminal itself features a widescreen 15.6" touch panel, built-in thermal receipt printer, 1D/2D barcode scanner, RFID card reader, and IR motion sensors. With a reduced footprint size the terminal is a perfect fit for the space restraint retail environment and it can be seamlessly integrated into current store settings.
Ultra-slim, Modern, and Flexible Touchscreen Terminals
When the customer experience has been a top priority for brick-and-mortar retailers, DataVan introduces a range of touchscreen terminals to help brands extend the in-store digital experience and enhance customer satisfaction. With screen size options of 10.1, 14.1, and 15.6", the terminals enable interactive content to drive customer engagement and connect shoppers with digital channels and physical stores, creating a seamless customer experience. The ultra-slim system, which at its thinnest is just 1cm, provides great flexibility to be installed in most business environments. With a wide choice of enhancement modules, the terminal can connect to traditional POS devices, and with its lightweight and portable design, allows it to serve as a temporary POS system for checkout.
Uni Move – Universal tablet docking station
The unique universal tablet docking station from DataVan, Uni Move, packs USB connectivity into a small footprint unit and adapts a range of universal tablets. The solid aluminum tablet clamp with quick-release locking mechanism fits tablets up to 12 inch in size firmly in place when used as a POS system. The tablet can then be rotated and height-adjusted on its 360° swivel arm for optimal viewing angle for the best engagement with your customers. Thanks to this flexibility, various locations can quickly convert from customer engagement to POS for new business with limited counter space.
Visit DataVan at EuroCIS 2018: February 27th until March 1st, Hall 10, Booth D26
Supplier

10F., No.186 Jian 1st Rd.
Jhonghe Dist., New Taipei City 235
Taiwan