News • 06.07.2020
Digital access controls support distancing requirements in the era of Corona
Essential staff are relieved and the risk of infection is reduced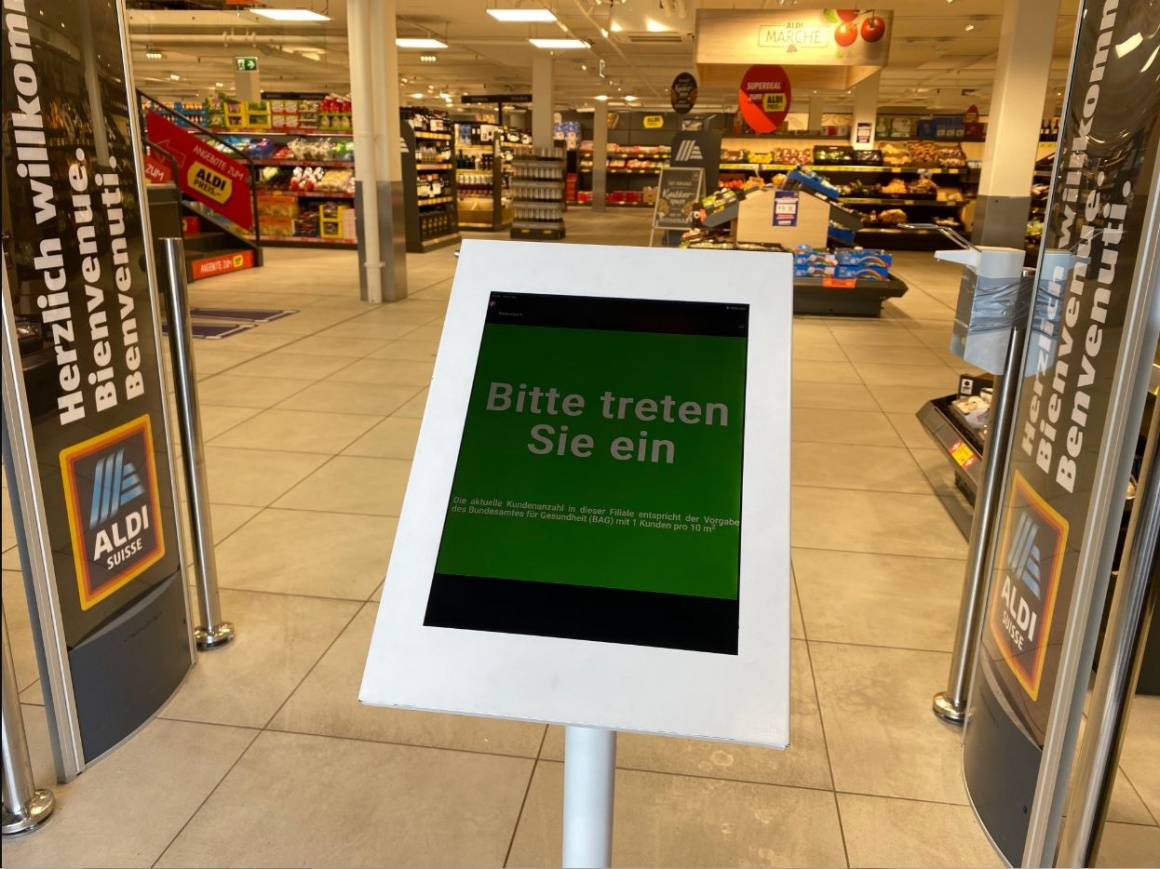 Source: ALDI Suisse
Since the beginning of the pandemic, larger supermarkets and discounters have been imposing entrance restrictions to ensure that only a certain number of people are allowed within their Stores. Usually the access management is carried out by employees of a security company or by the store's own staff. The number of people is regulated by baskets or shopping carts handed out, other markets rely on the use of mechanical hand counters and simple counting apps.
The disadvantage: the personnel costs are correspondingly high and cause additional costs. Employees are exposed to an increased risk of infection and customers often find waiting times frustrating.
How many people are allowed in a store? There is no internationally accepted rule. Even in Germany each individual state sets different policies. In North Rhine-Westphalia, for example, one person per ten square meters of sales space is allowed in a store. In Saarland or Baden-Wuerttemberg it is 20 square meters per person. We deliberately write "person" at this point, because depending on the federal state, employees either included or excluded in this calculation.
ALDI Süd, Nord and Lidl plan to use digital doormen in Germany
The discounters ALDI Süd, ALDI Nord and Lidl, which are based in Germany, therefore plan to introduce fully digital access control throughout the country in the near future, according to information from the "Lebensmittelzeitung", Aldi Süd, for example, is currently testing a counting system with video cameras, analysis software and a screen with traffic light function, which is intended to replace doormen.
The colleagues from ALDI Suisse have already gone further and have been using a digital counting system in 110 particularly high-frequency branches since the beginning of April. The system works like a traffic light: when the pre-determined total number of people in the respective branch has been reached, the display at the entrance indicates a temporary admission stop with a red screen. As soon as someone leaves the store or capacities are free, the display changes to green.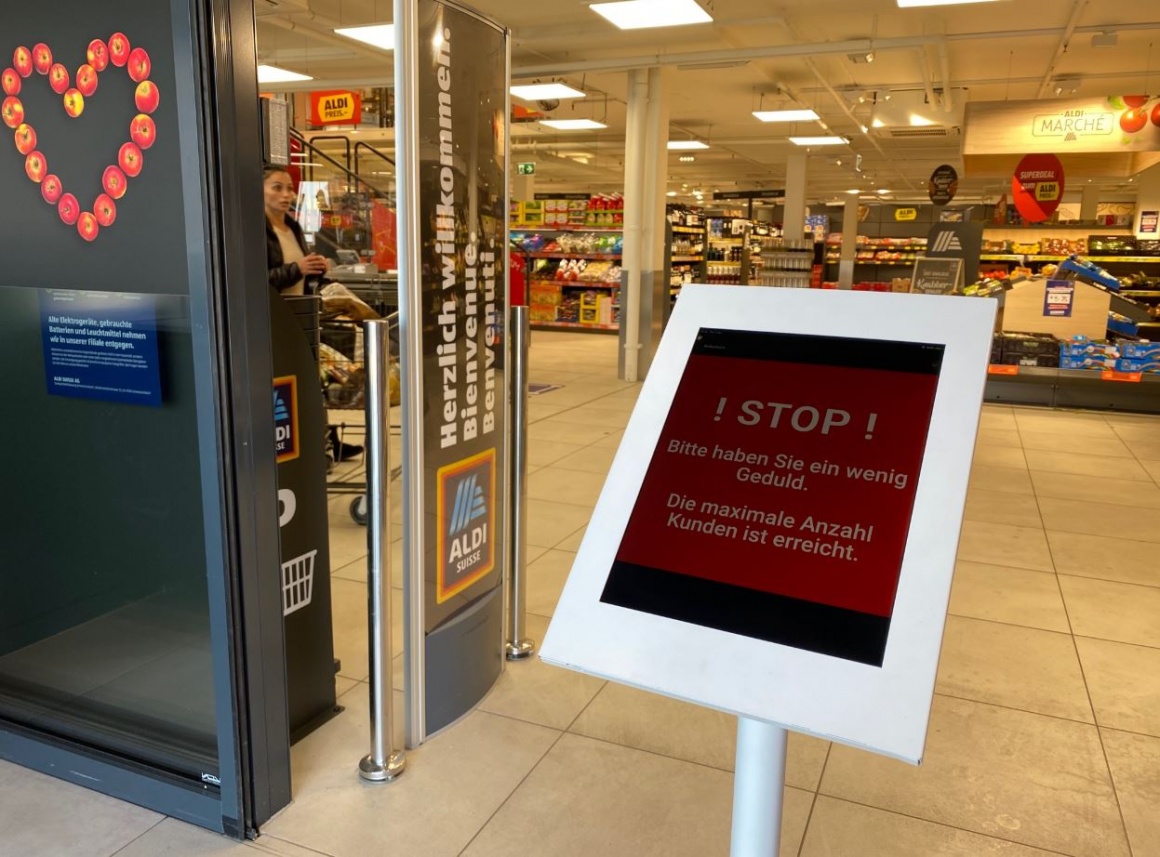 Source: ALDI Suisse
Issues brought up by the Corona crisis in the retail sector:
Digital access controls: smart and accurate
But how do they measure customer flows? Among other things, video technology solutions can control the maximum number of people in a store. IP cameras with integrated video analysis register people entering and leaving a store and thus automatically provide a quick overview of the total number of people in a store. Another proven means of entrance control are 3D sensors, which are also installed in the entrance area. Both solutions record and process data anonymously and in compliance with data protection regulations.
The cameras or sensors are connected to a software. By coupling them with customer-facing monitor in the entrance area, waiting customers can see in real time when they are allowed to enter. Solutions currently available on the market often work with a traffic light system and sometimes also calculate the average waiting time. Experience shows: Providing users with an expected wait time increases their willingness to do so.
What happens if customers choses to bypass the system? Depending on the provider, the corresponding software has an interface technology that makes it possible, for example, to create a link between the software and the public address system or employee app. If a certain marker is exceeded, an acoustic warning signal is automatically generated, for example via a loudspeaker announcement, or is sent directly via app to the employees, who can then inform the customer personally about the admission regulations. Although draconian, for many retailers and their customers, feelings of security simply trump personal freedoms as we find solutions to live with the new limitations imposed on us all.