Report • 25.04.2017
Always in motion: SEAT rolls out new concepts for its dealerships
How the automotive industry redesigns showrooms
Car dealers respond to the ever-changing buying habits of their customers and expand new retail concepts. The ambiance of car dealerships is increasingly defined by digital technologies, premium settings, and graphic displays. This is how the automotive sector responds to the growing trend of more and more prospective buyers doing research and comparison shopping on their home computers before they make their purchase.
This is also why the Spanish automobile manufacturer SEAT emphasizes digital discovery tours via digital signage but also relies on the development of city center areas.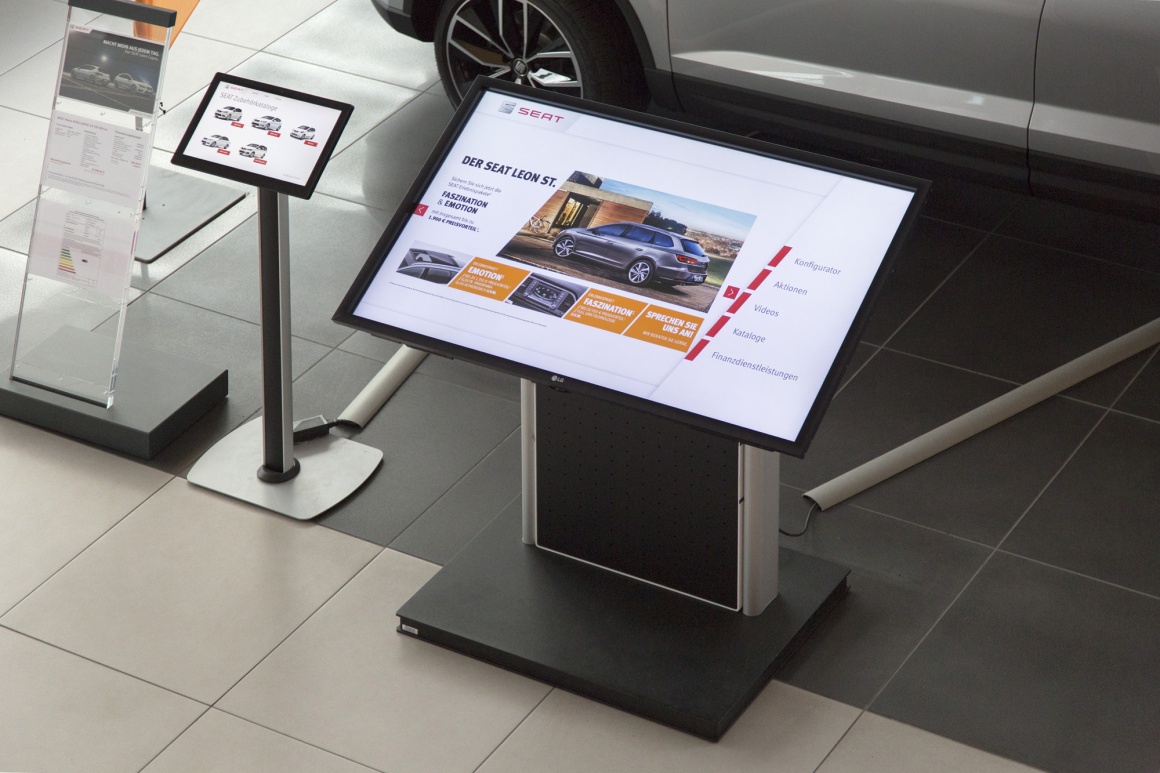 Source: LG/Schumann
SEAT Germany highlights "all-encompassing interactivity"
Last year, SEAT Germany already made its flagship stores in Berlin, Hamburg, and Alsbach more attractive to primarily appeal to the discerning younger members of society. The rollout of its interactive kiosks at all touchpoints took place at the end of 2016. Participating partners included- among others- SEAT Deutschland GmbH, LG Electronics Deutschland GmbH, and STiNO. As many as 400 dealer locations are now scheduled to feature new digital signage systems.
"Before they purchase a new car, customers are used to access extensive information online, interact with the source and are the ones that choose the information they want to review. Customers want to call the shots and they are now more informally and emotionally supported in this endeavor," says Daniel Kaul, project coordinator and former IT operations manager at SEAT.
The passive "digital signage" tool has transformed into an interactive touchpoint: welcome screens indicate the contacts that are currently on-site. Additional info displays are available in the waiting, maintenance and repair areas. This lets customers obtain extensive information on the entire product portfolio or track the progress of their vehicle repair live. Next to advertising trailers or the current parts and accessories catalog, the system also has a configurator, allowing customers to build and customize their dream car.
This offers salespersons new ways to start a dialog and support the sales conversation. The positive side effect of this is that customers playfully learn about the SEAT brand. Meanwhile, it also reduces unpleasant waiting times and crafts an ambiance that extends the length of stay and creates an experience.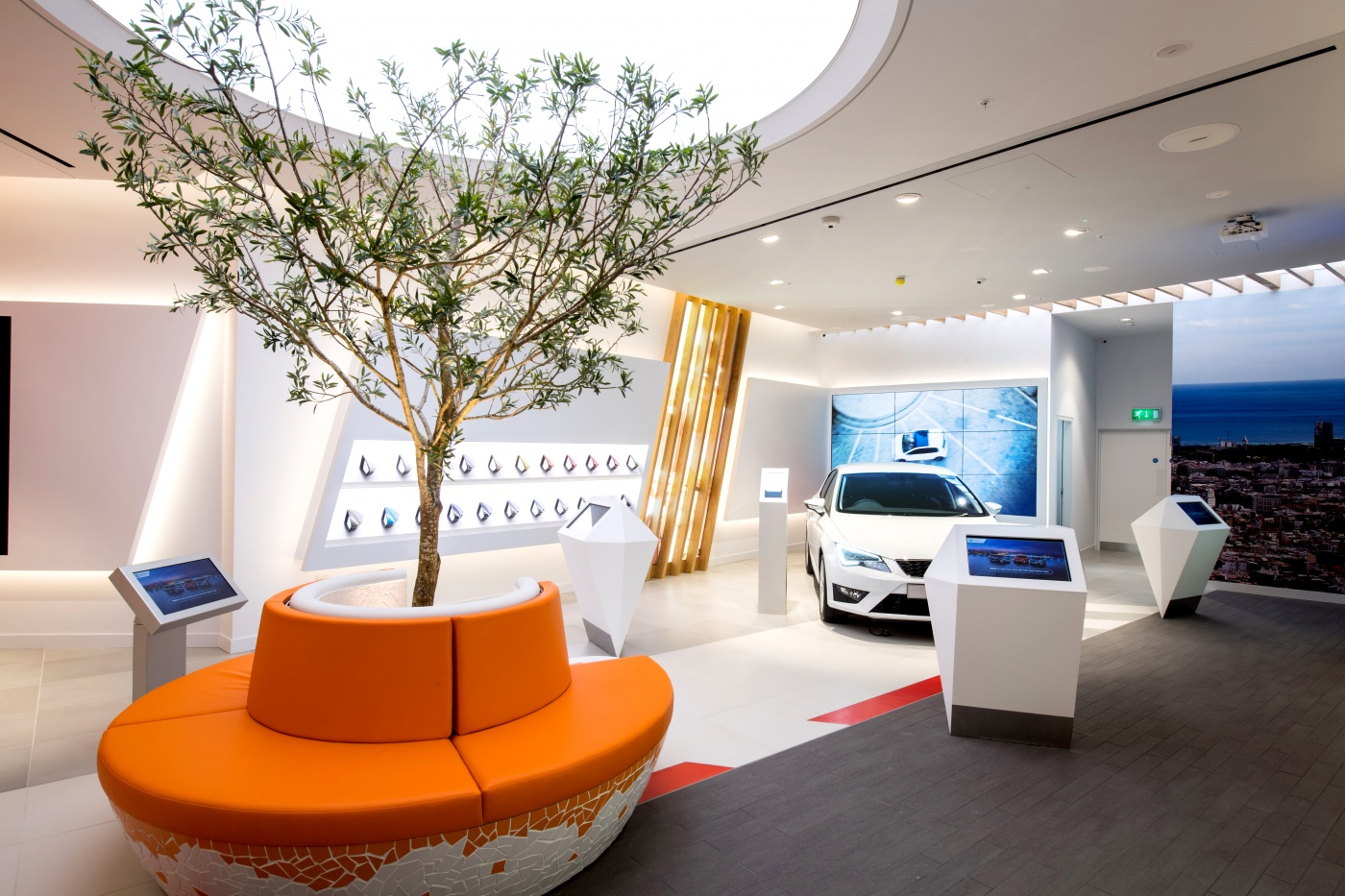 Source: Green Room
SEAT UK conquers shopping center and locally brings cars to life
Car dealerships are increasingly making their way back to primary locations in city centers. SEAT UK has also decided to take this route. The car dealer has opened up its first "double location" at the Intu Lakeside Shopping Centre in Grays, located about 35 kilometers outside of London. The 150 square-meter store inside the Centre is only a stone's throw from the "Outdoor Experience Centre".
What's striking is that the store only features three cars. Instead, it has eight digital touchpoints in the showroom. Patrons can conduct the complete buying process right there. Interested customers can search for vehicles, compare and reserve them and also optionally finance them. The real-time search continuously accesses information about new cars in the store's available inventory.
"It's all about putting control in the hands of the customer and providing an end to end customer journey at each location. Staff are on hand to help or you can do it all by yourself," explains Chief Creative Officer, Mike Roberts from Green Room, a brand and retail design consultancy based in Birmingham. "Digital Signage creates impact, communicates the proposition and offer, provides life size context and helps create a dynamic environment that can be changed at the click of a mouse", adds Roberts.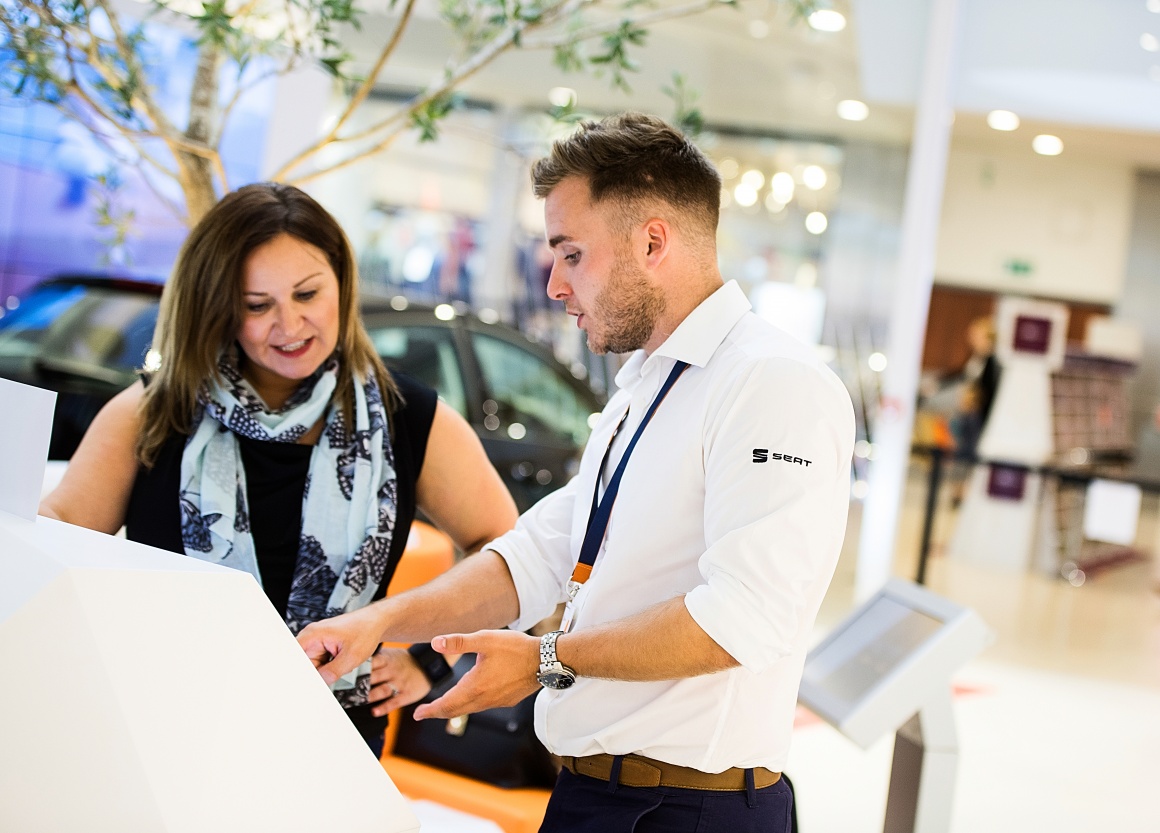 Source: Green Room
Test drives can be directly scheduled at the touchpoints and conducted immediately. The "Experience Centre" has sixteen available models outside the Centre. Once again, the already existing infrastructure of the city centre proves helpful: an allocated area is available for the test cars on the parking site of Intu Lakeside.
Another major change is that this stop has stock to sell. For customers who aren't keen on a long wait to take delivery of their new vehicle, SEAT Lakeside will have several models available for delivery seven days from the time of order.
SEAT Lakeside is a primarily a retail concept aimed at making it easy to buy a new SEAT but also introduces the heritage of Barcelona which was and is perhaps still largely unknown amongst consumers. This is achieved with Mediterranean colors, an olive tree and seating designed in the typical mosaic style inspired by Gaudí.
The SEAT store is a true one-stop shop: car purchase, test drive, service appointment – the store covers the entire spectrum of the automotive trade. This is why the novel concept of the store reflects the customer's modern buying behavior more than the traditional car dealer in suburbia and especially attracts walk-in customers, who would otherwise not have entered the store of the Spanish company.
By offering guidance and consulting services to navigate the myriad of options, test drives, and a quality experience, car dealerships will thus become indispensable in the future. Roberts summarizes, "I believe the evolution of retail concepts in automotive will continue with a shift in mutability preferences and demand for an enhanced customer experience, creating a service-centric approach to automotive retail."