News • 06.04.2022
Top 500 European cross-border online shops
4th edition of the annual ranking by Cross-Border Commerce Europe
Source: George Bakos/Unsplash
Cross-Border Commerce Europe, the platform that stimulates cross-border e-commerce in Europe, releases a major research paper covering and ranking the 500 strongest European players with a focus on cross-border performance.
The total online EU cross-border market represents a turnover of €171.2 billion in 2021 (excluding travel), an increase of 17% YTD. European webshops achieved €100bn cross-border in turnover. In this fourth edition of the "TOP 500 Cross-Border Retail Europe", IKEA maintains the leading position. Lego as a direct-to-consumer (DTC) brand manufacturer paves the way to a robust cross-border strategy. A study produced by CBCommerce with the support of FedEx Express, Lengow and nShift.
The 'TOP 500 Cross-Border Retail Europe' edition is a major compilation of cross-border data from websites of European retailers. The ranking is obtained by weighing four parameters:
Online cross-border sales in Europe (15 countries within Western Europe and Scandinavia, and the United Kingdom)
SEO-indicators covering cross-border performance
Cross-border score determined on the amount of active countries
Number and percentage of cross-border visitors
Six additional secondary weighted parameters fine-tune this ranking:
Brand authority
Organic search percentage
Number of languages
Number of currencies
Number of payment methods
Local supply availability (transport and stock services)
TOP 10
Based on the above-mentioned methodology, the TOP 10 "Elite" retailers for 2021 are:
Ikea
H&M
Lego
Zalando
Lidl
About You
Jysk
Zara
Bauhaus
Euronics

Source: Cross-Border Commerce Europe
The TOP10 is a combination of retailers, pure players, marketplaces and brand manufacturers. New entrants are Zalando, Lidl, About You, Jysk, Zara, Bauhaus and Euronics.
Within the TOP10, representing 20.9% of the TOP500 sales, IKEA maintains its leading position and achieves a cross-border turnover of €5.5bn, an increase of 8% compared to 2020.
European webshops made €100bn in B2C cross-border online turnover in 2021
B2C online turnover from goods grew with 11.5% over 2021 up to €639 billion. In 2021 cross-border e-commerce revenues (excluding travel) reached €171 billion in Europe, an increase of 17% compared to 2020. Cross-border online sales outperformed total online sales. The main reason for this is the Coronavirus pandemic, as consumers moved to online purchases.
The B2C online cross-border sales through European (incl. UK) sellers reached a record high of €100bn in 2021. This was €87.2bn in 2020, so a YTD increase of 14.6%.
Brexit
UK cross-border sales dropped to a historical low, -12%, resulting in €29bn cross-border sales, compared to €33bn in 2020 (due to Brexit and its VAT regulations, import duties, logistics and returns). The UK lost its number one position as the top European cross-border country to Germany. Within the TOP500, an impressive decrease of 32% in the number of UK retailers were counted, a decline from 100 in 2020 to 68 in 2021.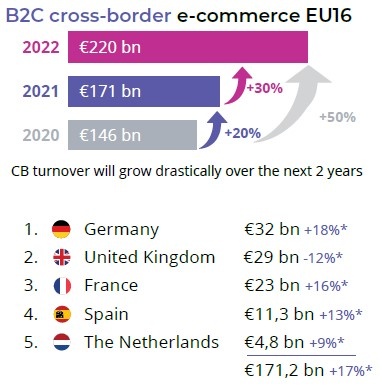 Source: Cross-Border Commerce Europe
TOP500 revenue, sectors and categories
The TOP500 Cross-Border Retail "made in Europe" generates €58.3bn within the EU16 representing a market share of 9.5% compared to 2020.
In the TOP500, there is a drop in the number of multichannel retailers in favour of a 50% increase in the number of brand manufacturers aiming to develop their direct-to-consumer (DTC) channels such as Lego, Nespresso, Adidas and Philips. Major parent companies Richemont, LVMH and Kering invest in a better direct-to-consumer approach in order to reduce their dependency on bigger marketplaces. Pure players, including marketplaces, stabilize at 47% of the TOP 500, the number of marketplaces increased from 28 to 42, realising a record sales of €20bn; +45% YTD. European marketplaces also reinforced positions against American marketplaces thanks to the phenomenal revenue increase of players such as Zalando, Decathlon and About You.
Fashion, jewellery and baby remains the first category with a 41% share, followed by home, garden and DIY with an increase of 15% due to the pandemic. The category of personal care increased by 100%. Food merchant Lidl, as a strong grower, secures position five in the TOP500.
Digital-native vertical brands
Promising new players, digital-native vertical brands (DNVB) acting as pure players "born on the Internet", are NA-KD (position 26), Cowboy (position 105) and Gymshark (position 108). There are also more challengers to come in next editions, as the USA already counts over 700 DNVBs, some which will be willing to start cross-border operations in the coming years.
Cross-border e-commerce will continue its tremendous growth over the next years.
The TOP500 counts 1.4bn monthly cross-border visitors, an increase of 40%.