News • 18.12.2017
Sainsbury's launches its first in-store Zizzi pizza counter
Hot pizzas to go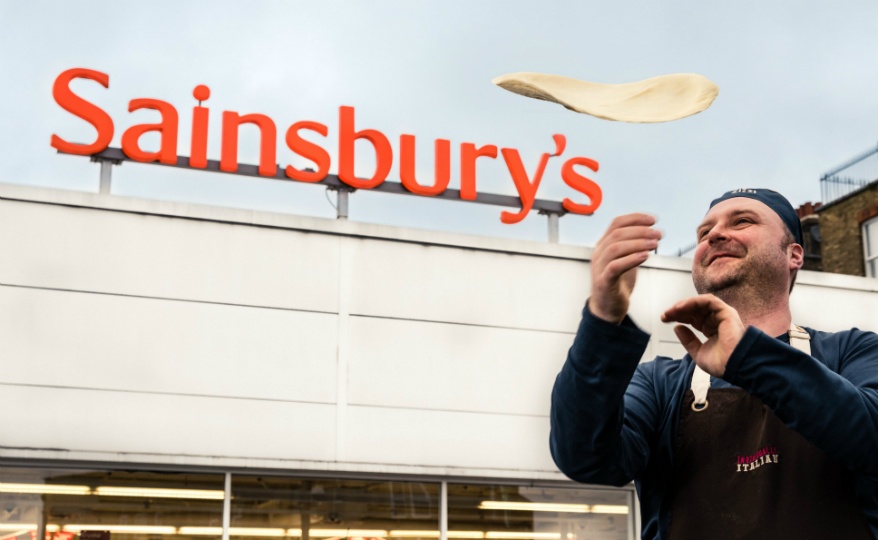 Source: Sainsbury's
The move is part of Sainsbury's commitment to offer customers a distinct and differentiated choice of quality food for every occasion and follows the successful introduction of Sushi Gourmet counters, Patisserie Valerie products and a Crussh counter to its stores over the last year.
The Sainsbury's Balham store will be the first to offer shoppers the Italian brand's pizzas to takeaway, with Zizzi chefs firing up the revolving, stone base pizza oven from Thursday 7th December. The counter will offer a selection of Zizzi's hand-stretched, stone-baked Rustica pizzas, including vegan options and topping customisation, alongside garlic breads. They will also feature a "Pizza of the Month" special.
Sainsbury's customers will be able to order the premium pizzas either in store or via Click & Collect on the Zizzi website, paying for the products quickly and easily from a dedicated takeaway check out at the store's hot food counter. Ready to eat Zizzi pizza from the Sainsbury's Balham store will also be available to Deliveroo users via the Deliveroo platform. The food delivery market, which includes delivery brands such as Deliveroo as well as traditional takeaways, is expected to increase by 10 per cent a year to £53bn by 2020.
In November, Sainsbury's also became the first UK supermarket to trial a hot own brand pizza pre-ordering service in three stores – Redhill, Cambridge Eddington and Bradford.
Balham shoppers will be able to bring the pizzeria experience to the comfort of their home, with the added convenience of being able to pick up their favourite grocery products for the perfect meal in at the same time. When asked, Zizzi customers said they'd choose a bottle of Pinot Grigio, bagged salad and a dessert to dine on alongside their freshly prepared pizza.
The partnership with Zizzi strengthens Sainsbury's mission to innovate within its stores to offer customers a wide range of great quality food for every occasion. The retailer is in the process of rolling out Sushi Gourmet counters to another 30 stores following a successful 20-store trial – on the same day the Zizzi counter launches, the Balham store will also be opening a new Sushi Gourmet counter. In June, Sainsbury's opened a Crussh counter in its Pimlico store in London, selling premium 'fit food' and freshly made juices, smoothies and coffees. Following its initial success, Sainsbury's also recently extended the roll out of Patisserie Valerie cakes on its bakery counters, with 28 stores now offering the luxury patisserie brand.
Sainsbury's Director of Fresh Food, Adrian Cook said, "We're committed to offering our customers an even greater choice of delicious, high-quality food in our stores and, by working with some of the best high street food brands such as Zizzi, we're attracting new shoppers. We think customers will love the convenience of being able to pick up their ready to eat, restaurant-quality pizza alongside their other favourite foods for a special meal, all under one roof."
CEO of Zizzi, Steve Holmes said, "We are extremely excited about our new partnership with Sainsbury's. Changing consumer lifestyles have created opportunities within casual dining and we have seen delivery sales grow rapidly behind the increased demand for restaurant quality food enjoyed at home. Offering our signature Rustica Pizzas to go in Sainsbury's is a natural progression in offering another convenient way for customers to purchase their favourite pizza, ready to eat"