Case study • 14.06.2017
s.Oliver introduces digital signage store concept at the Ruhrpark Shopping Center in Bochum
Digital Retail – Motivating customers with relevant buying incentives and increasing retail store productivity
Since the end of April, the s.Oliver Group has applied a digital signage concept in its store at the Ruhrpark Shopping Center in Bochum (Bochumer Ruhrparkzentrum) that emphasizes an innovative sales approach to better understand and continuously learn more about its customer base. Featuring a generously sized 544 square-meter sales floor, the fashion and lifestyle company showcases its new store design concept called "Home Story" for the first time ever: nine central locations in the store present digital touchpoints where s.Oliver inspires its customers with product communication and information about brand and service contents. Short films and slideshows, so-called stories, take turns with interactive contents and consulting services. Thanks to customer interaction and an analysis of data gathered on-site via sensors and cameras, the system keeps adapting to customer needs and thus ensures increasing sales.
The digital signage strategy, the concept of the stories as well as the content production was implemented by the Munich digital design agency iq! Studios. Founder and CEO Orlando Noor understands the relevant developments in the digital and brick-and-mortar retail sector. "Right from the start, with s.Oliver, we focused on developing product-oriented formats that inspire customers and entice them to make a purchase. This type of product and sales-oriented implementation with a customer-centric concept as its foundation is a first in the current retail landscape. Context-related interactions, as well as self-learning processes, are the next logical steps of a digital strategy that drives retail in the future."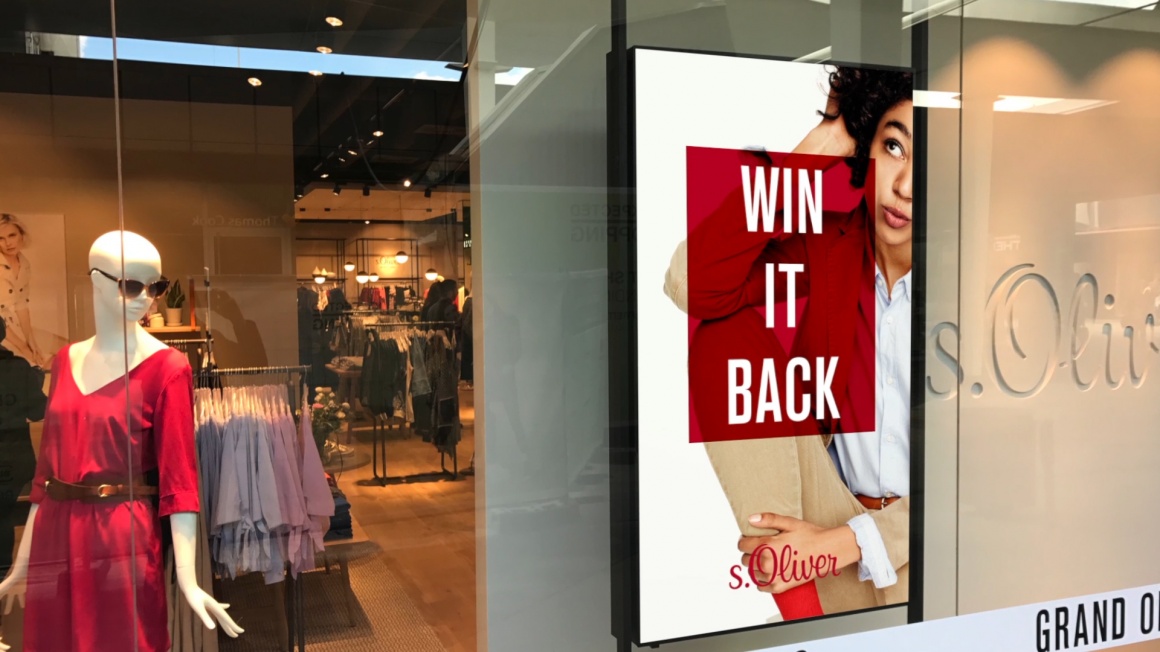 Source: iq! Studios
Digital signage from A to Z in just five weeks
After an initial ideation workshop, iq! created a complete 3-step expansion and rollout strategy, defined and produced the different content concepts and identified a sophisticated corporate digital signage vision. A detailed editorial calendar and content management as well as a KPI grid with analytics approach complete the project. "With all of our projects, we always start by determining the strategy behind any measures," explains Noor. "Do you want to increase sales or change your image, is your goal to target new groups of buyers or maybe to increase your social media traffic? In the early stages, it was essential to identify how the company wants to communicate and most notably interact with the audience at the POS. Right from the start, s.Oliver had a clear objective: the concept should increase sales."
Pedestrians encounter the first touchpoint of the new digital signage concept right in the shop windows: 75-inch monitors entice potential customers with key looks, collection highlights and exciting campaign clips to enter the store. Once they have entered, they are greeted in the foyer by a screen that showcases mix & match options, context-related product bundles, outfit combinations, fashion highlights, and special offers. Interactive Denim Guides in the jeans departments illustrate the different cuts, fits, and styles following an individualized customer approach that's based on the respective product line. Another central screen is located above the checkout in the center of the store. While they are waiting in line to check out, customers can obtain service information and learn about product promotions and are entertained with recent image videos. One benefit of monitors versus printed POS advertising is the chance to communicate many different contents in a very flexible and timely manner while enabling a measurable direct interaction with the customer. What's more, compared to print ads, digital operating costs are much lower.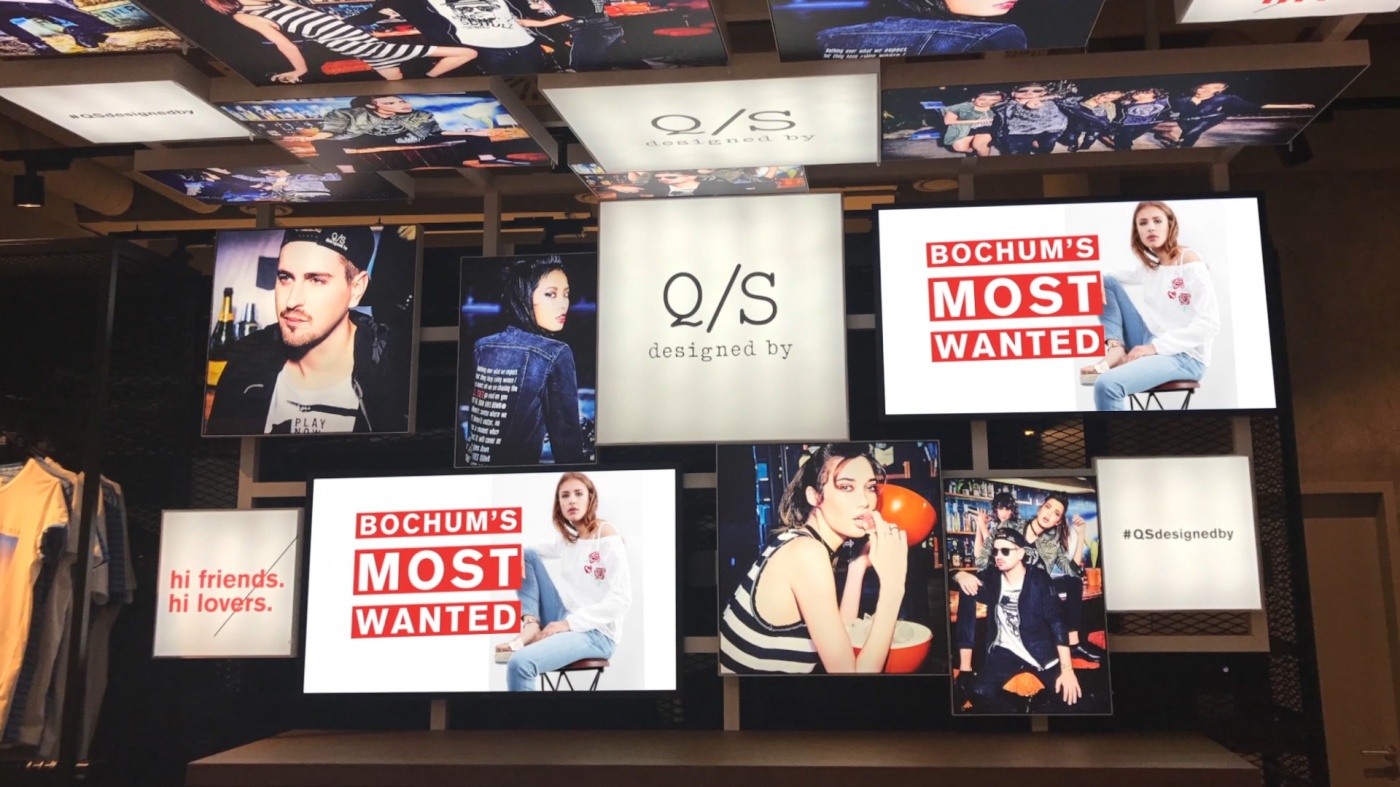 Source: iq! Studios
In the sales areas, store visitors are greeted by digital monitors in the "Denim Kitchen", which showcases the jeans collection by the respective s.Oliver labels for both women and men. Staged as a kitchen, touchpoints with digital size calculators complement the cozy ambiance: every customer can find his or her perfect fit jeans with just a few clicks. What's more, customers are quickly and conveniently informed about choices and trends. The same concept of support is also echoed in both displays of the integrated Q/S designed by - shop. A selfie wall with a livestream from the s.Oliver Facebook community completes the digital store concept.
The iq! agency has created and produced a total of 76 clips plus four Denim Guides for the nine touchpoints. Everything takes its cue from the predefined digital signage style guide, a brand strengthening communication tool for the five different brand labels of s.Oliver. "Based on their function, each touchpoint was assigned a percentage, meaning it was determined what percentage of product, brand, service, and community is being displayed. Given the expressed goal to increase sales, it was obvious that we would develop as many product-oriented formats as possible. We created a unique look for each label, each featuring three different motion designs within the content formats. We specified exposure times and story lengths down to the second," Orlando Noor explains. After only five weeks, the concept, editorial calendar, and all produced stories were waiting in the wings to fill the store with new life.
The digital touchpoints are managed by a content management system (CMS), where the screen contents are defined in so-called playlists for every day and every week. In doing so, communication can be customized via the touchpoints to match the visiting times of the different customer groups and to dynamically retrieve modified contents. Having said that, there are even more possibilities to deliver an authentic, customer-centric, customized approach.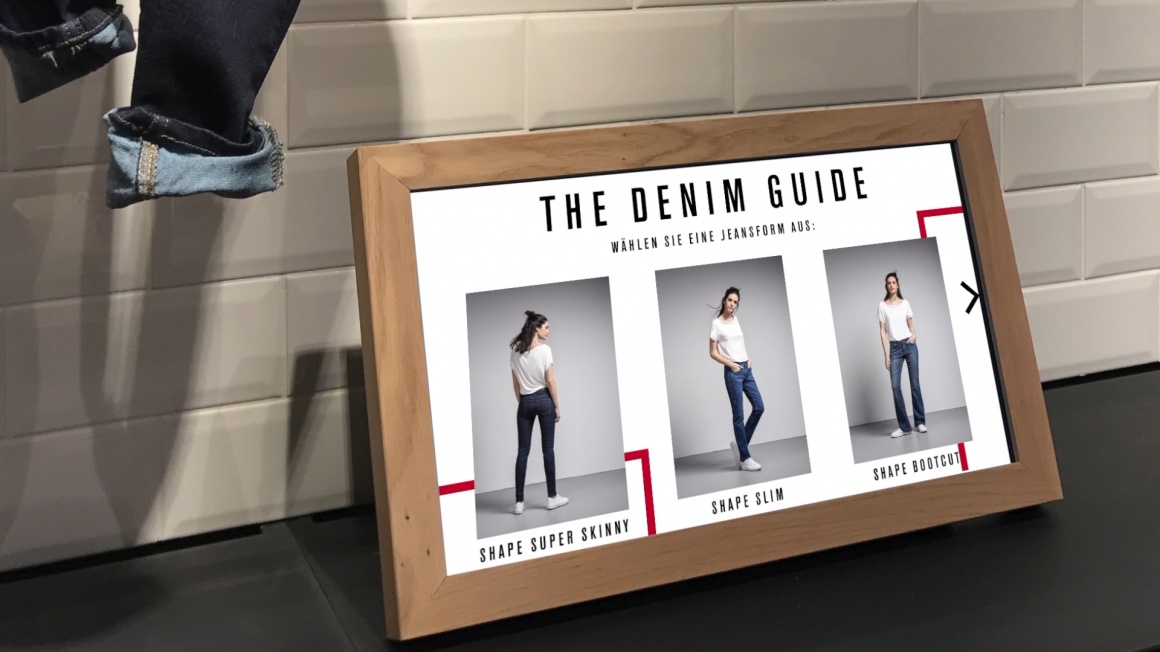 Source: iq! Studios
Adopting an improved customer's perspective thanks to a solid base
Right from the start, one key focus of the work by iq! was a POS analytics measurement with sensors and cameras designed to offer valuable clues to demographic characteristics of guests as well as the number of visitors based on the time of day and a relevant conversion rate from passers-by to store visitors. A visually appealing dashboard analysis provides all data at a glance and matches them to the predetermined key performance indicators (KPIs). If sales revenue figures for a specific product are not developing as expected, using the CMS, the content manager can increase the number of product incentives in the store display for example.
"The insights gained from leveraging POS data about consumer behavior, opens up new possibilities for buyers, product developers, and marketing and sales managers to plan for the future," says Noor. "We work closely with our clients to illustrate the possible forward-looking prospects and utilize the gained insights to define campaigns that are even more customer-centric and exactly aligned with the KPIs. The use of POS surveys and interactive formats allows retailers to easily build a feedback channel from and to the customer, which precisely identifies their wishes and needs. A solid base is essential to adopt the best customer's perspective."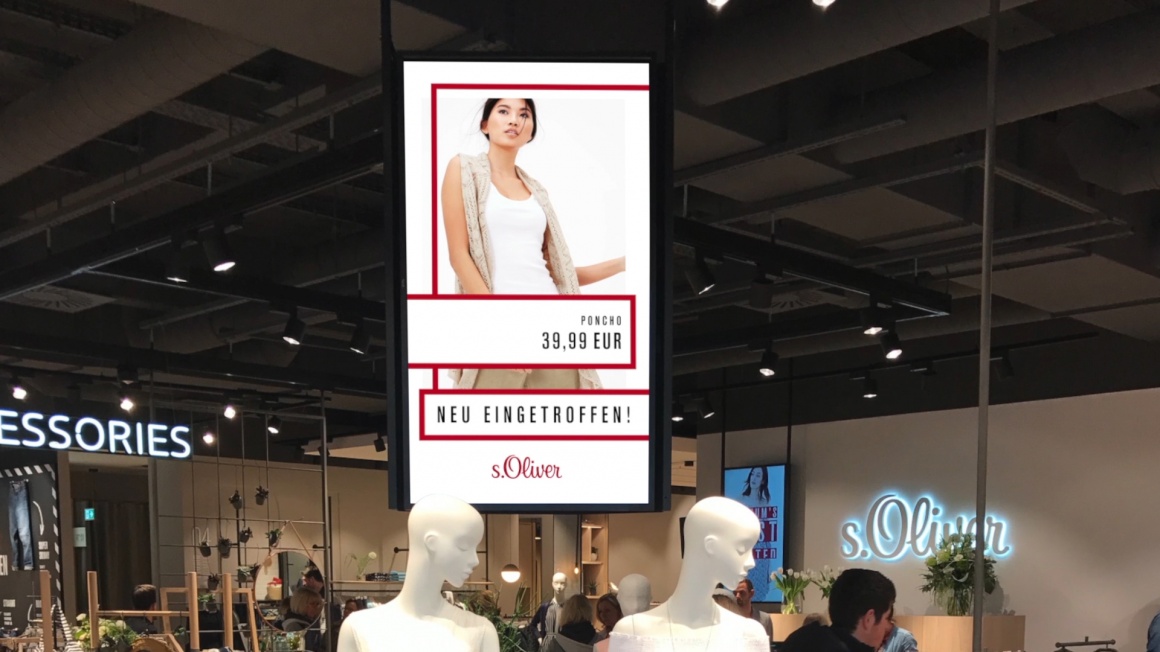 Source: iq! Studios
Product-oriented formats appeal to customers
By opting for a digital signage concept, the s.Oliver Group emphasizes an innovative customer approach that adopts and enhances modern communication patterns. "Digital signage reflects the real lives of our customers. People are becoming increasingly connected, making a digital store concept essential for a sales approach that communicates with customers at eye level. The digital touchpoints are integrated into the new "Home Story" store design concept and subsequently become a part of staging the sales areas as living spaces. This is how we combine the latest trends and digitization with a shopping experience that emphasizes familiarity and a feeling of security. We invite consumers to take their time and browse the collections in a relaxed atmosphere. Hopefully, we are able to provide a few customers with inspirations for their own homes," Susanne Schwenger, Managing Director Product & Marketing s.Oliver, explains the concept context.
The experiences gained from the opening of the pilot store in Bochum will be incorporated into the rollout of additional stores by the end of 2018.
Photo credit header: iq! Studios