News • 29.03.2022
Instacart unveils shoppable recipes
Evolving grocery shopping from transactional to inspirational
Instacart, an online grocery platform in North America, announced shoppable recipes, new product integrations that will allow food creators to make their recipes shoppable on Instacart via strategic integrations on TikTok and Tasty, as well on Hearst Magazines' properties like Delish, Good Housekeeping, and more.
Shoppable recipes leverages Instacart's immense grocery catalog with real-time AI-driven modeling to find in-stock items and available shoppers to get them delivered quickly, empowering people to turn the food from their favorite culinary creators and brands into something tangible and delicious.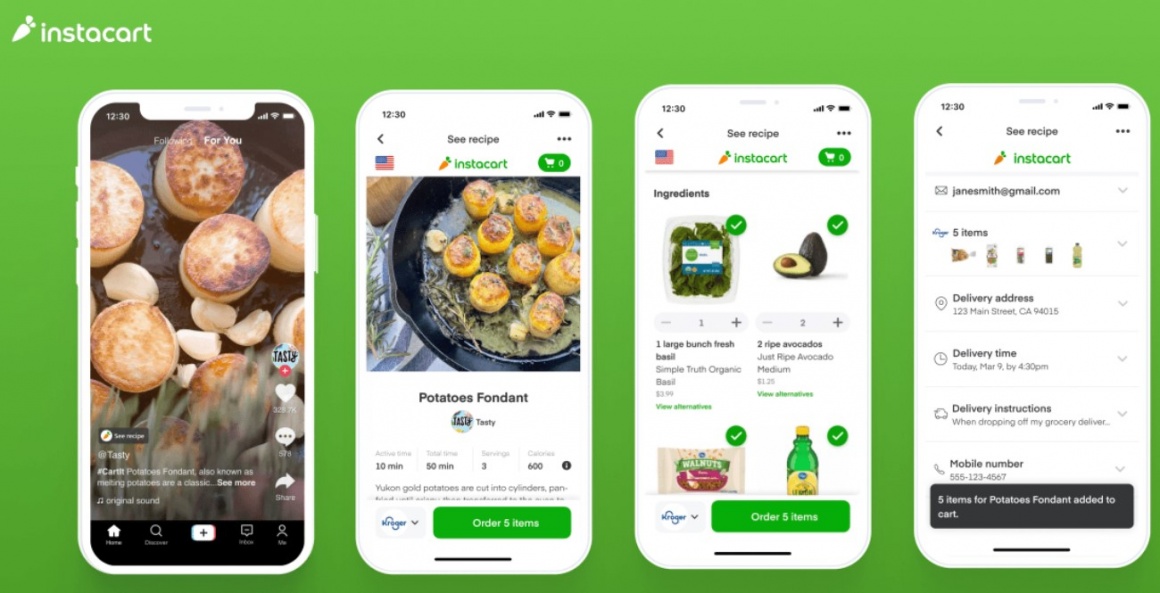 Source: Instacart
Shoppable recipes allow creators to share their content and engage with fans in new ways, burgeoning home cooks to make online recipes a reality by quickly getting all the ingredients they need, and Instacart's retail partners to tap into new addressable audiences via integrations with best-in-class content creators and entertainment brands.
The new product comes to life via an embedded "See Recipe" button featured on recipe videos on TikTok and via a "Shop with Instacart" button on recipes on Hearst Magazines' food culture properties that adds all of the ingredients to their Instacart cart in just a few taps. Select food creators on TikTok can start using Instacart's shoppable recipe functionality in their videos and earn payouts based on engagements and Instacart orders placed. Creators will be able to choose from recipes available on Tasty.co and other selected sites. Tasty will also be among the first creators with access to the functionality.
Shoppable recipes on TikTok and Hearst Magazines' properties join Instacart's existing partnership with Hearst and other leading publishers that are focused on showcasing recipes in the "Recipes" tab of the Instacart App. These investments mark Instacart's ambition to make every recipe and food item on the internet shoppable – capitalizing on a growing trend of entertainment-based shopping that leverages creator-generated commerce to inspire home cooks to turn culinary inspiration into action, and to unlock more online touchpoints for Instacart's retail partners to deepen relationships with their customers. Additional product and platform integrations will be announced later this year.