Guest contribution • 08.05.2017
Digital Signage at the POS: how virtual and real retail worlds merge
Digital signal systems are among the hotly debated topics in retail marketing.
They provide attractive new opportunities for interaction with customers but also imply a holistic marketing concept as well as an integration of distribution channels.
They increasingly take the place of the familiar billboards at train stations, shopping districts, and airports: digital displays. And they keep attracting attention. The "Trend Analysis Out-of-home (OOH) to Mobile 2016" by the Outdoor Advertising Association of Germany (Fachverband Außenwerbung) confirmed a recognition factor of 86 percent. What's more: more than half (51 percent) of respondents had already followed a link on the interactive display to a web page with their cell phone of tablet. A significant impact on consumer behavior is also evident. During a three-week video campaign at a shopping mall in Hamburg, sales of the advertised drink at the POS increased 85% on average per week. That's why it comes as no surprise that more and more brick-and-mortar retailers are interested in using digital displays, walls, and tablets in their stores. Digital signage, the use of digital display systems to communicate with people in public spaces is among the hot topics in retail marketing. What opportunities do these new interactive displays provide and what is their objective?
At first, digital signage predominantly promised time and cost advantages compared to the traditional types of print advertising, since the costs for printing, distribution, and installation of billboards is no longer applicable. Equipped with modern displays, the retail store is also more attractive to customers. However, by now, the possible applications go far beyond this aspect because the potential of digital signage systems is by no means exhausted just by installing monitors. Retailers can only achieve sustainable success in sales and build customer loyalty if they realize that communication through displays is an essential component of a holistic marketing concept for customer dialog at the POS. As interactive and customizable media, they should offer customers a distinct benefit and turn shopping into an experience.
Virtual assortment expansion and digital shopping walls
Touch screen monitors allow smaller shop-in-shops to virtually expand their assortments: so-called virtual shelves let retailers present their entire line of products even in a small space and showcase all available products on the monitor.
Apart from spatial restrictions, retailers can also use this to overcome time constraints: just like they would with a virtual store, customers can also shop the displays outside shopping hours via digital shopping walls. Customers can interact with their smartphones or movements and obtain information. The embedding of QR codes or digital price tags makes it possible to order products from the retailer's online store.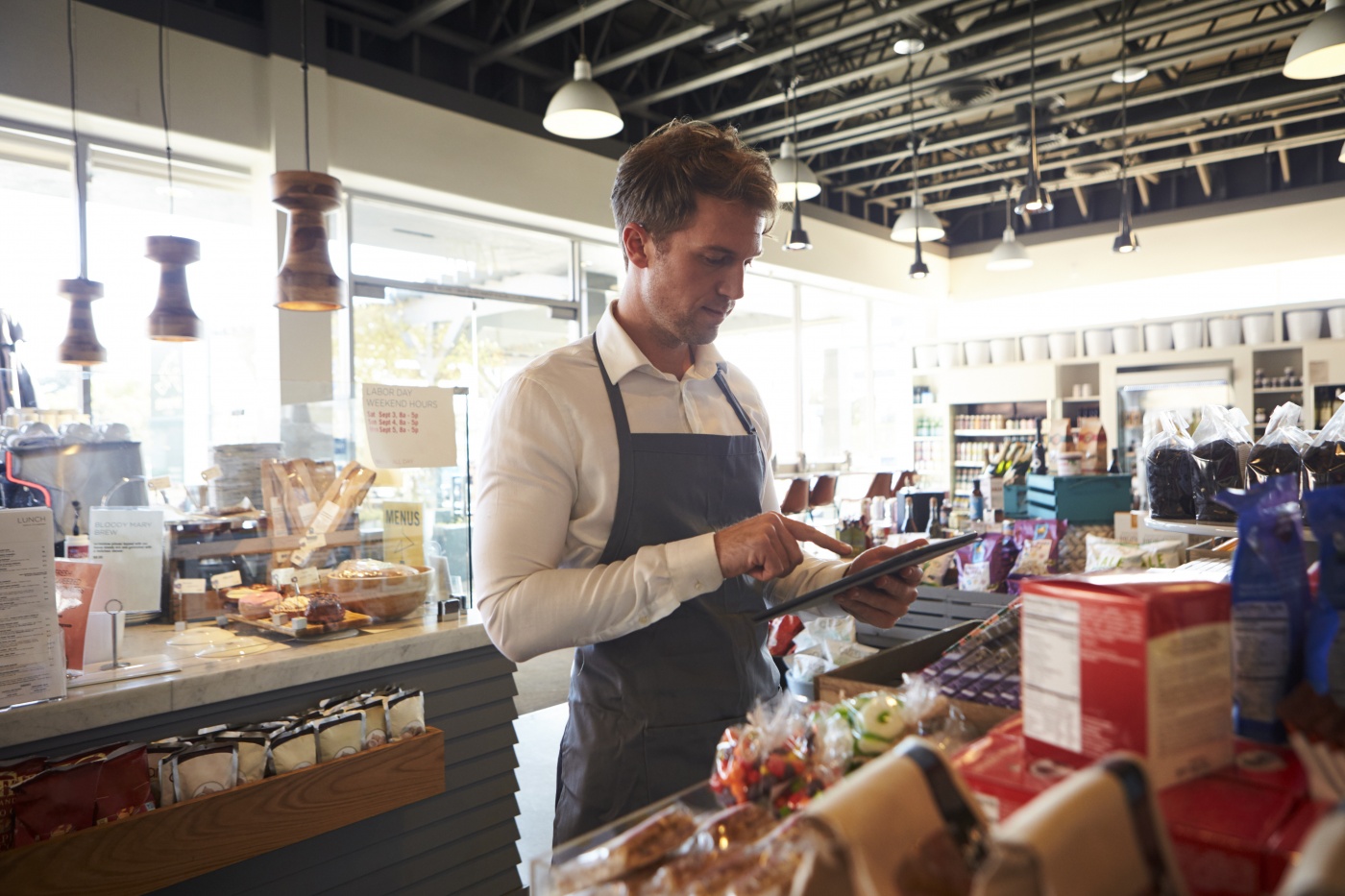 Source: panthermedia/monkeybusiness
Tablets as a database for customer consultations
One major telecommunications provider was able to partially triple sales in its stores with a new customer-centric flagship store concept. In addition to video walls, sales associates also used tablets – another essential aspect of digital signage applications. Especially when it comes to tech products, consultants usually face customers, who have obtained prior information on pricing, benefits as well as the pros and cons of various models. The sales associate can subsequently also use a tablet during the consultation to access comparative data, product information and availability of the item. Access to customer information also allows sales associates to provide customized service.
Context-relevant content and personalized sales approach
One of the intriguing characteristics of digital displays includes the capability to switch between multitudes of contents within seconds. The displayed content can be adapted to the time of day, locations, weather conditions or regional events for example. That's why the challenge is to allocate relevant content at the right time for the respective target group and thus offer the viewer an added benefit. If successful, it also motivates customers to buy, since 70 percent of buying decisions are made directly at the POS. One option is to advertise complementary products; for example, offering beer at the meat counter. Combined with other components such as beacons or customer loyalty cards, digital signage systems even facilitate a personalized sales approach.
Basics for the successful application of digital signage
All the measures that tap the full potential of digital signage systems imply a holistic omnichannel marketing concept as well as digitization and integration of all of the respective retailer's channels. Fast and secure connections to POS systems and inventory data as well as customer data integration are a requirement. A functional wireless connection is the prerequisite for most applications and simultaneously offers customers an added value. To display context and situation-relevant information, respective contents need to first be designed and created. The necessary human resources should be incorporated right from the start.
Matching hardware and software are also essential. To ensure readable and failure-free displays in 24/7 operations, retailers should only rely on professional equipment. For example, special store window displays deliver clear, high-contrast images, even in direct sunlight and high temperatures. The systems also have to be compatible with other in-store technologies, such as beacons for example. The provider should guarantee support and updates to ensure that digital signage systems can be used sustainably and adapted to future needs. Last but not least – a security concept that should include ways to prevent data manipulation, as well as anti-theft protection for tablets or critical data storage on a protected server versus tablets, is also vital.
Due to the complexity of the tasks and the required technical knowledge, it is advisable to get the support of a specialized service provider, who has the necessary expertise and project experience. This provider should be included in the planning and design process right from the start.
The implementation of a digital signage system should less be seen as a one-time action and as more of an iterative, agile process. At first, you create a proof of concept, which is followed by the pilot project and further tests and improvements before the system is adopted company-wide.
Conclusion: Digital signage doesn't run itself, yet as an integral part of a holistic marketing concept facilitates a brand-new shopping experience, interaction, customer-oriented approach and dialog at the POS. Even after an implementation, targeted innovation management, evaluation and proactive consulting can result in cost savings of more than 30 percent in the first three years.