News • 31.03.2023
Collect&Go opens new walk-in pick-up point
The company's second walk-in pick-up store specially for cyclists and pedestrians opened in Brussels
Colruyt Group's online shopping service opens a new walk-in city pick-up point in Saint-Gilles today. This is the second one, after Ixelles, to be equipped to meet the needs of city dwellers who collect their shopping on foot or by bicycle. Collect&Go walk-in shares a building with OKay Compact and makes a wide range of 15,000 products accessible for the neighbourhood.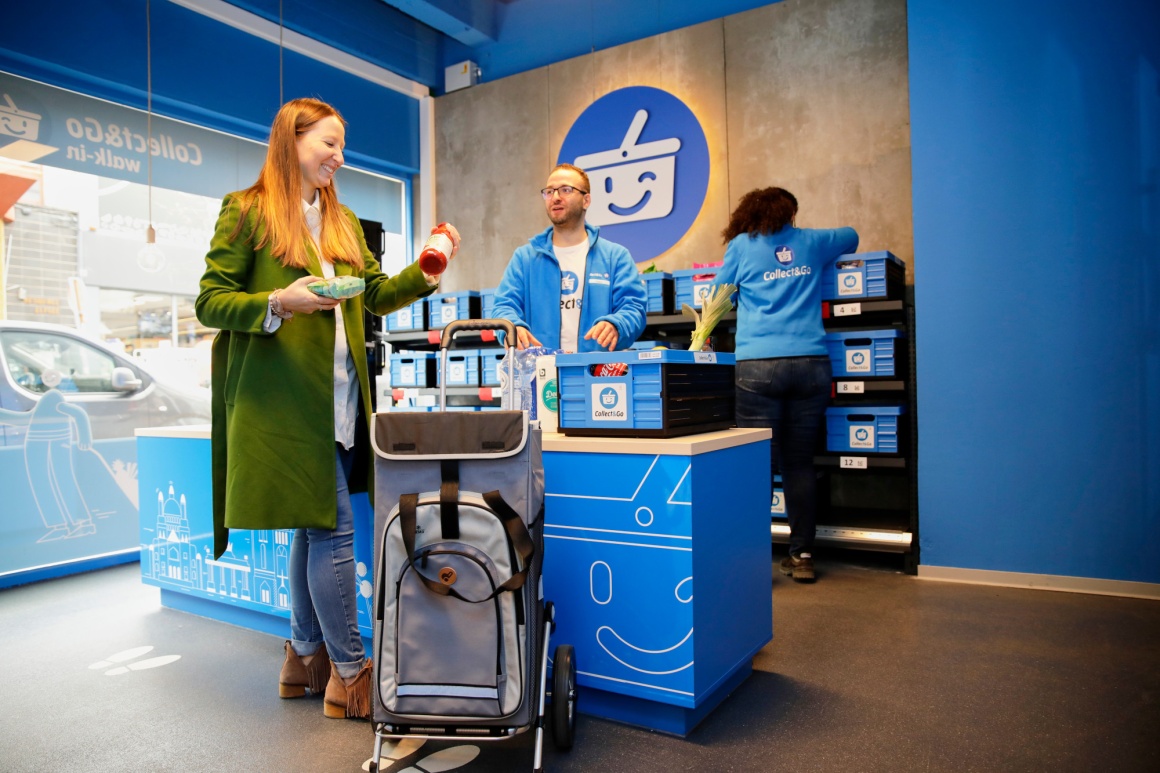 Source: Collect&Go / Colruyt Group
Second walk-in in Brussels
The second Collect&Go walk-in, a pick-up point to meet the needs of cyclists and pedestrians, is opening today in Saint-Gilles. A place for customers to collect the shopping they've ordered on the Collect&Go website or in the app. In this way, Collect&Go makes the wide range of Colruyt Lowest Prices and Bio-Planet products more accessible for city people, and this combined with the time saving and convenience of online shopping. "By opening in Saint-Gilles, following our first walk-in in Ixelles, we can reach even more Brussels people who want to do their shopping on foot or by bicycle or scooter. In this way, we encourage sustainable travel and do our bit to promote soft mobility in the capital", explains Tom De Prater, head of Collect&Go.
With a surface area of 25 m², Collect&Go Saint-Gilles is the online shopping service's smallest pick-up point. But it's cleverly designed for soft road users. A recycling point is also provided so that customers can leave plastic and cardboard packaging behind. Customers can also buy cotton carry bags, bicycle bags and cooler bags at the pick-up point or even borrow a shopping cart to transport their purchases. In this way, Collect&Go aims to make it easier for local residents to leave the car behind more often.
Two under one roof
Collect&Go walk-in shares a building with OKay Compact, another urban concept of Colruyt Group, and replaces the former snack bar. "Collect&Go is on the look-out for locations for our walk-in urban concept. So we couldn't pass up an opportunity like this", Tom De Prater, head of Collect&Go, says.
What's more, Collect&Go walk-in makes a great complement to the OKay Compact range. At OKay Compact customers can choose from 4,000 products, with the focus on daily fresh and on-the-go products. And, at Collect&Go walk-in, they get access to 9,000 Colruyt products at the lowest prices and 6,000 organic and ecological products of Bio-Planet. Combining these two urban concepts lets customers make quick purchases and pick up the weekly shopping straight away without having to leave the neighbourhood or use the car.
Looking back at first year of walk-in point: new customers, younger public and softer mobility
At the end of March 2022, Collect&Go opened its very first pick-up point specially designed for city dwellers, in Ixelles. The first year's results and findings confirm the strengths of the walk-in urban concept. According to a customer survey, the main reasons for choosing the walk-in, aside from accessibility and time saving, were the wide range and the lowest prices. "Colruyt's pricing strategy is decisive in a relatively expensive urban environment", Tom De Prater confirms. "We've also seen that the combination with the wide range of organic products is attractive for this part of town. One in every five Collect&Go walk-in customers buys Bio-Planet products as well as Colruyt Lowest Prices products."
This smaller type of pick-up point not only allows Collect&Go to know urban consumers better, it also attracts many new customers. As a result the online shopping service in Ixelles started to see more and more young families turning up, and young people without children too. The urban concept of walk-in is proving to be a trump card for Collect&Go in attracting a younger, urban public.
A second important reason for making use of walk-in is accessibility. Customers say they find the service very practical in that they live nearby and can leave the car behind. At least 40 % of customers come to pick up their shopping on foot, walking an average of over one kilometre. Remarkably, cycling customers spend just as much as those that come by car. In comparison, they buy slightly more fresh products. The few who come by car tend to buy products that can be kept for longer. In any case cycling customers prove in this way that they don't need a car for their weekly shopping.
"We're very happy with the results", Tom De Prater concludes. "Above all the fact that with this new urban concept we not only attract new customers but also succeed in making them regulars, gives us great satisfaction. So in the future we want to open more walk-ins. In Brussels for sure, but we see potential in other cities too."