Report • 15.10.2017
Checkout maze: When cashiers vanish behind the terminal
Creating a positive effect at the POS area with a clear design
These days, point-of-sale terminals have to fulfill more and more functions – especially in the food retail industry. Retailers can also connect various peripherals that assume additional tasks. Yet this multitude of functions also entails challenges for manufacturers, retailers, and employees.
Quite often, the overall shopping experience is shaped by the checkout process. Having said that, if customers are no longer able to catch a glimpse of the cashier behind the POS system, it no longer projects openness and a commitment to service.
Most cash registers with scanning options have scanners that are embedded in the cash register to save space and combine multiple functions. For example, grocery customers can have their produce weighed by cashiers right at the POS system. The scales are integrated horizontally in the barcode scanner of the cash register.
Modern point-of-sale terminals are all-rounders – but the many functions should not take up too much space.
Other devices increase the transparency of the checkout process for customers and associates. As a result, retailers now feature monitors that show customers the products they are purchasing but they are bigger and display more detailed information than in the past. In this case, the spectrum ranges from small 2-line LCD displays all the way to multimedia 8-inch display screens that can also be used for advertising in addition to itemizing the products and prices.
Cashiers face the POS monitor. They either have a touch display or a keypad to enter information. Some stores also add a video surveillance screen to monitor the aisle in front of the checkout. If you then also have an extra intrusion detection system installed right next to the cash register drawer in addition to the receipt printer and the scanner, the cash register quickly seems very crammed and unorganized.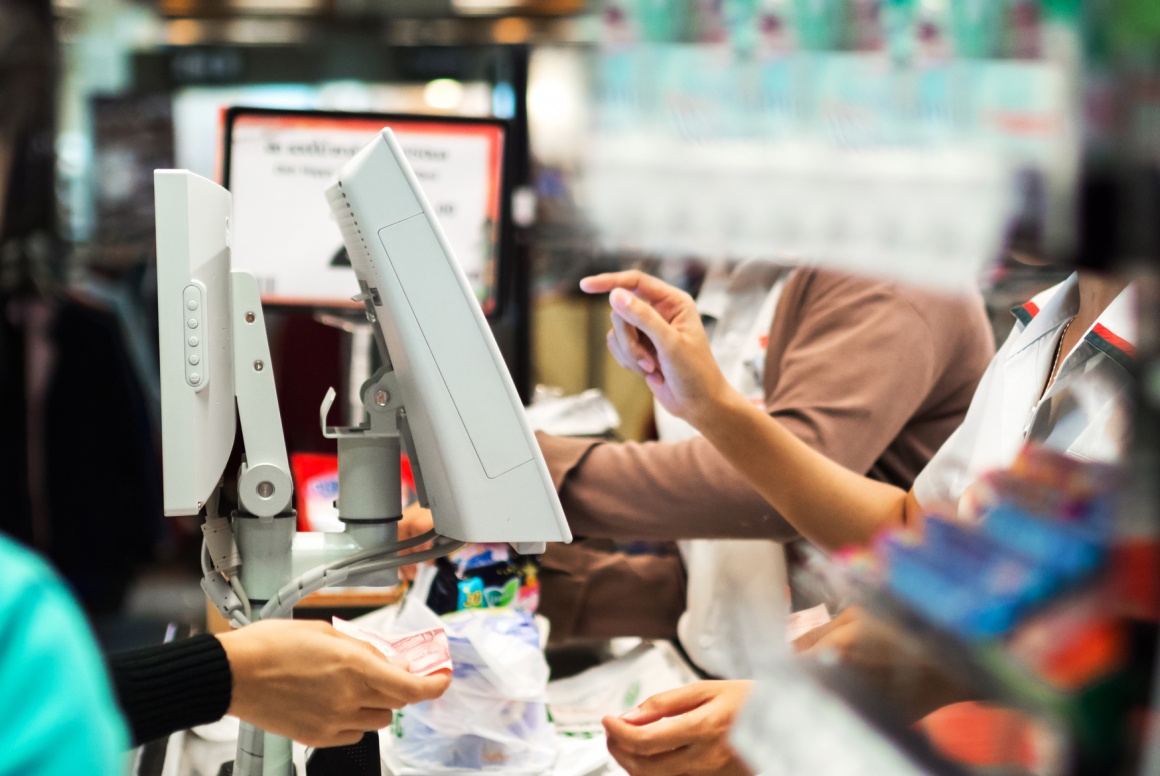 Source: panthermedia / cookiecutter
More performance: POS systems are constantly modernized
Novel payment functions can make it more convenient to check out and save time. Alternative payment options like mobile payments with smartphones or tablets are still in their infancy in Germany, though customers and retailers are definitely interested in these solutions. So-called top-down reading models that can be found in some supermarkets not only make it easy for shoppers to scan their own debit or payback card, they also facilitate payment with an app using mobile devices. For contactless payment with so-called EC cards (debit cards), you also need a compatibly equipped terminal with near field communication (NFC).
Payments and authentication based on biometric data such as facial recognition, palm print or fingerprint are so far only introduced in tests. The scan is often also verified by entering a phone number. These types of payment solutions might still be a long way off but sooner or later some new functions will prevail, necessitating additional technologies that need to be implemented in the checkout realm. That's also why cashiers and customers frequently still have to deal with additional peripherals until the vertical integration will be completed.
"A variety of cashless payment options is part of a modern shopping experience," explains Dirk Schwindling, CEO of TCPOS, a provider of multifunctional POS solutions.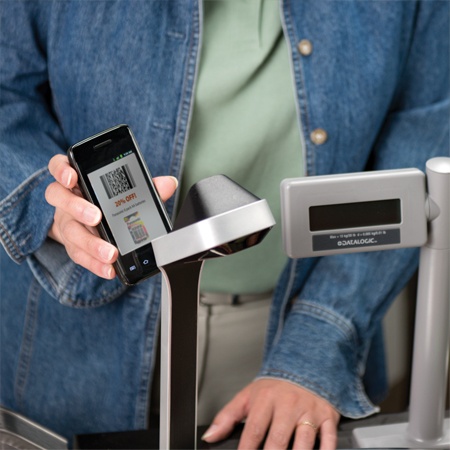 Source: Datalogic
The checkout is a crucial touchpoint within the customer journey
The contact with cashiers during the payment process is quite often the only touchpoint customers have with store associates and therefore a crucial element that determines the quality of the shopping experience. This is why it is all the more important to be able to get a look at each other's faces at this juncture. The payment process turns into a more positive shopping experience if people don't have to tediously reach around obstacles to hand over money.
Employees are also able to work more efficiently and be more pleasant to customers if they feel comfortable at their checkout counter. That's why a smart and practically designed checkout has lots of potential to make the customer journey an enjoyable experience in brick-and-mortar retail.
A great finish with an excellent checkout design
According to the "Kassensysteme 2016" (English: POS systems 2016) study by the EHI Retail Institute, on average, POS hardware is replaced every five years. This type of modernization always provides a great opportunity for retailers and management to carefully re-examine the cash register and checkout area.
If new or alternative devices are being added, they should be clearly laid out and – if possible – consolidated. An ergonomic footprint of the POS system can increase the efficiency of the checkout process. By putting themselves in the position of the cashier and customer and by running through the processes, decision-makers are able to gain valuable insights. If the cash register and peripherals have been chosen with great care and adapted to the daily work demands, it could boost spirits and thus potentially also the friendliness of the staff towards customers. Ultimately, when it comes to the impact of the checkout counter on customers as the hallmark of a retail business, an attractive hardware design should not be underestimated.