Company News • 09.12.2015
Configurable cash drawer to fit existing retail furniture
APG Cash Drawer releases high capacity E3000 cash srawer for retail verticals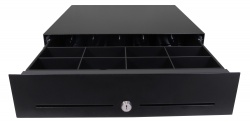 Source: APG Cash Drawer
APG Cash Draweis releasing the E3000 cash drawer for the UK and European marketplace.
APG's E3000 Cash Drawer is a ruggedized cash drawer designed to meet the demands of many global retail verticals including food, convenience stores (c-stores), QSR, hospitality, specialty, pharmacy, petrol forecourts (gas stations) and others.
Expanding APG's E-Series product line, the E3000 allows for easy retailer adoption as its footprint matches many existing layflat solutions requiring no modifications in existing POS furniture. With its ergonomic design and generously sized note compartments, the high capacity insert is built to support heavy coin loads and will accept most world currencies including Euro, Sterling, Swedish Kronor, South African Rand and Canadian & Australian Dollars. The E3000 cash drawer's oversized coin cups allow cashiers to give change faster. Optional weighable coin cup accessory kit makes coin counting easy resulting in improved productivity.
Features
Tested beyond four million operations [E3000 High Capacity Cash Drawer]
Printer driven (12-24v) 520 or USB 554A interfaces available
Fits existing retail furniture for easy adoption
Powder coated case and drawer front
Colour: European Grey, Black, and Beige
Security: Standard key Cam-lock release open, operate with POS, lock closed
One year warranty
Keyed alike or random (200 key codes)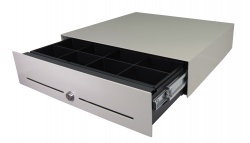 Source: APG Cash Drawer
The configurable E3000 cash drawer is being released as part of APG's expanding suite of purpose-built European products. "As a global supplier of cash drawers, APG is developing solutions built to fit new and the existing retailer environments worldwide," stated Rick Paull, Product & Business Development Manager at APG. "Retailers are looking for solutions that can withstand rigorous abuse and that will improve the customer experience overall. This product is unique in that it is exchangeable with most common layflat drawer footprints, it supports most currencies worldwide and it's competitively priced," stated Paull.
To order the E3000 Cash Drawer solution, please contact your distributor and refer to the part numbers below. View the brochure here.
Source: APG Cash Drawer
Supplier
4 The Drove
BN9 0LA Newhaven
UK