News • 12.12.2022
Joint forces to create the future of autonomous delivery
Carrefour and Goggo Network French trialling autonomous delivery of Carrefour Drive orders
Carrefour and Goggo Network are trialling a Mobile Drive service that involves using a completely autonomous delivery vehicle. It will operate on public roads, both in heavy traffic and in normal conditions (covering 15 km at up to 70 km/h) – a first in France. Within the framework of the 5G Open Road project, this shuttle will take to the streets on 6 December over the plateau de Saclay – the largest autonomous driving test area in France. The service was inaugurated today by Christophe Béchu, the Minister for the Ecological Transition and Regional Unity, Alexandre Bompard, CEO of the Carrefour Group, Eric Labaye, Chairman of the Paris Polytechnic Institute and Yasmine Fage, co-founder of start-up Goggo Network.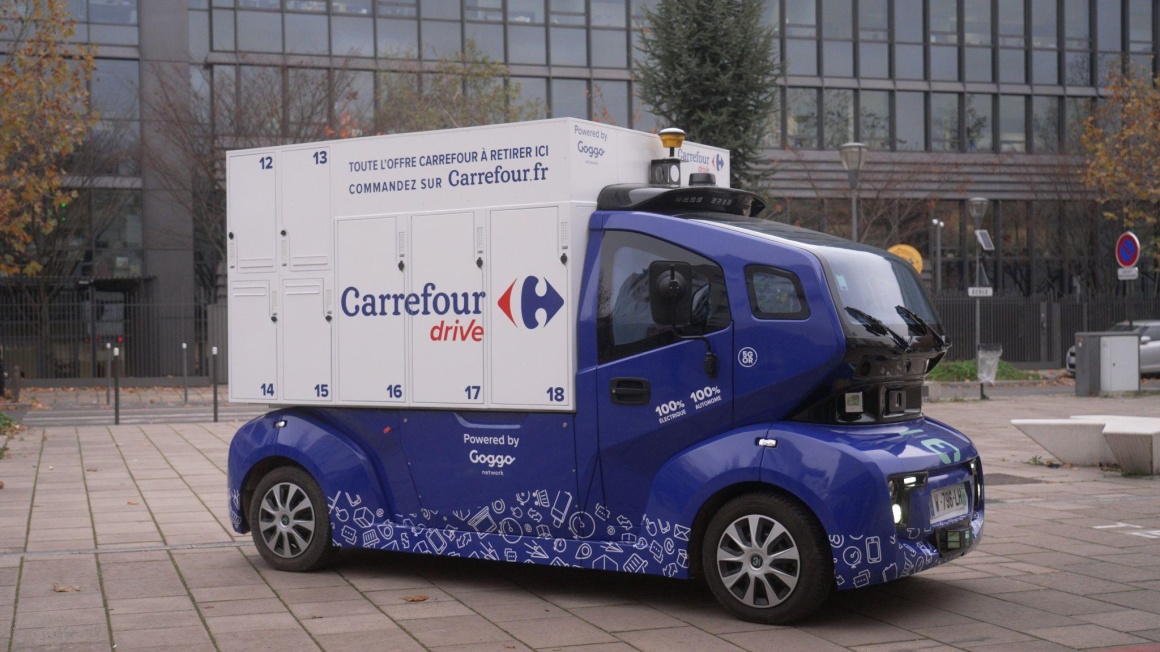 Source: Carrefour
Carrefour, leader in home delivery in France, and Goggo Network, an autonomous logistics operator, are trialling autonomous delivery of Carrefour Drive orders for residents on the Plateau de Saclay. This includes students at the Paris Institut Polytechnique. Thanks to this innovation, people have access to a Drive service that is a long way from retail areas.
This trial will make it possible to extend current delivery rounds: those remaining final miles will be brought within easier reach, and the times and costs of transport rounds will be optimised.
Sustainable, innovative, simple
The concept is straightforward: customers submit their order on the Carrefour.fr website or using the mobile app, and then choose an available delivery slot – either on the day in question or the day after – to have their shopping delivered to them by autonomous shuttle. Their order is then put together at the automated Plessis-Pâté warehouse, dispatched to the Carrefour Massy Drive, and then loaded onto the shuttle. The shuttle then travels autonomously to the Plateau de Saclay. Once the vehicle arrives at its destination, customers unlock their locker using a code that they will have received by SMS beforehand and they retrieve their shopping. As soon as all the orders have been distributed, the shuttle returns to its starting point in Massy and until the start of its next round.
The autonomous shuttle is configured to make a 15 km rotation – a return trip from Carrefour (Massy) to the Paris IP campus (in Palaiseau).
To operate this service, Goggo Network, the autonomous logistics operator which connects companies up to autonomous vehicle fleets, placed its trust in French designer Milla Group, using 5G connectivity provided by Bouygues Telecom. This collaboration is in line with the 5G Open Road programme – one of the largest autonomous open-road vehicle driving assistance programmes in Europe.
During the course of the trial, changes may be made to the autonomous shuttle's itinerary based on customer feedback.
Statements of Carrefour and Goggo Network
"As a digital retail company, we want to leverage digital technologies and innovation to design and test new services for our customers – services which increasingly meet their expectations, such as this one for students and employees on the plateau de Saclay. By joining forces with an innovative start-up company (Goggo Network), we are showing just how dynamic the Carrefour Group is when it comes to developing the logistics and retail services of the future", said Elodie Perthuisot, the Carrefour Group's Executive Director of E-Commerce, Data and Digital Transformation.
"We are honoured by the trust that the Carrefour Group has placed in us to co-develop the automated last-mile delivery services of the future. We will do everything possible so that this initial test on the 5G Open Road results in our collectively deploying these types of services nationally, or even internationally. This strategic partnership with a leading mass merchandising player is completely in line with Goggo Network's desire to design the automated logistics solutions for future", added Yasmine Fage, Co-founder of Goggo Network.