Product • 19.02.2008
WV-NS950 - Intelligent Day-Night Network IP Dome Camera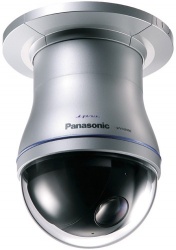 Panasonic announces the launch of the WV-NS950. This technologically advanced colour dome camera provides 24-hour surveillance featuring a 30x zoom lens. With Super Dynamic III technology the WV-NS950 encompasses 128x wider dynamic range compared to conventional cameras.
Featuring the Auto Tracking function the camera realises high accuracy detection of individuals by memorising the characteristics of the subject including any colours, shape and contrast. Featuring not only Pan and Tilt operation, but also the new "drag and zoom" operation finer control with smooth gearing, the camera can capture subjects more clearly and it is possible to operate the tracking lock to identify individuals on screen at the push of a button on the optional System Controller. The highly intelligent camera also features an adaptive digital noise reduction facet with 2D-DNR and 3D-DNR integration, ensuring reduced noise in various conditions.
The Panasonic WV-NS950 indoor colour dome camera features an IR cut filter which switches on & off to ensure optimal picture quality in both colour and black and white providing excellent image quality at all times.
Another key feature of the WV-NS950 is the progressive output with motion adaptive interlace/progressive conversion, allowing every frame to be clear when the object is moving. Auto image stabiliser is also integrated for applications where vibration or wind is a concern.
Alongside the host of reliable practical features, the WV-NS950 also guarantees continuous 24 hour surveillance. When darkness falls, the camera automatically switches to B/W mode for greater sensitivity. In daylight, it automatically switches to colour mode. With a minimum illumination of 0.04lux in B/W mode and 0.5lux in colour, a clear surveillance image can be captured in poorly lit, dim conditions.