News • 02.08.2022
Tortoise smart store roamed San Diego Convention Center
Offering grab-and-go food and drink to enrich the fan experience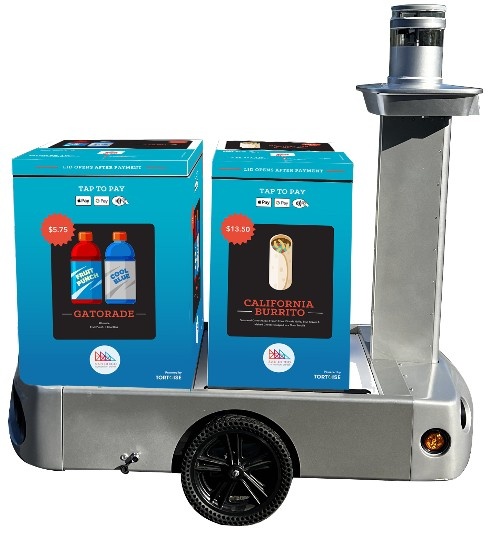 Source: Sodexo
Sodexo Live!, hospitality partner to the San Diego Convention Center, was teaming up with Tortoise to launch the first-ever mobile vending robot in a convention center.
The custom-wrapped mobile smart store was available to attendees during Comic-Con International: San Diego, taking place July 21-24 – the first in-person return of the celebrated event since 2019. As the world's premier pop culture convention, past Comic-Con events have attracted more than 135,000 attendees.
Tortoise's technology paves a path for the future of live event and hospitality tech by allowing fans to instantly access food and beverage quickly and on-the-go, ensuring shorter lines and that fans don't miss out on any of the action. Tortoise's separate compartments were stocked with California burritos (seasoned carne Asada, French fries, Pico de Gallo, sour cream and melted cheese in a flour tortilla) created by Sodexo Live! Executive Chef Sufi Karaien, as well as 20-ounce bottles of Gatorade. Additionally, Chef Sufi and the team at the San Diego Convention Center aim to use locally sourced ingredients, often purchasing from area partners within a 150-mile radius of the convention center. The Tortoise robot boasts a vibrant design, making it eye-catching and easy for fans to spot in the crowd.
Convention guests can approach the roaming low-speed cart, tap to pay with a credit card, Apple Pay or Google Pay, take their item, and go. Transactions takes less than 15 seconds to complete.