Company News • 08.02.2010
Torex at EuroCIS 2010: Retail Systems in practice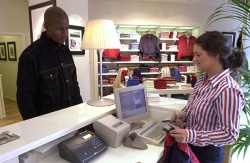 Torex Retail Holdings Limited (Torex™), the leading global provider of innovative, integrated technology solutions to the extended retail marketplace, is presenting its retail IT solutions at EuroCIS 2010. At the Torex booth and in the EuroCIS Exhibitor Forum, Torex customers will provide insights into real-world applications using Torex solutions.

EuroCIS 2010 is Europe's leading specialist trade fair for IT and security in the commerce sector. Its gates will open from 2 to 4 March 2010 in Düsseldorf, Germany. At EuroCIS 2010 in Hall 14, Stand E63, Torex will present its retail solutions, which help retailers better understand their customers' needs and meet them in an intelligent and flexible manner.

Torex will showcase the following solutions at EuroCIS, among others:
Torex™ Merchandise Planning & Allocation – for customer focused assortment planning and execution
Torex™ Workforce Management – for more efficient personnel planning
Torex™ Business Analysis – for safer and quicker decisions on the basis of accurate business data and with functionality for Loss Prevention
Torex™ Loyalty – for personalised clienteling and maximum customer loyalty
Torex™ POS – for excellent service at the POS and efficient processes in back-office and head office
Torex will demonstrate different solutions for POS and branch management optimised for implementations in various sectors. Torex will present new software packages that cater to specific needs of retailers from planning, to loss prevention to loyalty.

Also, Torex partner Vensafe will demonstrate a machine for securing goods in association with the POS solutions from Torex. Torex partner Gunnebo will showcase its SafePay system, here too working with Torex POS systems.

The events of the accompanying program offered by Messe Düsseldorf and the EHI Retail Institute include the EuroCIS Exhibitor Forum, a platform for presenting practical case studies as well as current IT and security technology trends. The opening lecture "RFID makes its way at Gerry Weber: Lessons Learned and Future Perspectives" to be held on 2 March 2010 at 11 am by Christian von Grone, CIO of Gerry Weber International AG, will introduce a current RFID project handled with the help of solution partner Torex and the POS system Torex FMCG POS. At 3 pm on the second day of the fair, Charlotte Kula-Przezwanski, Enterprise Product Manager at Torex, will elaborate on the topic "Mexx Europe: Delivering customer focused assortments to stores in multiple markets" at the forum, illustrating how Torex Merchandise Planning & Allocation is put to good use at the international fashion label Mexx.

In addition, reference customers will provide insights into their experiences gained with solutions from Torex at the Torex stand. The list of customers includes Backwelt, Blume 2000, Deutsche Woolworth, Gerry Weber International and Knauber and SportScheck.
Supplier

Salzufer 8
10587 Berlin
Germany