News • 19.06.2017
Ranking retailers from top to bottom on customer loyalty
inMarket utilizes its industry-leading location data to project growth and closures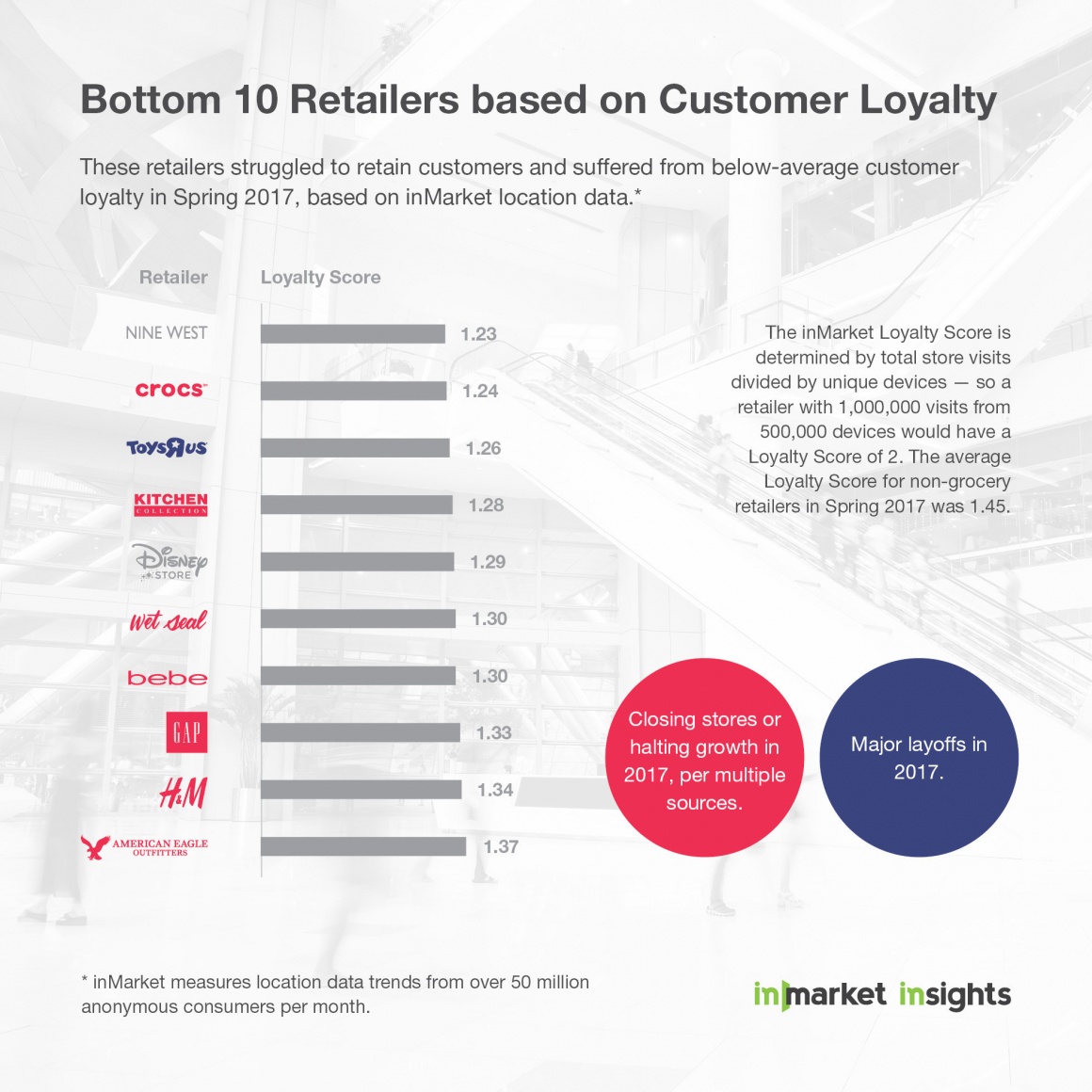 Source: inMarket
inMarket announced its Spring 2017 Loyalty Report for Retail. This report is the first in a series that will cover various brick and mortar verticals, using mobile location data to identify customer loyalty.
inMarket uses machine learning to analyze billions of data points, painting a picture of consumer behavior and its influence on businesses. This retail loyalty report is based on inMarket location data from over 50 million anonymous consumers - focusing specifically on repeat device visitation as an indicator of customer engagement, loyalty and retention - from January through May, 2017.
inMarket assigns each retailer a Loyalty Score, which is determined by total visits divided by unique device visitation. For example, a retailer with 1,000,000 visits from 500,000 devices would have a Loyalty Score of 2. The average Loyalty Score for all non-grocery retailers in Spring 2017 was 1.45.
Data shows a clear correlation between low customer loyalty and announcements of store closings, while high-loyalty retailers are actually expanding in the face of the predicted "retail apocalypse." Thus far in 2017, five out of the top 10 retailers for customer loyalty have announced store expansions. Contrarily, eight out of the bottom 10 retailers for customer loyalty are either closing stores, laying off employees or freezing growth in 2017.
In addition to predicting market trends, inMarket uses location data to power its suite of industry-leading advertising products such as its Lapsed Shopper Program -- which launched in March as an equalizer for brick and mortar retail against e-commerce. Retailers are recovering over 40 percent of their lapsed shoppers with the program, which capitalizes on store visit data the same way online retailers use web visit data to retarget shoppers.
inMarket, a 7-year-old bootstrapped company in an industry that has raised over 3 billion dollars in venture capital since 2013, has experienced 100% YOY growth in 2017, expanding rapidly across its offices in Venice Beach, CA, Chicago, New York City and Bentonville, AR. inMarket has also augmented its management team with the addition of Cameron V. Peebles (formerly of Airpush) as its first CMO and Chris Kozloski (formerly of MaxPoint) as its first CRO.