E-commerce payments • 03.04.2018
Payment procedures: online retailers must customize the checkout experience
What PSD2 and the geoblocking ban mean for payment options in online stores
Credit card, PayPal, direct debit, pay by invoice or instant transfer – payment options for online shoppers drastically influence the buying decision process. Nevertheless, store owners still underestimate the importance of payment choices and risk high shopping cart abandonment rates.
The "PYMNTS.com Checkout Conversion Index" indicates that 42 percent of purchases are canceled during the checkout process if the customer's preferred payment method is not accepted. According to the "Cross Border Transactions 2016 Merchant & Consumer Comparison" report, 30 percent of customers cancel the transaction even sooner if their favorite payment choice is not an option.
That's why retailers have to offer a selection of different payment methods to meet customer expectations and make the sale. This is best done with five different payment options: Wallet, invoice, SEPA direct debit, online transfer, and credit and debit cards.
1. Wallet: PayPal, Masterpass
2. Invoice
3. SEPA direct debit
4. Online transfer: Instant Transfer, paydirekt, giropay
5. Credit and debit cards: MasterCard, Visa etc.
PSD2 Directive provides more security to end users
To increase the level of security for European payment transactions and facilitate digital competition, the PSD2 (Payment Services Directive) took effect in January 2018. The new directive introduces stricter guidelines for online card payments. Electronic transactions must now be secured via "two-factor authentication". This will also change usability but that's not necessarily a drawback, as the credit card example shows:
Previously, credit cardholders had to enter a 16-digit card number, the card security code on the back (CVC code), the expiration date as well as a 3D Secure Code to order items online using a credit card, but now with Masterpass, the MasterCard Wallet, cardholders only have to enter an e-mail address, a password, and a 3D Secure Code. As a result, users need fewer clicks to pay for their purchases.
The payment service providers (MasterCard, Visa, paydirekt etc.) and operators of Wallet systems (PayPal, Amazon Pay etc.) are responsible for the two-factor authentication. Payment service providers must offer the new means of payment on their platforms.
"Ultimately, the usability is getting better and better thanks to the new technical possibilities. Examples like fingerprint scans or facial recognition via smartphone make online shopping with a mobile device very convenient and easy today," says Johannes F. Sutter, Head of E-Commerce Sales Germany at SIX Payment Services (Germany) GmbH.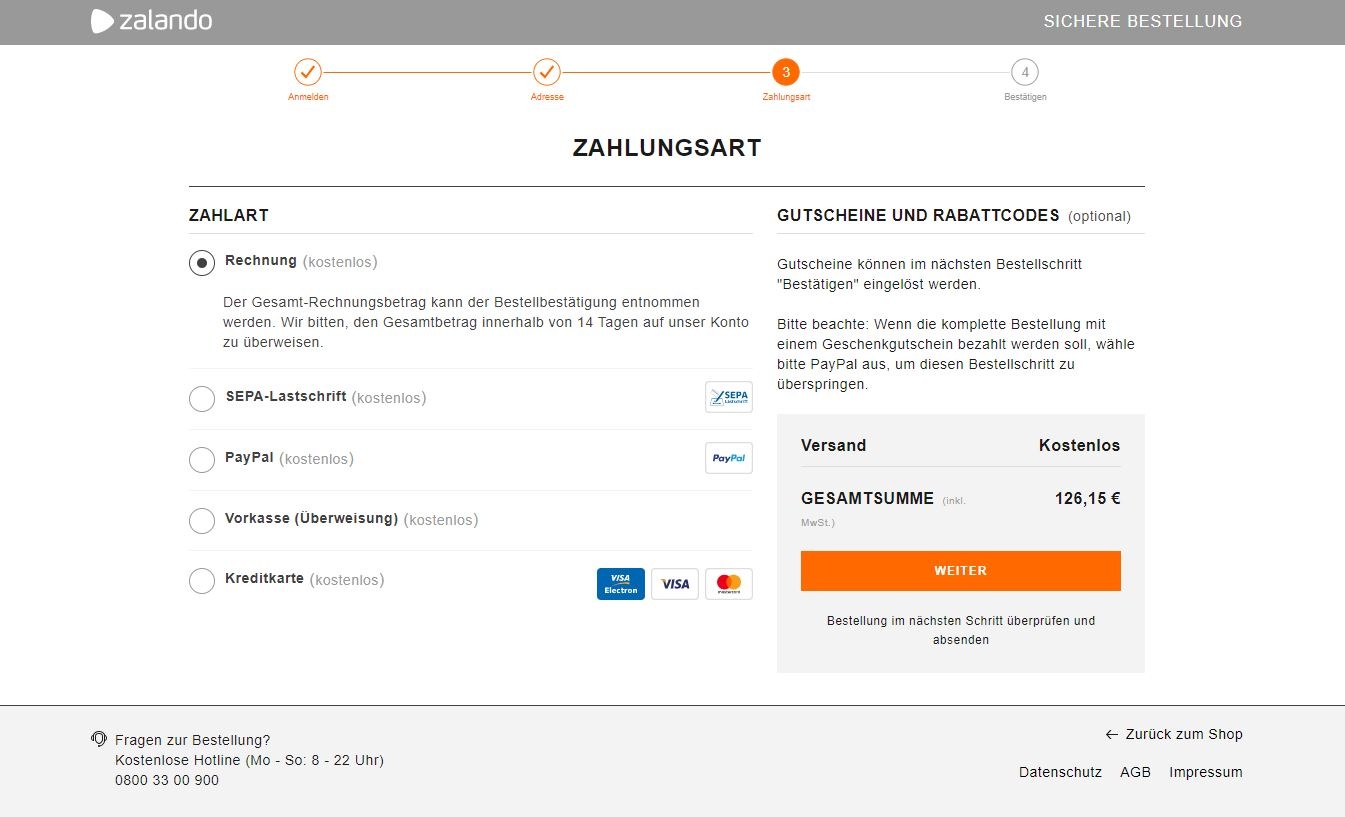 Source: Screenshot www.zalando.de
Opening the market and a ban on surcharges
Nevertheless, the retail sector is likely to benefit financially from the PSD2 Directive: the stipulated access to online accounts by third-party service providers could open the market for new payment service providers, thus creating more competition and reducing costs. Meanwhile, consumers benefit from new digital options, for example, when it comes to banking services, which provide a summary of different accounts and transactions.
What's more, due to the ban on surcharges, end users no longer have to pay extra charges for money transfers, direct debits or credit cards in the future. This applies especially to credit cards like MasterCard and Visa. PayPal has also already voluntarily agreed to adhere to this directive.
Another advantage for retailers: they can become payment initiation service providers themselves if they get the approval of the Federal Financial Supervisory Authority (Bundesanstalt für Finanzdienstleistungsaufsicht, BaFin). In certain areas, online retailers and their payment service providers subsequently take over banking tasks. In doing so, they can bypass card networks, initiate their own transfers and track payments in real-time.
Retailers should carefully remove all references to transaction fees in their online stores and change those systems that automatically charge a fee with a particular payment method. A warning will be issued if they fail to do so.
Customer favorites PayPal and Pay by Invoice
The latest ECC payment study revealed that invoicing, PayPal and direct debit are the preferred payment methods of German online shoppers. Currently, 87 percent of online shoppers state that invoicing is among their preferred five methods of payment. Nearly 78 percent of the surveyed consumers included PayPal in their Top 5 options.
Right now, invoicing is not affected by the PSD2 Directive, meaning in theory, additional fees can still be charged. However, whether the ban on surcharges also pertains to paying by invoice is still open to interpretation. The question here is how the customer actually makes payments. Does he pay by credit card, bank transfer, direct debit or PayPal? In other words, the means of payment the customer chooses is pivotal. Depending on the means of payment, this is where the PSD2 Directive once again takes effect to protect consumers.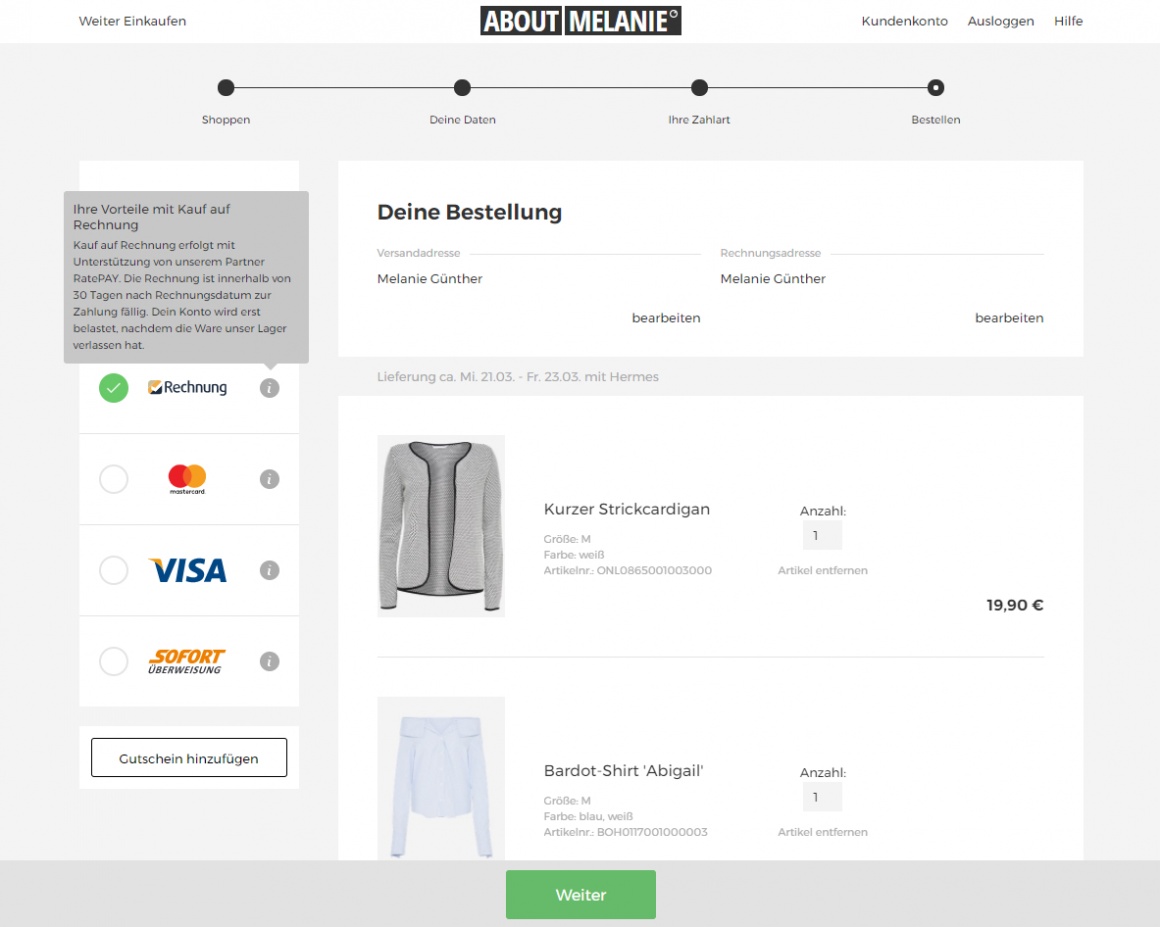 Source: Screenshot www.aboutyou.de
Even though paying by invoice is exempt from the PSD2 Directive, according to Sutter, it is quite unlikely that customers will no longer pay by invoice since they typically have not made a 100 percent buying decision at this juncture and first want to feel confident about a product. That's why paying by invoice will continue to be a top choice of consumers.
How does the ban on geoblocking affect e-commerce payment processes?
Ironically, the borders between EU countries are still widely impermeable in the digital age. At the European Parliament's request, the new ban on geoblocking is designed to break down barriers. In the future, store owners must provide access to an online store for all EU consumers. Everyone must be able to access the product selection without being redirected to a country-specific website. However, ordering options can still be restricted.
As far as payment methods are concerned, this means that payment terms must no longer be tied to different locations. Although store owners can still choose them as they see fit, consumers must not be restricted based on their country of origin. For example, if the store offers credit card payment options, it must also accept international credit cards such as American Express or Diners Club in the future.
In conclusion:
Within the scope of these legal developments, it will become increasingly important to also offer customers a custom online checkout experience in the future. Store owners are required to not only offer their favorite payment methods in their online stores but to also adapt these options based on the country and origin if they plan to accept international orders.