Company News • 13.06.2018
Paris Retail Week
Smart Phygital 2018 Survey Havas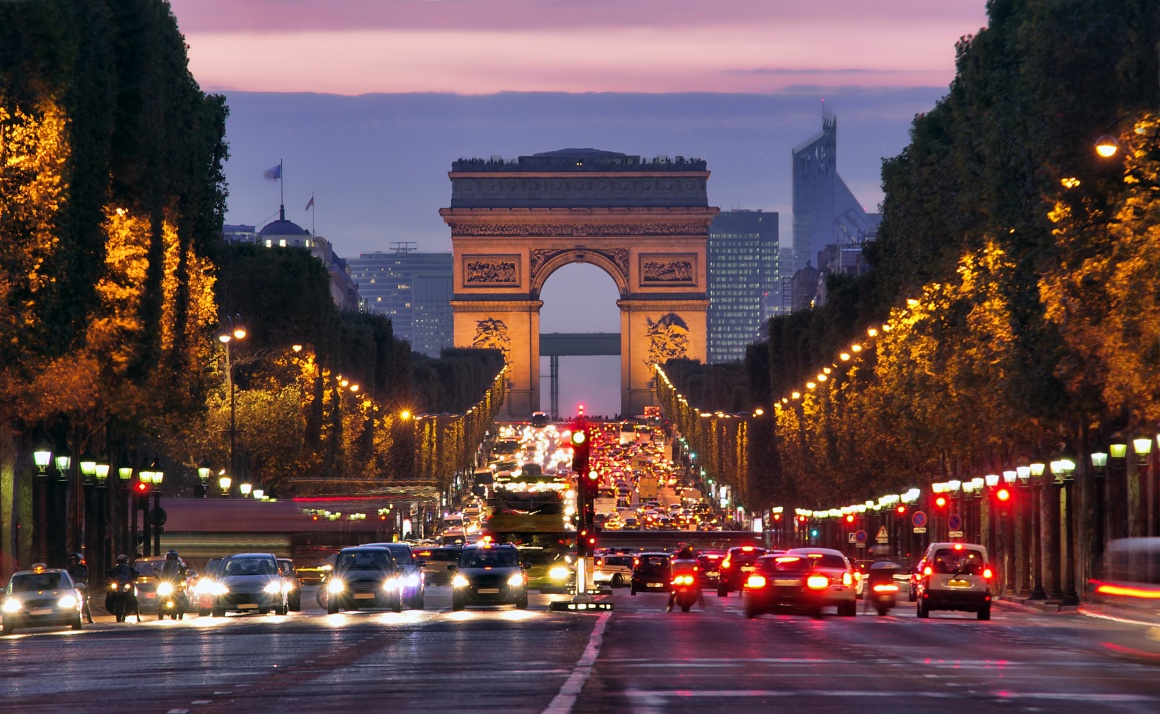 Source: panthermedia.net/johny007pandp
Paris Retail Week, the annual event dedicated to the global commerce community, will open the doors of its fourth edition at Paris Expo Porte de Versailles on 10-11-12 September 2018. For this occasion, the Havas Paris agency, in partnership with Paris Retail Week, will present the 5 major trends that will change tomorrow's retail trade in France and around the world, revealed by a study based on a panel of French, Chinese and American consumers.

It is a fact that the border between physical and digital trade has disappeared and the 2018 edition of this study will seal this union more than ever, putting an end to the binary vision of an all-powerful, alldigital retail sector and a critically endangered physical retail sector. The reality is quite different: a new ecosystem is developing, one that is more complex and more changeable, which places consumers at the centre of this movement. To continuously maintain a lead and respond to their expectations, retail must demonstrate hyper-empathy, think in terms of a "path of life" rather than a path to purchase, place meaning and value at the heart of their methods/innovations and reconcile online and offline retail, which is also challenged by conversational technology. Welcome to the Smart Phygital era!

"With the multiplication of technological innovations, phygital is imposing itself in retail trade. Even though many believed that e-commerce would sweep shops under the carpet, a hybrid of on- and offline commerce is emerging. This reshuffling is opening the way to new alternative players and novel practices." David Mingeon, Deputy Director General of Havas Paris.

"The results of the study show the rise of a new paradigm that we call Smart Phygital. During the 2018 edition of Paris Retail Week, nationally and internationally renowned speakers will analyse and debate this subject to provide essential keys to understanding for retailers", says Arnaud Gallet, Director of Paris Retail Week.

The five retail trends identified for 2018:
From the path to purchase to the path of life
The conversational age has finally begun
From customer care to healthy manufacturing
Big data, safe data and sales data?
New trendy discount
1. From the path to purchase to the path of life

If retail trade is deeply changing, it is above all because consumers themselves have changed, both due to and thanks to digital. One response seems to stand out as a means to strengthen ties with consumers: hyper-proximity. This is reflected in the multiplication of shops that are smaller and closer to the place of residence, but also by the booming delivery market that has scrambled our radars and is becoming the new playground for retailers. We receive deliveries everywhere – at home, at work, and soon in our connected cupboards.

Digital is an extension of the shop into our homes, exemplified by virtual reality that enables us to try a product in front of a screen and tomorrow by the smart locks that give access to the home and open up infinite possibilities for new services. This increased porosity between private homes and merchant areas will reconfigure the entire logic of the path to purchase.
41 percent of the French have the impression that they could do without physical shops and order everything they need directly on the web, similar to the Americans (48 percent). As for the Chinese, they seem to have chosen their side (80 percent).
74 percent of the French want to be free to be able to purchase at any time and in any place (on public transport, at work, at home, during their leisure activities), as do the Americans (77 percent). Here too, the Chinese stand out (94 percent).
71 percent of the French have the impression that physical shops are making an effort to adapt to their lifestyle, just like the Americans (74 percent). As for the Chinese, they are less convinced (61 percent).
56 percent of French people between the ages of 18 and 24 make purchases on their mobile phones as they would in shops, compared to 83 percent of young Chinese and 74 percent of young Americans.
2. The conversational age has finally begun

The time for tests and experiments is over – we are entering year one of the conversational era. What could be more natural than to talk to objects, control your environment in natural language or simply order your favourite shopping list via vocal assistants. Nor is there anything surprising about objects talking to us to advise us for our purchases – at the risk of becoming our shopping alter egos! The voice is occupying a growing role in purchasing and sales thanks to the deployment of NLP (Natural Language Processing) technology on most digital interfaces.
Conversational assistants are becoming more and more intelligent and offer numerous services to become retail platforms and share a role in our lives. Their increasing power already poses the question of referencing and emergence for brands but also the installation of a new type of relationship with customers. The presence of conversational tech, which potentially has no limits in the retail sector, is imposing itself on brands, even challenging their points of sale. And what about the place of virtual assistants in shops to seal the union between the physical and digital worlds?
57 percent of the French believe that conversational assistants will make their lives easier, compared with 91 percent of the Chinese and 65 percent of the Americans.
28 percent of the Americans now possess a conversational assistant (compared with 9 percent of the French) and 25 percent of them plan to purchase one within the next few months (compared with 28 percent of the French).
63 percent of the French think that vocal assistants could very well replace keyboards or computer screens, compared with 81 percent of the Chinese and 62 percent of the Americans.
25 percent of French people under 35 say they could use conversational assistants as a simple friend, to chat with and to provide company (compared with 33 percent of the Americans).
3. From customer care to healthy manufacturing

Has consuming become dangerous? This question, once posed by a few militants, is now on almost everybody's lips. Repeated scandals have created a mistrust that spares no family of product. The list of suspicious elements never ceases to grow, making informed consumer decisions more difficult. Today, in addition to questions of public health, there are also ethical factors to consider, such as animal welfare.
In the face of these fears, good consumer practices must be reinvented. New nutritional markers have appeared. The responses come from technical, commercial and marketing sources. Digital tech thus offers consumers tools for greater transparency and responsibility, such as applications that inform us about the composition of a product. As for retailers, they are rethinking their offer and are building sustainable and equitable partnerships with local players and producers to restore consumer confidence. In addition to the combat for the good and useful, there is also the question of health and ethics.
80 percent of the French say they are more attentive to the impact of the products they buy (environment, waste, energy, etc.) compared with 91 percent of the Chinese and 71 percent of the Americans.
One third of the French do not trust retailers to help them consume better.
86 percent of the French feel that everyday products are dangerous for their health, compared to 72 percent of the Chinese and 76 percent of the Americans.
4. Big Data, Safe Data and dirty Data?

Everybody knows that data has become the new black gold. This gold has become an object of desire, especially for retailers who are ever more curious about consumers. Associated with artificial intelligence, data enables them to fluidise their relations with consumers and reduce zones of friction. But these data, which are sources of innovation and creativity, are also sources of monetisation. Data can even be considered in terms of virtual money. Faced with these excesses, intrusion into private life and the merchandisation of data, the resistance is organising itself.
Governments are trying to regulate digital life and certain players are proposing alternatives to the GAFA to guarantee security and the anonymity of data. Despite the new rules that apply to data protection, have we no other solution than to share our data and allow operators to know everything about us? How far are we prepared to sacrifice our private lives? Are we really ready to accept a degraded service or to stop using others? Are we ready to implant an RFID chip under our skins to pay for our purchases?
21 percent of the French say they supply their personal data without questioning it, as do 22 percent of the Chinese and 24 percent of the Americans.
81 percent of the French have the impression of being increasingly spied upon by brands. This is a little less true for the Chinese (69 percent) and the Americans (65 percent).
62 percent of the French say they are prepared to pay more for a company or a brand that manages their data ethically (compared with 83 percent of the Chinese and 65 percent of the Americans).
15 percent of French people aged 18-24 say they are ready to implant a microchip in their body to facilitate everyday life (pay for shopping, company badges, pay for public transport, etc.).
5. New trendy discount

Many players seek to "disrupt" their markets. Even though technology provides the means, it is sometimes sufficient to respond to the consumer's most elementary insight of "wanting more for less money". Everywhere around the world, initiatives have been launched to offer beautiful and trendy products for less. With digital tech, it is possible to industrialise the personalisation of each object or product. The result is that each person has access to a unique product for the price of one that is mass produced.
"New trendy discount" is asserting itself as a way of seducing a generation whose financial means are inversely proportional to their power of influence. Today, it is in the fashion sector that this phenomenon is the most developed. Beyond a simple search for competitiveness, this evolution illustrates the will to invent new models in which the relationship with the purchased product is multiplied by two. On one hand, through the quality delivered in relation to the price paid, and on the other hand, through the brand experience.

80 percent of the French say they are more demanding than before, which is more than the Americans (67 percent) and less than the Chinese (92 percent).
75 percent of the French think that quality today is not synonymous with high prices.
88 percent of the French have the impression that there too many intermediary in retail trade, compared with 91 percent of the Chinese and 66 percent of the Americans.
78 percent of the French prefer to purchase directly from producers and manufacturers, compared with 85 percent of the Chinese and 69 percent of the Americans.
66 percent of the French consider that made-to-measure products should cost the same price as standardised products, compared with 84 percent of the Chinese and 67 percent of the Americans.
Whether they come from the digital world or the physical world, retail brands must reinvent their relationships with consumers by developing hyper-proximity, by setting an example for transparency and ethics, and by proposing augmented offers. Each of them will have to travel a different path towards the consumer to build a model in which the physical and digital worlds meet to serve an ecosystem that is ever more intelligent and agile.