Company News • 02.03.2016
Needed changes in existing retail labor model
Retail labor study indicates omnichannel challenges are driving a re-allocation of in-store labor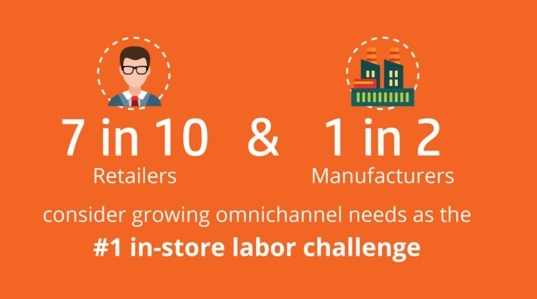 Source: SPAR Group
SPAR Group sponsored a recently completed study of leading retailer and consumer goods manufacturers by EKN, entitled Changing The Retail Labor Model for a New Retail Environment.
The study highlights the changes needed to the existing retail labor model due to a rapidly changing retail environment led by the rise of digital and mobile devices, omnichannel shopping, and increased demands by consumers for a more engaging shopping experience.
Even with the rise of online retail, physical stores will continue to generate the vast majority of retail sales. In fact, per data from FTI Consulting, by 2024 retail sales in the U.S. are expected to increase from $3.7 trillion to $7 trillion with physical stores being 85% of that total. That's over $4 trillion more in sales, 60% more dollar growth, for physical stores than online retail.
The in-store retail environment, however, is rapidly changing and these changes are having a big affect on retail labor. In the current retail labor model, only 30% of retail labor hours are allocated to the top two objectives for both retailers and manufacturers – customer service and sales. Seventy percent of the time is being spent on operational tasks, with product merchandising being the biggest component. This disparity is being further compounded by increases in operational tasks such as in-store fulfillment of online orders, management of inventory that now includes online returns and in-store pick-ups, and maintenance of digital displays. At the same time, shoppers want more interaction with knowledgeable sales associates. Per a study from Tulip Retail, nearly 7 in 10 who don't find a sales associate helpful won't make a purchase. Contrarily, 9 in 10 who do, will make a purchase and 97% of those will buy more than planned.
Not surprisingly, omnichannel needs are the number one in-store labor challenge for both retailers and manufacturers in the study, with 70% of retailers and 50% of manufacturers ranking it #1. The need to increase efficiency and productivity is the consensus #2 challenge.
As Sahir Anand, SVP Research & Principal Analyst of EKN, said in a recent webinar about the study, "Omnichannel needs have magnified, customer expectations have risen, and competition has increased. This upside-down allocation of labor is not sustainable. And in our recent study, 68% agree that their labor model isn't working."
One key solution being utilized to overcome these challenges is more reliance on outsourced labor for operational tasks such as merchandising, omnichannel order pick-up and fulfillment, installation and assembly, product demos and seasonal support. The main reasons provided for outsourcing in-store labor are to improve cost efficiency, manage the rising omnichannel tasks, handle business spikes and increase coverage.
However, there are some key attributes outsourced companies need to succeed according to the study. These include clarity around schedules, alignment with brand values, accountability, and the ability to be a solution-provider not just a people provider. Jill Blanchard, President & CEO of SPAR, said that she was pleased to see solution-provider rise to the top of the needs list. "I'm a big believer that a third party labor provider has to be more than a cost-based people provider. We need to incubate ideas and provide innovative solutions that will allow companies to survive and thrive in this rapidly changing retail world."
The key take-away from the study is that the way the consumer shops has changed dramatically, which has led to a change in the retail environment to an omnichannel model. In response, the labor model also needs to change to a more consumer-centric model in order for both retailers and manufacturers to provide consumers with the increased service engagement they desire, better compete across multiple channels with thinning profit margins, better manage inventory so shoppers can easily find what they're seeking, and improve in-store sales. If done right, outsourced labor can be a key solution to facilitate the change and help companies thrive in the new retail environment.
You can check out a complete infographic on the study at www.eknresearch.com.