Report • 21.03.2016
More than theft protection: The benefits of vending machines at the POS
Premium merchandise is efficiently protected and showcased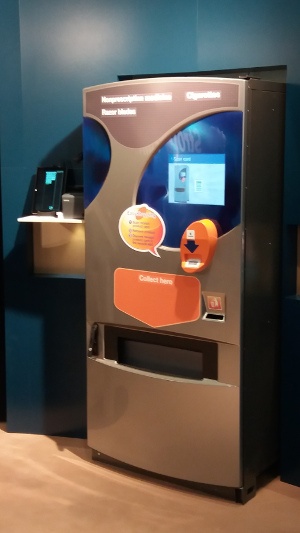 Source: beta-web/Mörs
Inventory differences are a big problem for all retailers. Clothing articles and jewelry are not the only items that are frequently being stolen – every supermarket also has small but premium merchandise in its product selection that thieves like to steal. Selling these products through automatic vending machines located behind the checkout area can deliver anti-theft protection. And this is not the only advantage these machines have to offer.
Razor blades, cigarettes, condoms or batteries are among those products that are most frequently shoplifted in a normal supermarket. They are small and able to simply disappear inside the trouser or coat pockets of thieves. Huge losses due to shoplifting of small but expensive items force many retailers to remove them from their shelves.
This is why many retailers now utilize a security solution where tobacco products are located directly at the checkout on a display shelf that needs to be manually opened by the cashier – the same usually also applies to razor blades. Even though it's effective to protect merchandise this way, it actually means additional time and effort for employees who first need to give customers access to the products.
Vending machines can be a great solution. Not only do they provide additional security, they can also help to increase sales. They are set up behind the checkout counters – the customer picks up the merchandise from the vending machines after completing payment. Several Edeka retailers in Germany already use this kind of system by the Vensafe Company.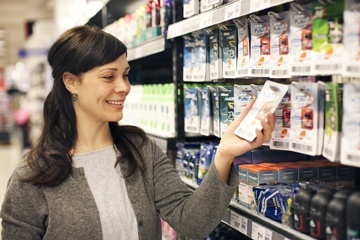 Source: Vensafe GmbH
The customer gains access to a desired product through special product cards. Every plastic card features a special code and the product image or logo. They can be displayed in various locations at the store – depending on where the customer would also normally search for the product. The fact that cigarettes and tobacco products are only available at the checkout counter is something customers have gotten used to by now. That's why a placement in the checkout area definitely makes sense.
For other items such as razor blades, for example, it makes sense to display the product cards right at the respective category shelf. Customers intuitively are able to locate them in the respective product location on their way through the store. Once at the checkout, not the actual product but the card is scanned with which the customer then receives his/her merchandise at the vending machine. The consumer simply places the card under the scanner – and the vending machine automatically dispenses the right item.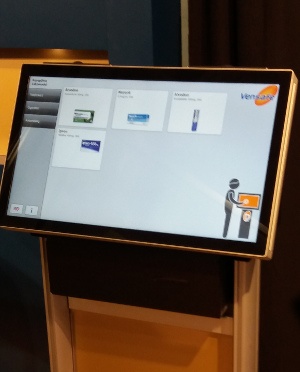 Source: beta-web/Mörs
As an alternative to product cards, a product selection is also possible via a touchscreen that can be set up in the store. This allows retailers to offer a much larger selection of products in a small area. The advantage of a touchscreen is not just limited to the large variety of goods since it allows retailers to display all products in the vending machine. A touchscreen is also able to help in increasing sales by playing advertising messages or product recommendations. The customer is able to get an overview of the product choices and compare prices with the product cards or the touchscreen – essentially the same way he would with all other products but with an added level of security.
More space at the checkout counter and a better overview of inventory
For retailers, protecting premium products against theft will perhaps always be one of the main reasons for purchasing a vending machine. Another advantage is inventory reduction. Since product cards or touchscreens take up significantly less space than the respective products stocked in sensible quantities on shelves and since retailers can do without any setups at the checkout counter, – as is the case with cigarettes for example – they can use the space to showcase more low-cost impulse buy items.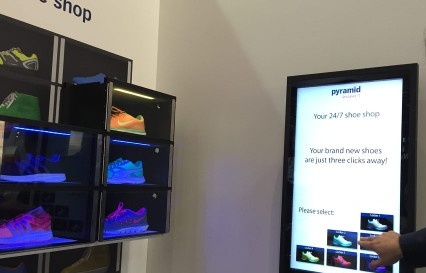 Source: beta-web/Scholze
In addition, the vending machine software can be directly integrated into the respective POS software, meaning all information about sales statistics and inventory is easily accessible. This type of vending machine system enables retailers to have a precise overview of sold items and lets them restock the vending machines when needed. Since they have a large capacity, – modern vending machines have room for up to 80 different products and 1,600 units in total – they generally need to be restocked less frequently than the respective spots in conventional shelves.
Vending machines also facilitate self-service after business hours
Aside from their use right in the store, vending machines still offer other opportunities for retailers to generate additional revenues. One example: today, many supermarkets feature an affiliated bakery that is usually already open during early morning hours and on the weekends – Sundays in particular – when the market itself is closed. In collaboration with the bakery, the supermarket is also able to sell smaller items such as bus tickets or cigarettes in the entrance area with a vending machine.
"Intelligent vending" technology offers another application. At EuroCIS 2016, Pyramid Computer introduced this type of solution. These "intelligent vending" modules are lockers that are operated with a smartphone, for example, allowing customers to shop or pick up items on their own even after business hours. The system is used in shopping centers or hotels as well as airports and train stations.