Company News • 23.03.2012
Heiler Software Offers Adapter for Oracle ATG Web Commerce
Heiler Software's Product Manager 5.3 Achieves Oracle Validated Integration with Oracle ATG Web Commerce 10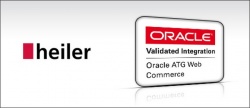 Heiler Software, a Gold-level member of Oracle® PartnerNetwork (OPN), today announced it has achieved Oracle Validated Integration between Heiler Product Manager 5.3 and Oracle ATG Web Commerce 10. The benefits that businesses can receive with Heiler's validated integration include: reduction of initial and ongoing cost, time, and effort, a fully supported integration which also includes Heiler Product Information Management (PIM) releases, and a set of standard export templates that can be fed into Oracle ATG Web Commerce 10.
To achieve Oracle Validated Integration, Oracle partners are required to meet a stringent set of requirements that are based on the needs and priorities of the customers.
Heiler's adapter enables the transmission of information about items, products, structure groups, media assets, and more between Heiler Product Manager 5.3 and Oracle ATG Web Commerce 10. The integration includes preconfigured export templates, export utilities, and data field validations which are the functional components of this module.
"Our customers require a standardized and scalable provision of product information for the implementation of their eCommerce strategies. The Oracle Validated Integration of our Product Manager solution and Oracle ATG Web Commerce 10 helps provide increased value to our joint customers," says Rolf Heiler, Founder and CEO, of Heiler Software.
Heiler Product Manager 5.3 is a central master data platform for ecommerce and multi-channel, that provides distributors and manufacturers with master data management (MDM) for all product data in a central data source.
 
Supplier
Mittlerer Pfad 5
70499 Stuttgart
Germany